Jesse James "Under Attack For Selling Comics"
Jesse James Criscione is the owner of Jesse James Comics of Glendale, Arizona. As a store that dropped Diamond Comics as a distributor at the beginning of last year, he started the Comic Book Shopping Network. As a result of all this, he has a rather unique take on the current changes in comic book distribution, especially the take by Brian Hibbs that informed pretty much everything we were talking about this weekend. Jesse writes (and passed to Bleeding Cool) the following;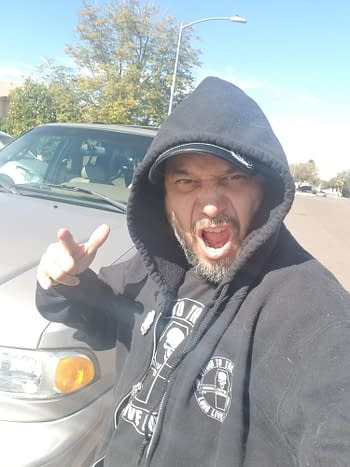 "So, here is my take on one of my Closest friends in their Industry post. We as LCS owners have FAILED our customers in so many ways. We have let our EGOS get in the way of taking care of them. We have made so many people happy over the decades on selling them comics. In their time of need. WE as stores owners have FAILED to use the opportunities before us to continue to do that. WE have FAILED to unite in any shape or form a sizable relevant group for the good and future of our industry."
"Recently, many of us have come under attack for SELLING comics. No matter what our state rules said. WE found a way to sell our customers comics. No matter how much we work to better our Great industry The Old Guard would rather pounce on progressive store owners and tell the public what we do is wrong or unfair. I have watched LCS owners make decision on not taking care of their customers and telling them why they shouldn't support a Publisher for moving forward. Customers want their books and not the political side of it. They don't care where you get it from."
"So today. I no longer can look backwards for my customers. I can only look forward with my friends and LCS's that want to do something NOW. The rest of you LCS owners can take your NEGATIVITY and remember the good old days. Today, the new LCS are taking care of their customers and really, just really, have no more time for you and your post. I have been on an island by myself before in this industry. Now, I sit on a island with so many good friends who just want to sell comics to customers around the world. We will find a way and will always offer to help others to do so, as well."
"When this all settles. These customers will remember. Those, that took care of them through their time of need. HOWEVER, they will remember MORE. Those who chose to give them Negativity and Zero Comic Book Therapy. We are in a world of NOW. There is no more hiding in forums or secret groups. You can choose to be a better LCS owner for your customers today. You can make this Industries come back, the GREATEST of all time. Fight the Good fight!"
"P.S Will I get pounded by this post. Absolutely, many of you know It doesn't affect me one bit. I take pride in what I believe and say it in a public forum."
No pounding on Facebook as of yet. Bleeding Cool will keep covering the current situation and its effect on the comic book industry at this link.