Justice League #4 Review: Upping the Stakes Even Further
[rwp-review-recap id="0"]
We are given a glimpse of Gorilla Grodd's childhood as Joker and Lex Luthor make their move on Hawkgirl and Batman respectively. With Kendra and Bruce out of the way, Joker and Luthor will be able to take over the bodies of Martian Manhunter and Superman. Sinestro easily overtakes Green Lantern John Stewart and Cyborg. Gorilla Grodd, Cheetah, and Black Manta ambush Flash, Wonder Woman, and Aquaman.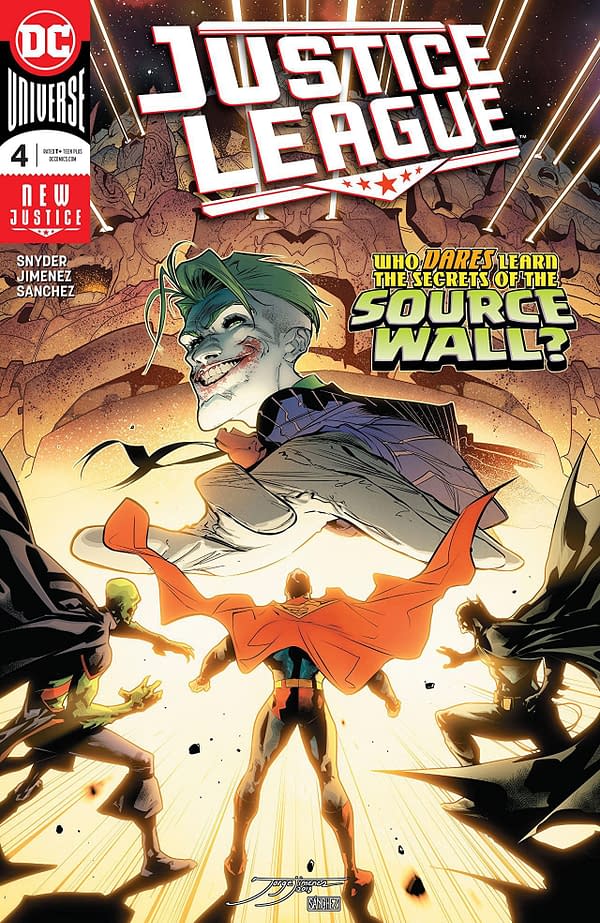 Things continue to spiral out of control for the Justice League in this issue. The Legion of Doom has the upper hand, and we have something of a thematic through-line from Dark Nights: Metal and Justice League: No Justice. Our beloved heroes are put in some of the most extreme no-win situations imaginable and brought to a lowest imaginable point.
Obviously, they will find their way out, but it is almost impressive how Scott Snyder finds another cosmic, satanic, or otherwise apocalyptic frontier to throw at the Justice League while still surprising me. The imagination on display here is truly something else.
I'm still left wondering what the secret at the heart of the Totality is. Having time to give the Leaguers their own little character moments throughout it appreciated. Also, this new nihilistic Lex Luthor is engaging as all hell. Plus, Grodd's flashback is impressively macabre.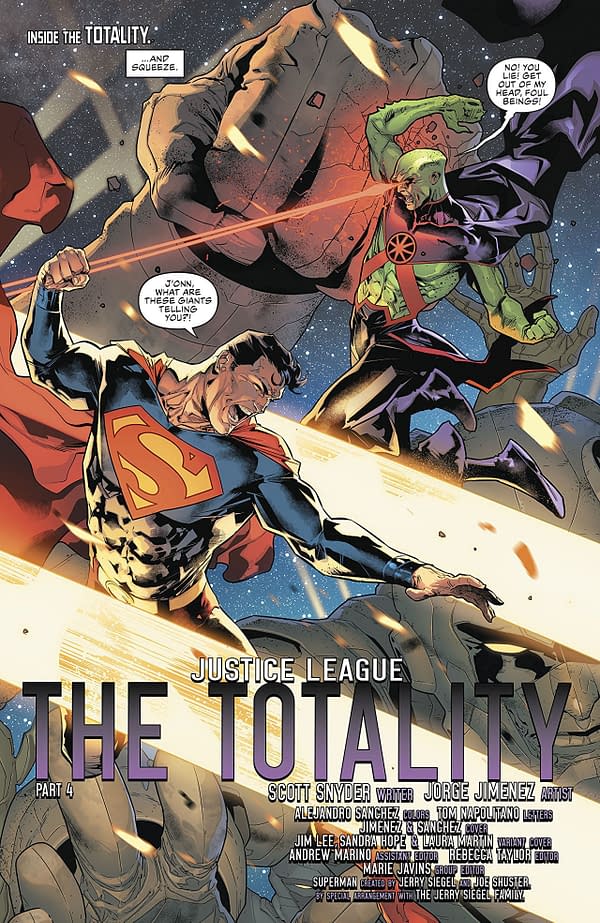 Jorge Jimenez really has a handle on the book in this issue. His style is still distinct, fluid, and expressive, but there aren't any major moments where the characters look outright off aside from an especially sinister Superman at one point—but even that is called for. Alejandro Sanchez provides truly vibrant and beautiful color work throughout the issue, and it coincides with Jimenez's somewhat off-beat style well.
Justice League #4 is another astounding issue from Snyder's new run with the team. The energy, imagination, and even fun present in this dark cosmic ride is abundant, and I can easily recommend it. Give this book a read.
[rwp-review-ratings id="0"]
[rwp-review-form id="0"]