[youtube]https://www.youtube.com/watch?v=Cx3dBxBUQaQ[/youtube]
Justin Jordan of Luther Strode, Deathstroke, New Guardians, Dead Body Road, the upcoming Spread and Crossed is adding three new books to his plate over at Boom! Studios.
The first launches in November.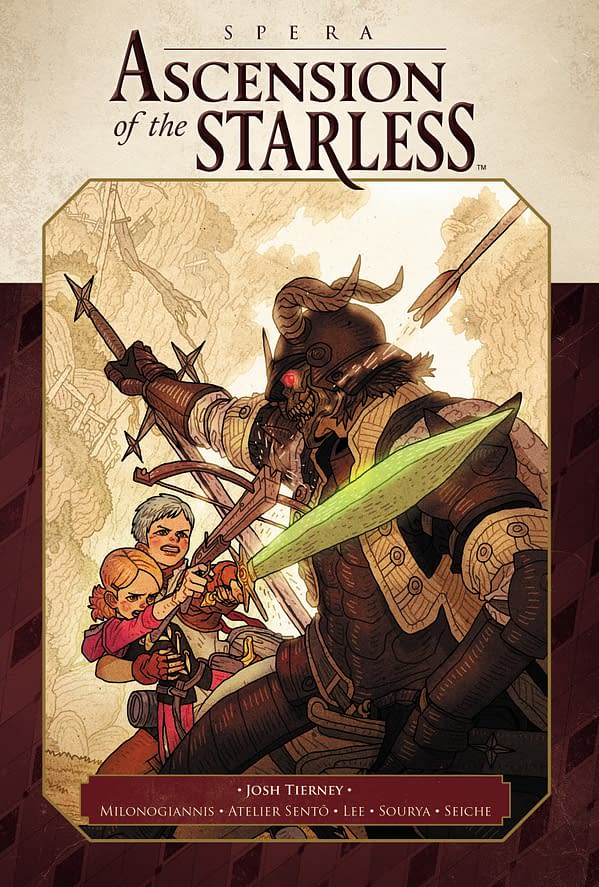 Oh and also from Boom comes the October debut of the Spera: Ascension Of The Starless by Josh Tierney and assembled web and indie creators Giannis Milonogiannis, Cécile Brun, Olivier Pichard, Mindy Lee, Sourya Sihachakr and Valentin Seiche.
SPERA is a stunningly illustrated mash-up of some of the best things in life: webcomics, young-adult fantasy, retro video games, pulp adventure comics, and fairy tales. Fans ofZelda, Avatar: The Last Airbender, Frozen, author Tamora Pierce, and LUMBERJANES will love this series! Following the three previously released volumes of SPERA, ASCENSION OF THE STARLESS is the launch of a new, epic, multi-volume story that follows the adventures of two princesses as they once again join forces to combat a common threat. This is the perfect starting point for new readers to fall in love with SPERA charcacters Pira, Lono, Chobo, and Yonder alongside loyal fans of the series.

"After the outpouring of love for LUMBERJANES, we have a feeling a lot of our readers are going to dig this new SPERA graphic novel, starring the fierce duo of Princesses Pira and Lono," said BOOM! Studios Editor-in-Chief Matt Gagnon. "Josh has crafted a rich world with great characters, and seeing this story unfold with the talents of Giannis and so many other wonderful artists is a real treat."

In SPERA: ASCENSION OF THE STARLESS VOL. 1, the Starless Queen is plotting an invasion of Spera, and has sent the merciless General Zeal to secure its capital. Unfortunately for the Queen, exiled adventurer Princess Pira—the Queen's own daughter—and Pira's best friend Princess Lono have discovered her plot…and will go to any lengths to stop her. Along with their friends—the fire spirit, Yonder, and the ruthless cat, Chobo—Pira and Lono set off on a perilous journey to warn the Speran King, up monster-infested mountains, through a village full of crazed warriors, and down dark tunnels walled with madness itself.
Enjoyed this article? Share it!