When he isn't downing pints with Bleeding Cool Rumormonger-in-Chief Rich Johnston at the local pub or starring as Nebula in the upcoming film Guardians of the Galaxy Vol. 2, Kieron Gillen writes the Star Wars: Doctor Aphra comic for Marvel. So when Gillen found out that Doctor Aphra, who he co-created with artist Salvador Larroca during their Darth Vader comic, could be the next character to get a 3.75-inch toy release with Hasbro's Vintage Collection retro packaging, as reported yesterday by Bleeding Cool, he took to social media to motivate voters:
It has been brought to my attention there's a vote for the next 3.75" Star Wars figure. Aphra's on it. Go democracy! https://t.co/SF2XP6hwdj

— Kieron Gillen (@kierongillen) April 29, 2017
Aphra is currently tied with Ahsoka from Star Wars Rebels, with each holding 26% of the vote.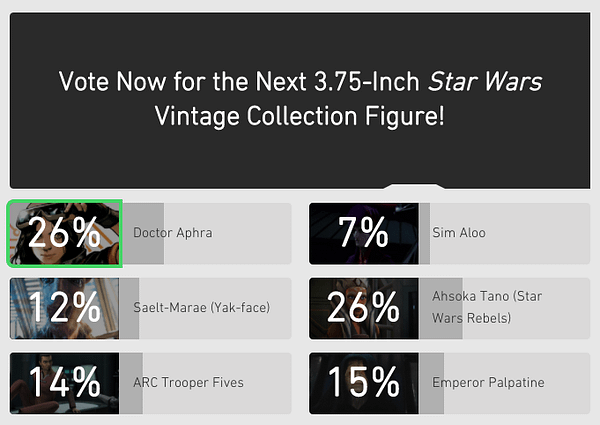 Can comics fandom hope to defeat Star Wars Rebels fandom in this epic nerd showdown on the battlefield of Star Wars toy geekery? Head over to StarWars.com to make your voice heard, and we'll find out.
Enjoyed this article? Share it!