What Does Kindred Want With the Sin Eater in Amazing Spider-Man?
So who is Kindred? Still up in the air. The horror show creature haunting Peter Parker and his life, getting involved with him, making plans, spying and hating him, in the Amazing Spider-Man series by Nick Spencer, Ryan Ottley and friends. But who is he, she or it?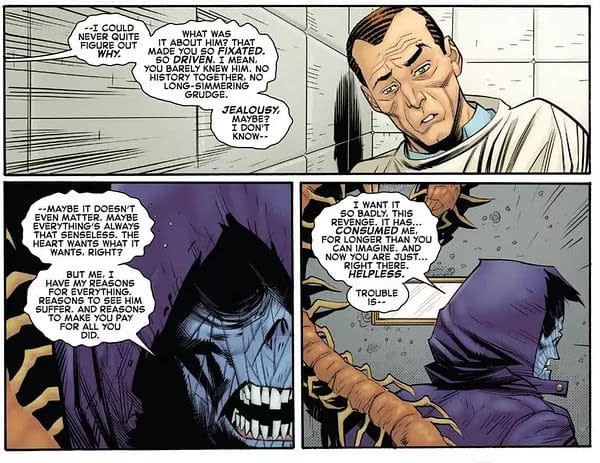 Money says it's something or someone to do with One More Day and the deal Peter Parker made with the Devil to sacrifice his marriage to Mary Jane in return for Aunt May's life – but that also brought Harry Osborn back from the dead and restored Parker's secret identity.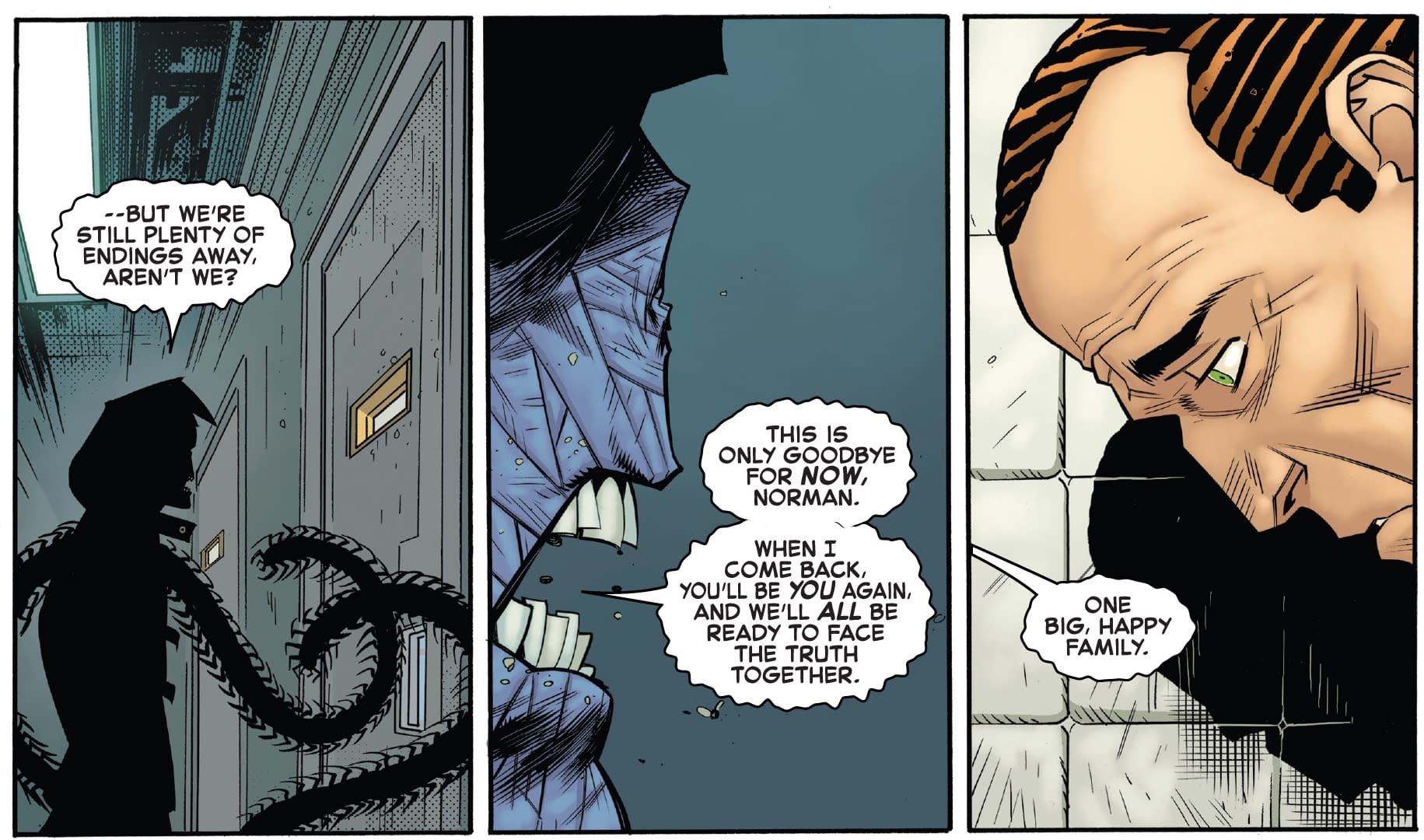 The best guess is that Kindred is somehow the pre-One More Day version of Harry Osborn that has fought through Hell and has quite a fascination and knowledge of Peter Parker, Spider-Man and associated hangers-on.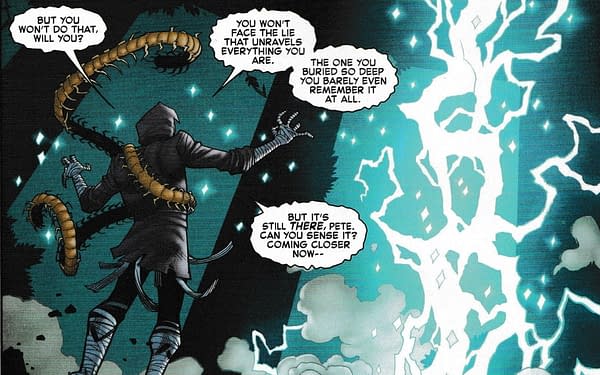 In Amazing Spider-Man #37 as Kindred monologued about Peter Parker's big lie that he can't even remember himself, potentially regarding his wiped-out marriage to Mary Jane, he brought something else back, as he has previously Mysterio.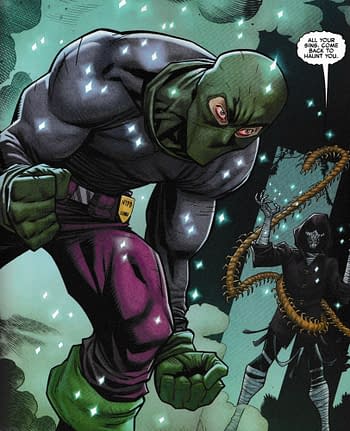 The Sin Eater. The original one as well, complete with his NYPD badge. Stanley Carter was an agent of S.H.I.E.L.D. injected with experimental drugs to increase strength and endurance. He became violent and resigned from S.H.I.E.L.D., eventually becoming a detective with the New York City Police Department. After his partner was killed by several young criminals, he became obsessed with killing anyone who "sinned" by abusing authority. As the Sin-Eater, his first victim was Captain Jean DeWolff but he was also the detective assigned to find the killer. When Spider-Man discovered that an upcoming victim of his was to be Betty Brant, he beat the Sin-Eater nearly to death. After Carter is released, he begins writing a memoir of his career as the Sin-Eater. However, he has trouble readjusting to society, taking an empty shotgun and goading police officers into opening fire on him. Could he have returned from hell at the hands of Kindred?
In this week's Amazing Spider-Man, an epilogue sees the Sin-Eater attempting, it seems, to blow up a safe/airlock door/vault. But what or who is inside?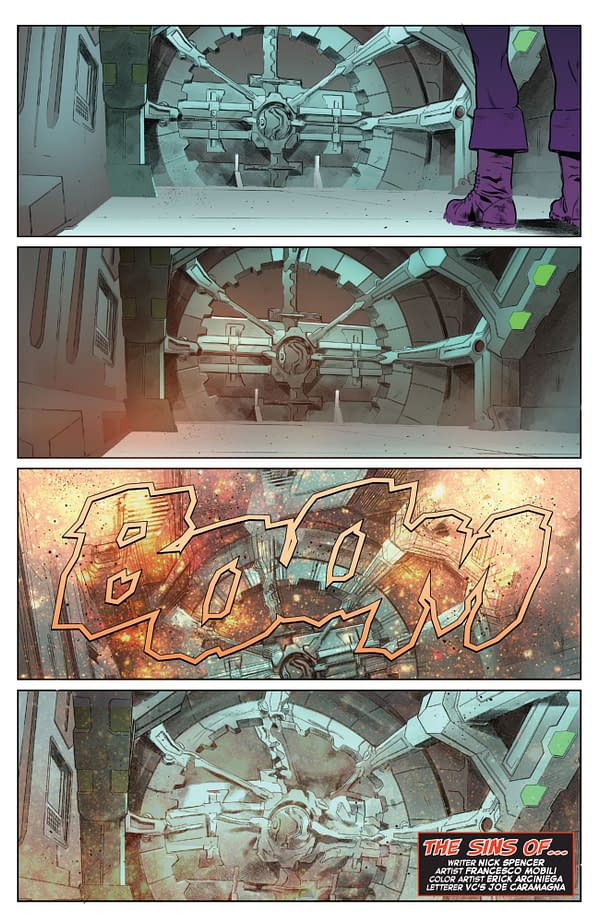 With the teased title 'The Sins Of…' Sins Of The Father was the Spider-Man storyline that exposed Norman Osborne as the father of two children by Gwen Stacy, and led directly into 'One More Day'. Sins Rising is also the title of the upcoming Spider-Man event featuring Amazing Spider-Man: Sins Rising Prelude which is due on July 22nd. "Who is the Sin-Eater, and why is it so terrifying that he's back? We will not only reveal more of Sin-Eater's secret history but put him on a collision course with Spider-Man that will have you quaking in your seat."
While Amazing Spider-Man #44 promises "Kindred has big plans with the Sin-Eater, and none of it looks good for Spider-Man."
Amazing Spider-Man #45 "SIN-EATER is back and New York City is in TROUBLE. Who will the shotgun-toting villain target, and can Spider-Man stand a chance against him?"
Amazing Spider-Man #46 "The Lethal Legion returns to threaten the Big Apple , and only the Sin Eater can save us? How can Spider-Man stop the murderous vigilante and… should he?"
Amazing Spider-Man #47 "Sin Eater has leveled up and is looking for more sins to eat. His new target? A place with plenty of sins to go around: Ravencroft Institute for the Criminally Insane. Spider-Man faces a conundrum he hasn't faced before, and it is messing him up. We are one month from AMAZING SPIDER-MAN LGY #850 and it is going to be a doozy."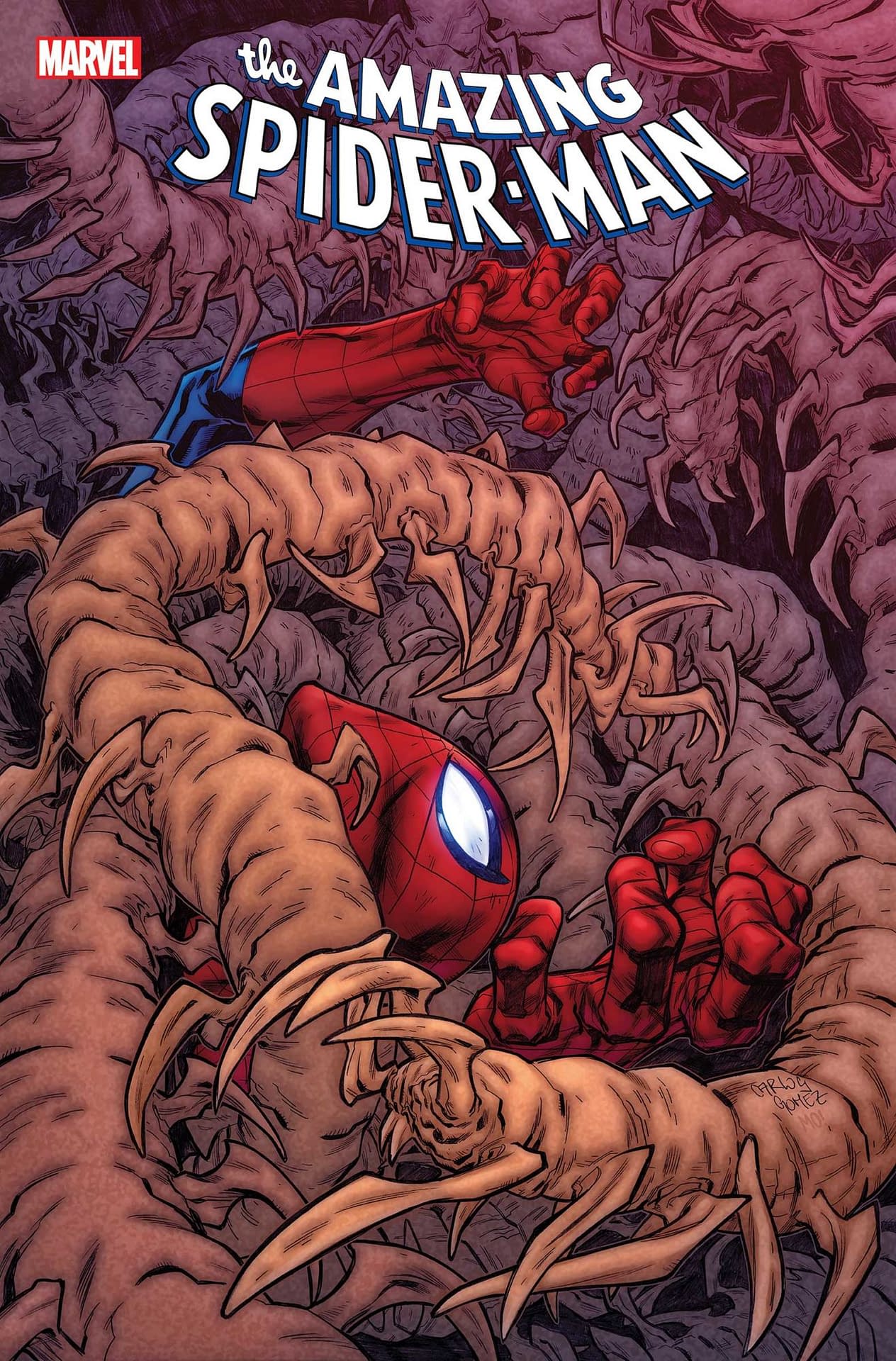 ---
---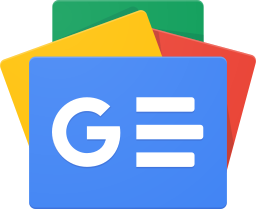 Stay up-to-date and support the site by following Bleeding Cool on Google News today!