Archaia is best known as a high end, original, hardcover graphic novel publisher with award-winning projects like Jim Henson's Tale of Sand, Mouse Guard, The Killer, and Rust in its stable. Since being acquired by Boom Studios in 2013 and folded in as one of the publisher's four imprints, Archaia has branched out into bringing back single issue series. In May, they're launching their first ongoing series since Secret History back in 2007 with Lantern City, a Star Wars style story in a steampunk world.
Early word is that based on initial orders, Lantern City will be Archaia's highest launching project ever with orders over 10,000 copies. And reports back from ComicsPRO's Annual Meeting were that Archaia is guaranteeing the series will run for no less than 12 issues. In addition to being written by Paul Jenkins with Matthew Daley (who wrote the Lantern City: Rise prequel novel) with art by Carlos Magno, Archaia has loaded up the first issue with variant covers by Benjamin Carré, Ben Caldwell, Magno, Dave Dorman and recently added a FOC variant cover by Brett Weldele and a 10K intermixed variant by Bagus Hutomo.
And they are clearly going all out to drum up support with the retail community as well. I received this photo showing one of 200 retailer promo kits sent out to direct market stores in the US and Canada. Looks like a poster, print, some t-shirts, pre-order forms, and a pin were included.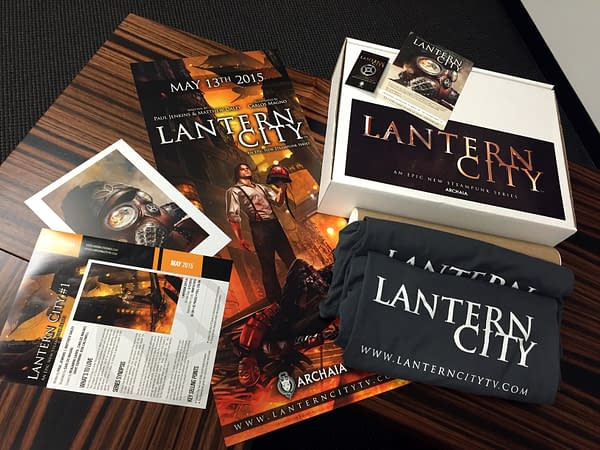 The Lantern City Facebook and Twitter accounts each have over 100,000 followers and late last week they added a contest for fans to track down comic shops that have put up the promotional poster for prizes. The final order cutoff for the first issue is next Monday, April 20th and the series launches May 13th.
Enjoyed this article? Share it!