Last Annihilation Wakanda #1 Review: It's Great
In Marvel Comics, the name "M'baku" got a lot of derisive snorts and scoffing before an actor named Winston Duke came along. Now, in The Last Annihilation: Wakanda #1, a very different M'baku seeks to find a new path for the name that can be seen in a different light, and frankly, it's great.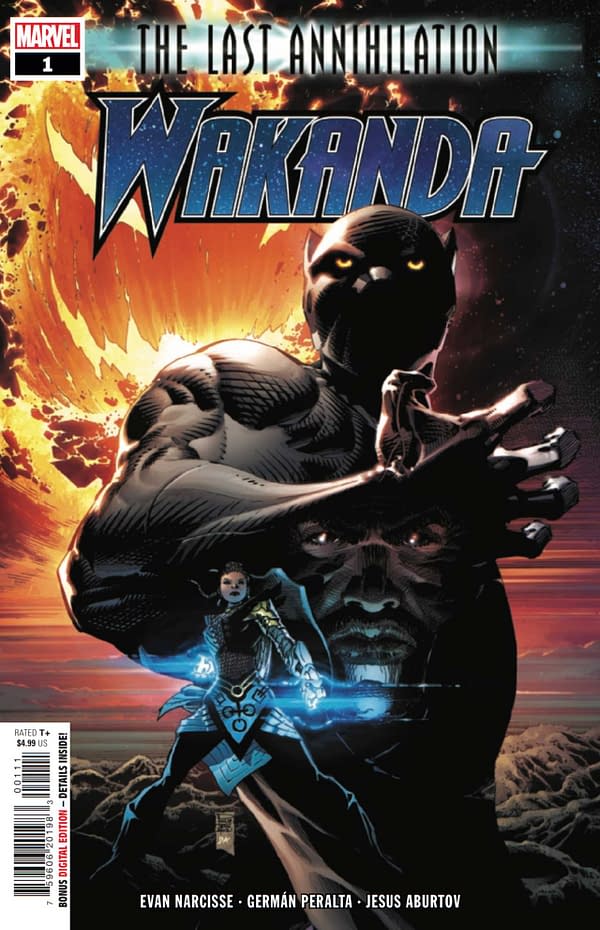 Through an ill-considered and somewhat problematic lengthy storyline, Wakandans time traveled and accidentally became gigantic jerks on a stellar level in a quest for vibranium in the stars. This cosmic catastrophe was ultimately settled, but like Age of Apocalypse, some of the remnants of that distant challenge remain, like the leader of the Maroons (the revolutionaries who opposed the spaceborne Wakanda's oppressive regimes), named M'baku before he learned of the challenged legacy of his namesake. Now, on Earth, he's a man without a mission, solely focused on helping to raise the largely oblivious young daughter of his deposed, slain enemy when an intergalactic threat to reality itself calls upon him to pick up arms once again.
Evan Narcisse imbues the events and characters here with great resonance, fun gags, and some great quotable lines. The cast is dazzling — Shuri, T'challa, Manifold, Vibraxas, Ororo (who's clutch), and of course Space M'baku himself — and the plot escalates, Tokyo Drifting into the Last Annihilation crossover and actually affecting the main storyline while making sure all borders of Wakanda remain wonderfully inviolate.
The visuals presented by German Peralta, Jesus Aburtov, and Cory Petit have a lot of heavy lifting to do — showing Wakanda's splendor, the horrors of war in space, and gigantic scale attacks on and defenses of reality itself — and nail it in every panel.
This comic book is engaging and sweeps upwards narratively towards a satisfying conclusion. Get this team on a big-ticket, stakes-changing ongoing series stat! RATING: BUY.
The Last Annihilation: Wakanda #1
By Evan Narcisse, German Peralta
With the universe itself at stake, Black Panther enlists the might of the Intergalactic Empire of Wakanda to help stop the dreaded Dormammu! And leading the Wakandan forces is none other than the legendary M'Baku! Will T'Challa and M'Baku be able to defeat Dormammu's army of Mindless Ones? Don't miss this critical chapter of the LAST ANNIHILATION event as a new hero emerges!
The Last Annihilation: Wakanda #1
---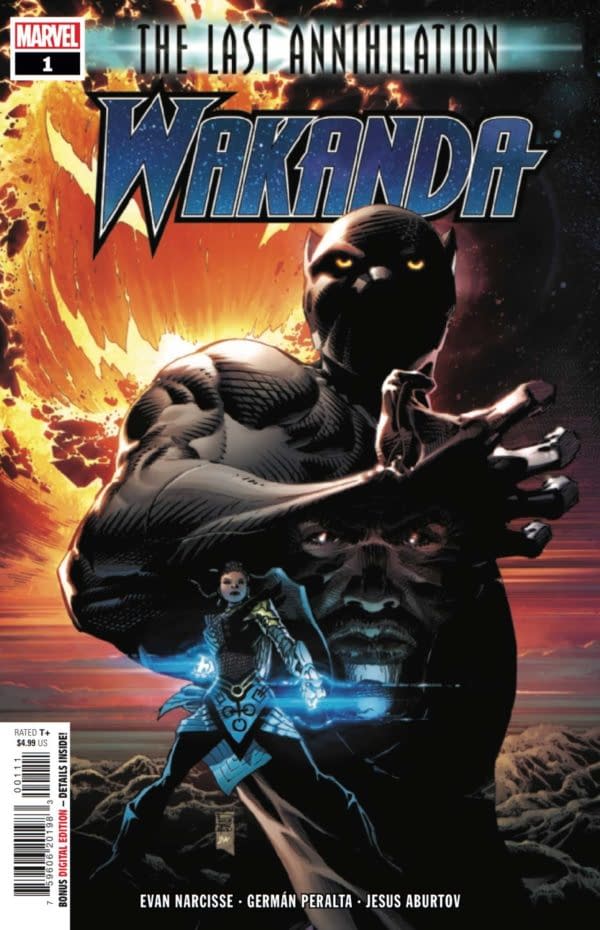 ---
With a bit of help from their friends, a skilled and hearty group of Wakandans take the fight to Dormammu's Mindless Ones in defense of the Shi'ar homeworld.
Credits
---
Editors
Akira Yoshida, Wil Moss, Kat Gregorowicz