Lone Wolf and Cub Creator Kazuo Koike Has Passed Away
Kazuo Koike, the creator of Lone Wolf and Cub (along with artist Goseki Kojima) and one of the most prolific creators of manga, has died. His official Twitter account and various news outlets reported that Koike, 82, was hospitalized for pneumonia and passed away on Wednesday.
Koike is the creator of Lone Wolf and Cub and its sequel series New Lone Wolf and Cub, Crying Freeman, Samurai Executioner, Path of the Assassin, Crying Freeman, Lady Snowblood, Mad Bull 34 and many more manga series than we have been able to keep track of. Lone Wolf and Cub was first translated into English and published in the United States in 1987 by First Comics and ushered in manga to an American audience, precipitating the first manga boom in the West before it evolved into the huge market it current is. Dark Horse currently publishes Lone Wolf and Cub in the US.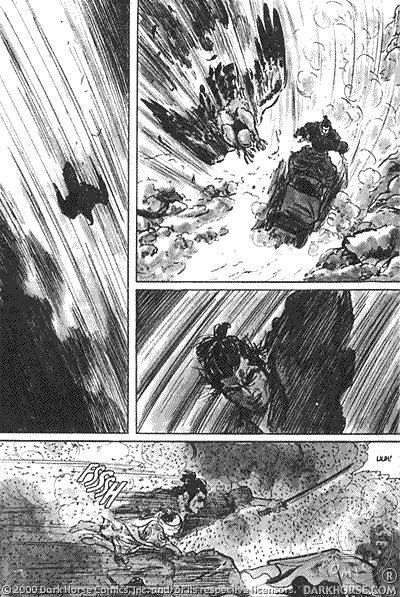 Koike was born on May 8 1936 in Akita prefecture and has proudly talked of the samurai heritage of his family. His samurai manga series all show signs of depth, meticulous research into period detail and customs of medieval Japan. He was a lifelong practitioner of the sword and in his old age, said that his family and assistants often had to hide his swords from him to stop him from overindulging in swinging them. Aside from comics, he was also a prolific writer of books, screenplays, television scripts and stage plays.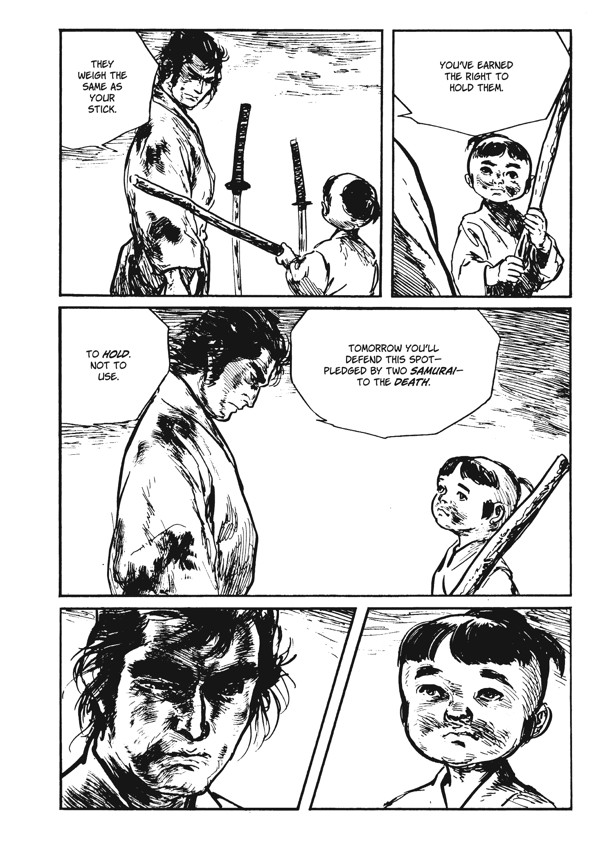 Lone Wolf and Cub casts a long shadow in Western pop culture because of its live action movie adaptations. The original six movies, which were produced in the early 1970s (some of them scripted by Koike) were bought up by New World Pictures and recut into a single, English dubbed movie in the US in 1980 called Shogun Assassin. That movie earned a cult reputation long before the manga even got translated and published in the US. However, during the 1970s and early 1980s, American comics artists like Walt Simonson and Frank Miller studied the original Japanese editions and were the first American artists to employ manga storytelling techniques to American comics. Frank Miller's run on Daredevil and his Science Fiction graphic novel Ronin were heavily influenced by Lone Wolf and Cub, and its influence continued in the Sin City comics.
The live action movie versions of Lone Wolf and Cub and Lady Snowblood were recently remastered and released in the West and have also accrued a cult following, even getting a prestigious release on Criterion Blu-Ray and DVD. Lone Wolf and Cub is the most famous of Koike's works, spawning not only movies, TV series and stage adaptations.
Apart from writing and editing manga, Koike also did his part to nurture the next generations of comics creators. He founded the Koike Gekiga Sonjuku training school for manga creators in 1977 and was an instructor at the Osaka University of Arts starting in 2000. Amongst his students was Rumiko Takahashi, the prolific creator of Urusei Yatsura, Maison Ikkoku, Ranma ½, Inuyasha and Rin-ne. Koike's contributions to manga, anime and pop culture are incalculable.
In Koike's passing, the world of comics has truly lost a giant.