It was pointed out recently that Bleeding Cool gets as much, if not more traffic for Rick & Morty than it did for Star Wars. At that point, I had managed not to have seen an episode. I the binged the lot in one go, sensitive that many fans had had to wait years between episodes and here was I, only pausing to go to the bathroom. But them's the breaks. I was caught in that trap of believing anything so ubiquitous must be awful and, instead, I found a hard science fiction and slapstick show that was basically The Dangerous Brothers Does Hitchhikers and got The Real Back To The Future spirit from the get-go. So I am now a convert like the rest of you, and am persuading Jude Terror to join me – he also hasn't seen an episode. And yeah, I'm reading the comics too.
What I don't yet have is any merchandise. There was a very sweet looking Loot Crate figure exclusively for San Diego Comic-Con that I didn't get by way of not going this year – but it looks like I won't have to pony up on eBay because a very similar piece will be in July's standard Loot Crate.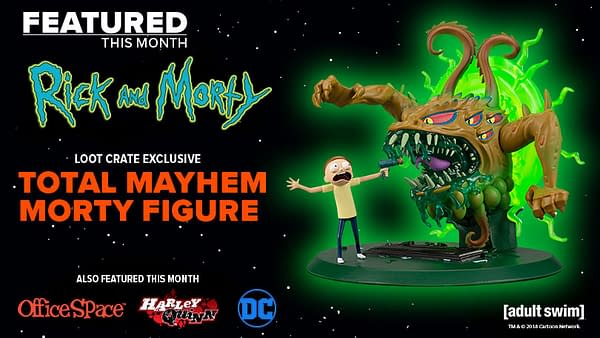 Slightly different colour there. And there are also items from Office Space, DC and Harley Quinn.
While the larger more expensive Loot Crate Dx offering is also Rick & Morty focused, though how we don't know,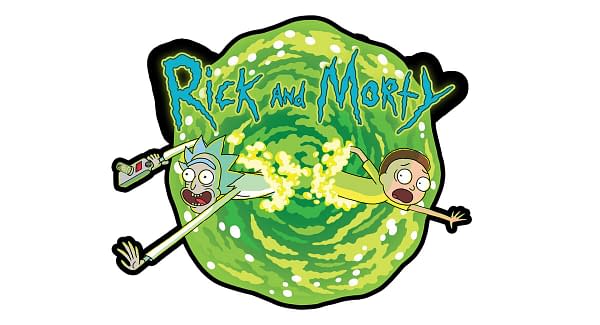 And they are only saying Rick And Morty and DC for that one. So far. You can get added discount when you order Loot Crate here and use the code BLEEDINGCOOL. If that's the kind of thing you want…
Loot Crate is a monthly subscription box for the geek demographic that has been running since 2012. Their themes change monthly and can be anything from 'Invasion' to 'Anti-Hero' to 'Future'. Loot Crate teams up with lots of companies such as DC, Marvel, and Nintendo to create a what is intended to be an exclusive and value-added array of merchandise in every crate. One-off crates with particular themes have been released, such as for Fallout 4 and Mass Effect. Loot Crate has also spun off into Loot Crate DX, Loot Crate Anime, Loot Pets, Loot Wear and specific brand boxes such as Firefly, JK Rowling's Wizarding World, Halo and more. They may have benefitted from the recent bankruptcy of rival subscription box Nerd Block.
Enjoyed this article? Share it!