Lots And Lots Of DC Comics Ch-Ch-Ch-Changes, From Robin War To Superman/Wonder Woman
A fair number of slips 'tween solicitation and publication from DC Comics or late and in the near future…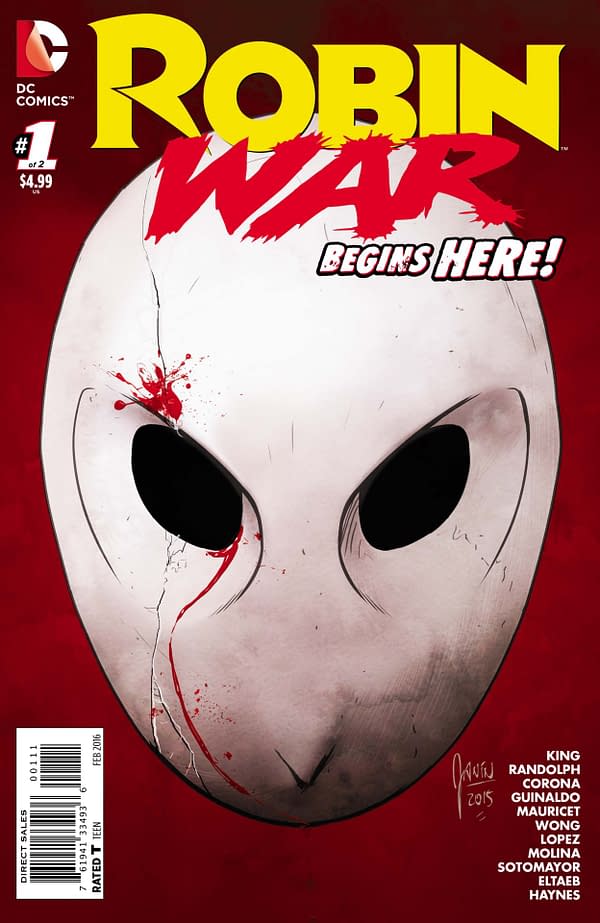 Robin War #1, was solicited from Tom King, Khary Randolph but has added Alain Mauricet, Jorge Corona, Andres Guinaldo, Walden Wong, Emilio Lopez, Chris Sotomayor, Gabe Eltaeb, Sandra Molina and Rob Hayes as artists.
Action Comics #47 was solicited by Greg Pak, Aaron Kuder. Its cover adds Wade Von Grawbadger as inker. But its credits are story by Pak and Kuder, words by Kuder, pencils George Jeanty, inks Karl Story, Wade Von Grawbadger, Sean Parsons and Dexter Vines.
Cyborg #6 was solicited by Ivan Reis and Joe Prado but has seen Prado dropped and Felipe Watanabe, Daniel HDR, Cliff Richards, Albert Oclair and Julio Ferreira added.
Deathstroke #13 was solicited with art by Tyler Kirkham but is now by Paolo Pantalena.
Aquaman #46 was solicited with art by Trevor McCarthy but was actually by Vicente Cifuentes
Batman and Robin Eternal #8 was solicited with art by Alvaro Martinez but had Scot Eaton added.
DC Comics Bombshells #5 was solicited with art by Bilquis Evely, Laura Braga and Mirka Andolfo but had Laura dropped for Ming Doyle.
Flash #46 was solicited with art by Todd Nauck but was actually by Brett Booth
Grayson #14 was solicited with art by Mikel Janin but was actually by Stephen Mooney
Justice League 3001 #6 was solicited with art by Howard Porter but was actually by Colleen Doran.
Sinestro #17 was solicited with art by Brad Walker but had Neil Edwards and Szymon Kudranski added.
Superman #46 was solicited with art by John Romita Jr and Klaus Janson but was actually, again, by Howard Porter.
We Are Robin #6 was solicited with art by Jorge Corona but the breakdown artist was Rob Haynes, as in Robin War, with epilogue art by Carmine Di Giandomenico.
And we don't normally look at cover changes as much but Superman/Wonder Woman #23 was solicited with this cover by Emanuela Lupacchino …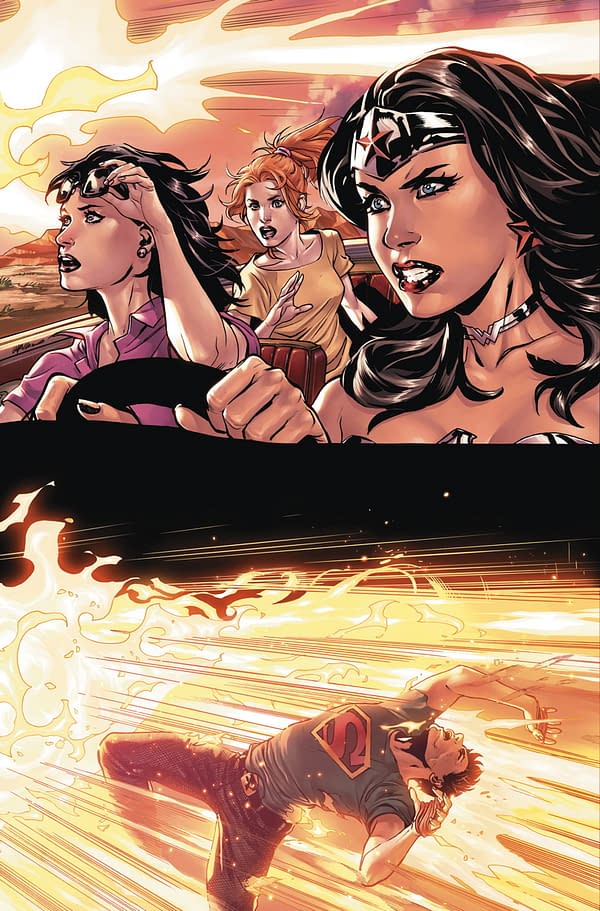 Was replaced with the following cover, with credits that say it's by Ed Benes…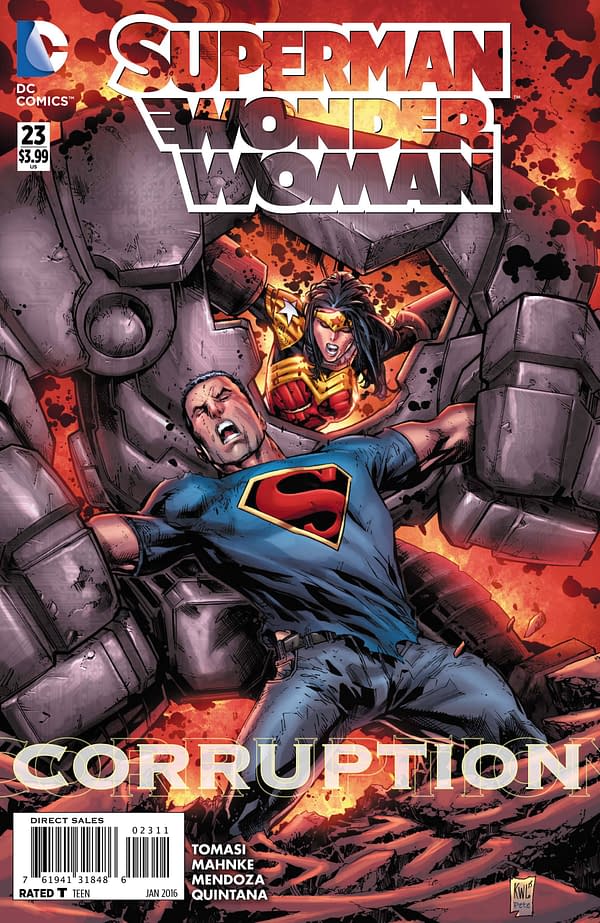 …but it's actually by Ken Lashley.