Lucy Dreaming #3 Advance Review: Charming Preteen-Centric Sci-Fi Comedy
[rwp-review-recap id="0"]
Lucy and Welz meet up and compare notes about their shared dreaming experience. They try to discern how it happened, and Welz is interested in doing so again. Liddy goes home to talk with her mother about the experience, and she learns more than she expected.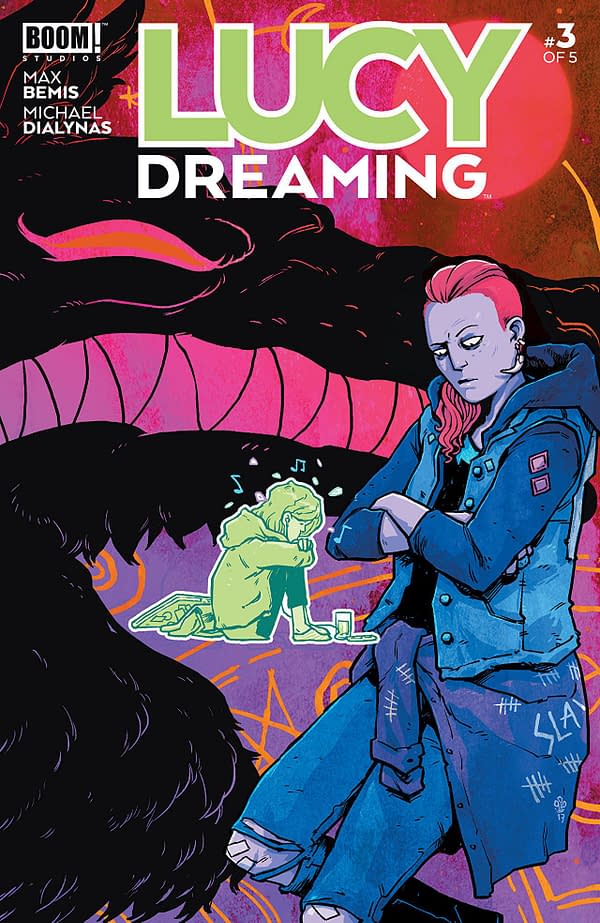 Lucy Dreaming #3 presents the story of energetic, creative, yet troubled preteens coming to terms with a fantastic ability with which they don't know what to do.
It balances both their supernatural issues and their familial issues, and the two are cleverly connected. The second half of the book is arguably a joke about the connection between the supernatural and familial angles, and it actually works pretty well.
Lucy and Welz are both believable and likable characters. They are punk-rock-oriented and odd in their own special ways. The relationship between Lucy and her mother is unique as well, but they do have problems which adds that needed dynamic of conflict to the story.
The dream section is a lot of fun, and it, believably, takes its inspiration from several real-world television series. I won't name them here to preserve the surprise for you lovely readers.
The artwork of Michael Dialynas provides a mixture of cartoonish styling with a hint of grit to match the piss and vinegar of the protagonists as well as the harder edges of the overall story. It brings the dreamlike nature of the dreamworld to life quite well too. The color balance is good too, bringing a good and eye-catching contrast to the artwork of the book.
Lucy Dreaming #3 was a nice reading treat this week. The characters are unique and engaging, the story is strange and interesting, and the artwork is solidly crafted and thematic to the story. This one gets a recommendation. Check it out when it hits stores this Wednesday.
[rwp-review-ratings id="0"]
[rwp-review-form id="0"]