Magnum PI Web Comic Comes to Ko-Fi
Marc Jackson is a British cartoonist, educator and a regular on Bleeding Cool. His life, just like all of us, is subject to upheaval and is being transformed. But he'll always have Magnum PI, and it's an appreciation he is happy to share with us all – for the price of a coffee. For something that will launches on Friday, 1st of May. He writes for Bleeding Cool;
"Back in January this year (which, let's be honest) feels like we lived on a different planet, I started the year by creating a mini-comic after being encouraged by my pal and comic artist the mighty Sean Phillips. Sean had posted an image he drew of Tom Selleck as the 80s Private investigator MAGNUM which prompted me to say 'this makes me want to make my Magnum comic' Sean said 'Do it!!' so I did! I set to work on a 12-page mini-comic right after the Christmas break as a warm-up for the year ahead. Turning it around in less than 2 weeks, I listed it on my web store for pre-orders. I also wrote a piece right here for Bleeding Cool about it and that's where things went crazy. The article hit one Wednesday evening UK time and my wife and I suddenly started hearing the 'KA-CHING!' sound from her phone. Then again, and again, and again. It was crazy! I woke up the next morning to find that it had sold out on pre-orders alone and had to more than double the initial print run. This was incredible and it's continued to be a steady seller every since and even appeared as part of the Cartoonist Kayfabe weekly mailbag after I sent it out to cartoonist Jim Rugg.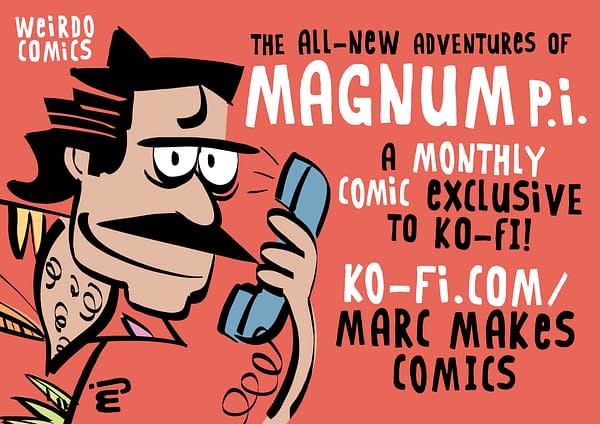 "After the world went mad and I lost the bulk of my income as a cartoonist, which included my Whackoman comic that I have produced each month for nearly two years now for Comicscene magazine, I needed to fill that gap. As a freelancer, I'm well versed in re-thinking my model, approaching new contacts and trying all avenues, but obviously print publications are looking for new stuff at the moment as most have stopped production.
"I've been using www.ko-fi.com as a way to give folks who have been watching my online drawing shows a chance to drop me a cyber-coffee to support the continued content I've been uploading. So I decided to use that platform and create a new monthly comic, in hopes it would fill the gap of my lost comics income. 'But what to create?' was the question and it hit me square on, let's take the Magnum strip that really clicked with folks and a comic I had so much fun drawing and use that. I'd thought about doing more after the success of the comic, but had other regular commitments, but now, now I had time (no money, but time) So starting next month, I'll be creating a monthly MAGNUM strip cartoon (set in a Sunday funny pages layout) in full colour that follows where I started, but also taking it into somewhere even cooler. Imagine if back in the 80's there was a Saturday morning TV cartoon spin-off from the show, that's where I'm heading.
Here's the deal, I can't do it for free. In order to continue and produce this monthly, I need help. I need your cyber-coffees! This will only be available to one-off or monthly supporters on my page www.ko-fi.com/marcmakescomics and if I can make back what I earned per strip for some of my lost work, then I'll keep this rolling for as long as folks want it. Then later in the year, for those that love print (me included) I'll collect them together and your names will be included in the back page thank you column, I can't say fairer than that, eh?
So if you enjoyed the comic and loved the show, I can promise you everything you loved about what I created and a whole lot more! Join me as we take a cyber-spin in the bright red Ferrari of funny books!