MAN EATERS Review Brought To You By ESTRO CORP
[rwp_box_recap id="0"]
This review is to promote boy health and safety. Do not believe the pro-cat propaganda. Women are dangerous, deadly, and cunning.
Do not proceed further if you are weak to their purrs or to their charm. This is a review not for the weak, but for those who are ready to survive.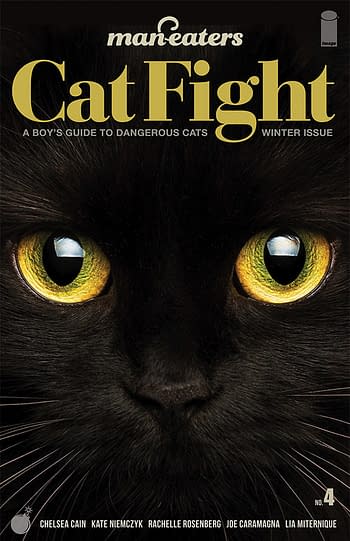 What feels like eons has been only days. I am writing this review from a safe house, far from their feline reaches and influence. Man Eaters #04 has been my only hope. The first article shows the sliced and mauled hand of fellow survivor, Jake, who tells the story of his girlfriend suddenly turning on him. Mad with estrogen-rage, this feline left Jake battling for his life before disappearing like a thief in the night.
Had my good hand survived the attack, I would wipe away my tears. Instead I am strong. The advertisement for "Hand Signals & Emergency Communication for Men & Boys" feels like a cruel joke now.
I focus. I read on.
Dr. John Gray lays out the mannerisms to better understand these murderous animals. Vaccinations offer to protect us all from the menstruating hulk-women, AKA panthers, but in the end it comes down to us to be vigilant against their charm. In the end, women are dangerous. Menstruating women are deadly.

No longer are there safe spaces for men and it is up to us to fight back. Submit grievances. Check fecal matter for severed digits. Join the Special Cat Apprehension Team. Get into the fetal position and protect your major organs when attacked. Stay vigilant.
Tears of fear fill my eyes as I stare at the wanted poster for Sophie E., a sixth grader from Powell Middle School, who remains at large after crawling into a ventilation shaft, no doubt biding her time before terrorizing another helpless boy. If we cannot even protect our children, there is no hope for the future. I peel the perfume sample for "ESTRO SPICE," slathering it across my face. The scent is scathing but hopefully effective.
Being alone with women is not safe. When will we wake up to this threat? The only way to protect yourself is to subscribe to Cat Fight. Consume ESTROBLOCK Protein powder. Read your monthly horoscope. Use ESTRO DEFENSE.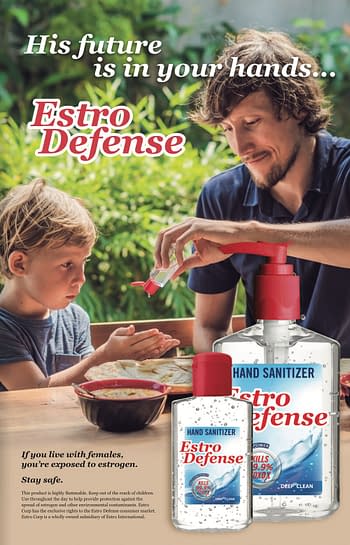 Author C. Cain (Mockingbird) and artist K. Niemczyk (Mockingbird) compile this Bible for the downtrodden men and boys of this world. The advertisements are topical and seek to protect the reader, as only chugging down liquid testosterone equates to manliness. Although difficult to read as a feline attack survivor, I now know that the next time I will escape with all my limbs.
Stay strong, brothers. And avoid these felines at all costs. They are not to bea fdjas;kfhsdjhfas;djfhasd;fhjas;dfhjasdfasdfasdf…………………….
[rwp_box_reviews id="0"]
[rwp_box_form id="0"]