Marc Silvestri Redesigns Witchblade For 2024 Image Comics Relaunch
Marc Silvestri has redesigned Witchblade for the upcoming 2024 series by Marguerite Bennett, Francesca Ciregia, and Bryan Valenza.
---
As part of the Kickstarter for The Complete Witchblade Vol 3, Marc Silvestri will be releasing the Witchblade #1 Preview edition ahead of the series relaunch in 2024. He has released the black-and-white cover of the new design for Witchblade, but in order to see the colour version, and the rest of the comic, you will have to become a physical tier backer. Existing backers can choose to add-on copies of this color version for $10. The black and white version of Silvestri's cover can only be added on for $15 after fans unlock Top Cow's $200K Stretch Goal.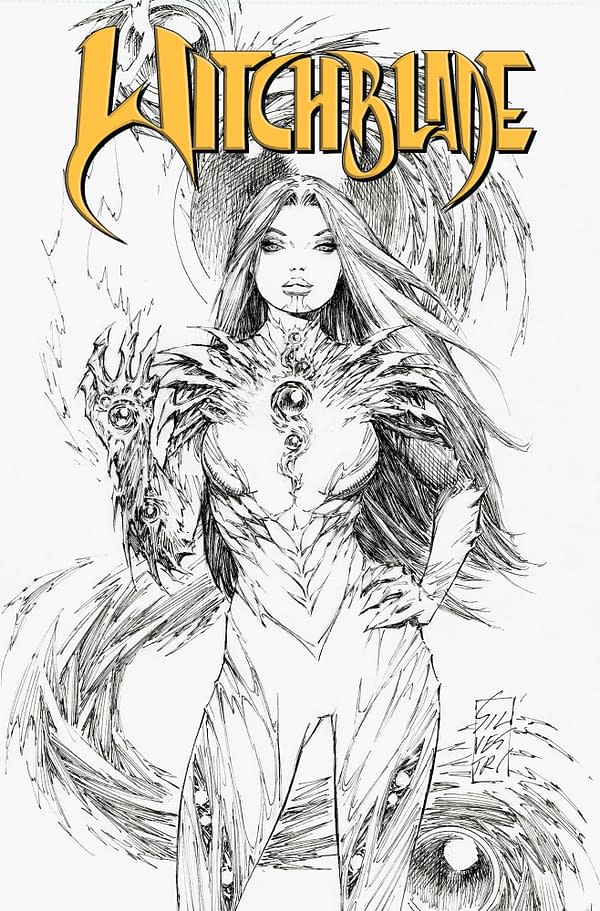 The preview edition will include the first twelve "Neo-noir" pages of Witchblade #1 by Marguerite Bennett, Francesca Ciregia, and Bryan Valenza, set to release in 2024. This preview edition has exclusive cover variants by Stjepan Sejic and Francesca Cirega that fans can add-on separately for $5, as well as a fan question section within. Questions can be submitted to the new Witchblade creators by commenting on the following threads on Facebook, Instagram, and Twitter.
Notably, the costume is less skin-baring than the original and seems to cover the whole body. The spikes around the shoulders appear to be a little more aggressive than before as well.
Created by Top Cow founder and co-owner Marc Silvestri, editor David Wohl, writers Brian Haberlin and Christina Z, and artist Michael Turner, the comic book Witchblade ran for twenty years from 1995 to 2015 from Image Comics. It was turned into a TV series in 2001, an anime, a manga and a novel in 2006, and considerable amounts of merch over the years, before sporadic relaunches in 2017 with Caitlin Kittredge and Roberta Ingranata, and again in 2021 with Marguerite Bennett and Ariel Kristantina. Classically, the series follow Sara Pezzini, a police officer who comes into possession of the Witchblade, a supernatural, sentient gauntlet that bonds with a female host and provides her with a variety of powers in order to fight supernatural evil. Though others have wielded the Witchblade, it also span off series such as The Darkness.