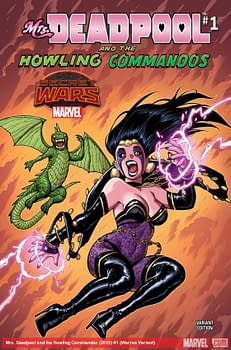 A few changes 'twixt solicitation and publication from Marvel Comics.
The Champions #1 action figure cover that was to have had Miles Morales Spider-Man and Amadeus Cho Hulk will now have Viv Vision instead.
Uncanny Inhumans #13 will be drawn by Aaron Kim Jacinto as well as the solicited Carlos Pacheco.
All New Inhumans #11 will be drawn by Rhoald Marcellius, not the solicited Stefano Caselli.
Agents Of SHIELD will be drawn by Ario Anindito, not the solicited German Peralta.
Deadpool #18 will be drawn by Brian Level as well as the solicited Mike Hawthorne.
Deadpool Annual #1 will have Empowered's Adam Warren join as as a writer/artist as well as the solicited creators Gerry Duggan & Brian Posehn and artist Scott Koblish.
Thunderbolts #6 will be drawn by Sean Izaakse, not the solicited Jon Malin. The cover will still have art by Jon Malin.
Enjoyed this article? Share it!