Marvel Comics Liquidates Their Season One Hardcovers – All But One (UPDATE)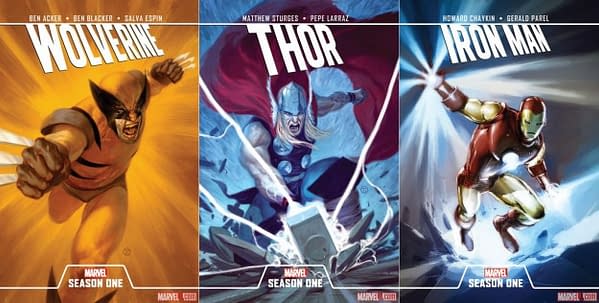 Once upon a time, DC Comics launched their Earth One line, still running today. A series of ongoing original hardcover series that retold te tales of their biggest superheroes again, from scratch, in their own self contained and recreated continuity.
Geoff Johns and Gary Frank worked on Batman Earth One, JMS and Shane Davis on Superman Earth One. Grant Morrison and Yanick Paquette on Wonder Woman Earth One. And more….
Well, Marvel saw this line making headines and was jealous. So sore were they that they decided they could do just the same. And launched a hardcover line of original graphic novels called Season One.
And what's more, they could do more of them.
So in 2011, they launched Season One, with a bevy of familiar names, at $24.99 each.
Fantastic Four: Season One by Roberto Aguirre-Sacasa and David Marquez
X-Men: Season One by Dennis Hopeless and Jamie McKelvie
Daredevil: Season One by Antony Johnston and Wellinton Alves
Spider-Man: Season One by Cullen Bunn and Neil Edwards
Ant-Man: Season One by Tom DeFalco and Horacio Domingues
Hulk: Season One by Fred Van Lente and Tom Fowler
Doctor Strange: Season One by Greg Pak and Emma Rios,
Wolverine: Season One by Ben Blacker and Ben Acker
Thor: Season One by Matthew Sturges and Pepe Larraz
Iron Man: Season One by Howard Chaykin and Gerard Parel.
But lo, while DC Comics had made strong inroads into the bookstore business, Marvel had not, letting much of their line go out of print and not seeing the bookstore market as the opportunity that DC did.
None of the books received a Season Two and the line ceased a couple of years ago. And now Marvel calls a death knell. All the volumes remain in print, but Marvel is to liquidise their stock, selling them to retailers for 80% off what they would normally pay, the same retailers may pay to order a new $4.99 comic.
So expect a glut of these Season One volumes on the market, then for the books to go out of print… Fantastic Four, Spider-Man, Hulk, Daredevil, Ant-Man, Thor, X-Men, Wolverine, Avengers and Iron Man.
All but Doctor Strange. Marvel are keeping that one in stock. Well, there is a film on…
UPDATE: Nope, that volume already sold out. Can't liquidate what they don't have…