We had a look at upcoming Omnibus and Absolute titles from DC Comics earlier, here's a look at some of Marvel's Omnibuses, as well as their monstrously large King Size hardcover volumes. And more details of what is actually in the Amazing Fantasy Omnibus we noted earlier.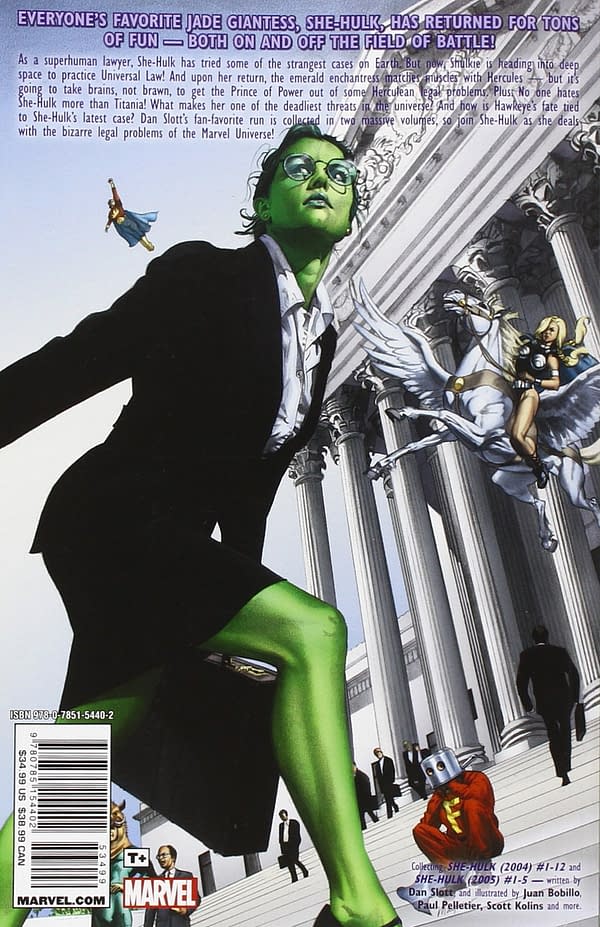 July 28, 2020 824 pages. Before he became a superstar on AMAZING SPIDER-MAN, Dan Slott delighted readers with his sensational SHE-HULK run! Jennifer Walters is a gamma-powered green goliath just like her Hulkish cousin, but her home is in the courtroom – where she takes on some of the wildest legal cases in the Marvel Universe! Alongside coworkers like reformed android Awesome Andy, and researching old Marvel comics to set legal precedents, could She-Hulk's career get any stranger? Sure -when she gets summoned to outer space to practice Universal Law for the Living Tribunal or pulled out of the timeline by the Time Variance Authority! But when the Superhuman Registration Act leads to a civil war, whose side will She-Hulk argue? Plus: All out smackdowns against Titania, the Champion and an A-Z of the Hulk's enemies! COLLECTING: SHE-HULK (2004) 1-12, SHE-HULK (2005) 1-21, MARVEL WESTERNS: TWO-GUN KID (2006)
April 7, 2020. Some of the most pivotal moments in Wolverine's life, and you are there! His first fight with Sabretooth! His transformation into Weapon X, killing machine! His dynamic debut against the Incredible Hulk, and the solo adventures that led him away from the X-Men to mysterious Madripoor! His mentor Ogun, his lover Charlemagne, and more await discovery in these pages! Plus more classic battles against friends and foes alike! Featuring Spider-Man, Hercules, and the Punisher! COLLECTING: Incredible Hulk (1968) 180-182, 340; Wolverine (1982) 1-4; Uncanny X-Men (1981) 172-173; Kitty Pryde and Wolverine (1984) 1-6; Captain America Annual (1971) 8; Spider-Man vs. Wolverine
May 26, 2020. by Jack Kirby, Steve Ditko, Don Heck, Paul Reinman, Stan Lee, Larry Lieber.  At the dawn of the Silver Age, Stan Lee, Jack Kirby and Steve Ditko – three of comics' greatest talents – had readers crying "make mine monsters" with a cadre of ten-ton terrors, from Torr to Manoo to the one and only Monsteroso! Backed up by weird tales of witchcraft, Martians and occult master Dr. Druid, it seemed that these titanic tales could never be topped. And then Lee and Ditko did just that, seamlessly transitioning into an all-new approach featuring aliens, time travel, ghosts and atomic nightmares! With lushly illustrated stories, Ditko set a new standard for comic art, and Lee raised the bar ever higher with his scintillating scripts. And, oh, in the last issue they created some guy named "Spider-Man." Experience a lynchpin series in Marvel history! COLLECTING: AMAZING ADVENTURES (1961) 1-6, AMAZING ADULT FANTASY (1961) 7-14, AMAZING FANTASY (1961) 15
 June 9, 2020. When a young writer named Chris Claremont relaunched the X-Men in 1975, few fans could predict the incredible impact he would have on the series. With a flair for realistic dialogue, heartfelt storylines and hard-hitting action, Claremont's writing breathed life into the characters. In collaboration with artists Dave Cockrum and John Byrne, Claremont crafted a run still heralded as the definitive era of the title. Now, relive the debut of the all-new X-Men,including Storm, Colossus, Nightcrawler and Wolverine! Thrill to their battles against Krakoa, Magneto, Sauron, Proteus and many more – and witness Marvel Girl's transformation into Phoenix! More than just another super hero title, the X-Men's struggle against prejudice and intolerance has resonated in the hearts of millions of devoted readers for decades. COLLECTING: GIANT-SIZE X-MEN 1, X-MEN (1963) 94-131, ANNUAL (1970) 3
June 16, 2020. When the Peter Parker of the Ultimate Universe falls, the world needs a Spider-Man – and here comes Miles Morales! But what's the secret behind his powers – and can he master them before the Scorpion strikes? Family life gets complicated as Miles learns the truth about his uncle Aaron, and Captain America comes calling when war breaks out! Miles shares a multiversal meeting of the Spider-Men with the Marvel Universe's Peter Parker – but what tragedy could leave the young hero swearing never to wear the webs again? There'll be familiar faces, heroic allies, deadly menaces, a startling return and a sprinkling of romance in the complete Ultimate Universe adventures of Miles Morales! COLLECTING: ULTIMATE COMICS SPIDER-MAN 1-28, 16.1; SPIDER-MEN 1-5; CATACLYSM: ULTIMATE SPIDER-MAN 1-3; ULTIMATE SPIDER-MAN 200; MILES MORALES: ULTIMATE SPIDER-MAN 1-12; MATERIAL FROM ULTIMATE FALLOUT 4
June 23, 2020. Steve Ditko is an inimitable talent dedicated to a singular vision. Steve Ditko is one of the greatest storytellers of all time. Steve Ditko is the visual master who created other dimensions beyond imagining and eerie worlds beyond compare. Steve Ditko is…strange! Doctor Strange! Dr. Stephen Strange was a world-renowned surgeon until the night a car accident crippled his hands. Broken and destitute, he journeyed to Tibet to seek a cure from a legendary healer. There, he found not a man of medicine but the path to the mystic arts. This King-Size edition presents Steve Ditko and Stan Lee's complete "Doctor Strange" stories at a massive size, so big that each page is like falling into another dimension. Lose yourself in the first appearances of such iconic characters as Baron Mordo, Wong, Eternity, Clea, Dormammu, the Mindless Ones and more. COLLECTING: STRANGE TALES (1951) 110-111, 114-146
June 23, 2020 by Jack Kirby, Don Heck, Steve Ditko, Paul Reinman, Stan Lee, Larry Lieber, Steve Gerber , Mike Friedrich.  Adventure Into Fear with Man-Thing, Morbius and monsters in the Mighty Marvel Manner! The classic 1970s horror series is collected in full – including every last reprint, backup tale and hair-raising adventure of its iconic series stars! First, thrill to a scintillating selection of terrifying Atlas Era and Silver Age stories by such legends as Stan Lee, Jack Kirby and Steve Ditko! Then, the shambling muck-monster Man-Thing oozes into the spotlight – and those who know fear will burn at his touch! That includes demon cults, sorcerers and Thog the Nether-Spawn – but what about the sky-being named Wundarr? Next, Morbius the Living Vampire claims the title role – and faces threats including the Cat People, the Caretakers of Arcturus and the deadly Daemond! But will Morbius be staked by Blade the Vampire Slayer? Prepare to know fear in its full form! COLLECTING: FEAR (1970) 1-31
July 7, 2020. The Avengers and Fantastic Four return from the pocket dimension of "Heroes Reborn," but the Earth they left behind still needs heroes! As waters rise and Celestials loom, will Rikki "Bucky" Barnes and her Young Allies step up – or is Doctor Doom the iron hand that this ravaged planet needs? Trapped on this Counter-Earth, the disguised villains called the Thunderbolts must choose between escape or becoming heroes! And the interdimensional Exiles drop in for a visit! But when Onslaught rises, Franklin Richards returns to the original world he created – and Rikki Barnes must summon allies from the real Marvel Universe! COLLECTING: HEROES REBORN: THE RETURN (1997) 1-4; THOR ANNUAL 1999; HEROES REBORN (2000): DOOMSDAY, ASHEMA, MASTERS OF EVIL, REBEL, REMNANTS, YOUNG ALLIES, DOOM; FANTASTIC FOUR (1998) 25, 31; DOOM (2000) 1-3; DOOM: THE EMPEROR RETURNS (2002) 1-3; THUNDERBOLTS (1997) 51-52, 60-62, 64, 66, 68, 70, 72, 74; EXILES (2001) 81-82; ONSLAUGHT REBORN (2006) 1-5; ONSLAUGHT UNLEASHED (2011) 1-4; MARVEL SPOTLIGHT (2005): HEROES REBORN/ONSLAUGHT REBORN
July 14, 2020. As Ben Reilly settles into his new life as Spider-Man, Peter Parker adapts to a life without powers. Ben takes on a rogues' gallery of classic foes as Peter and MJ prepare for parenthood – but when a strange illness sends Peter to the hospital, is it the dreaded clone degeneration, or something else? Revelations await as the epic Clone Saga reaches its cataclysmic conclusion! COLLECTING: SENSATIONAL SPIDER-MAN (1996) 4-11, AMAZING SPIDER-MAN (1963) 411-418, SPIDER-MAN (1990) 68-75, SPECTACULAR SPIDERMAN (1976) 234-241, SPIDER-MAN UNLIMITED (1993) 12-14, SPIDER-MAN: REDEMPTION (1996) 1-4, DAREDEVIL (1964) 354, SPIDER-MAN TEAM-UP (1995) 4-5, SPIDER-MAN: REVELATIONS TPB (1997), SPIDER-MAN: THE OSBORN JOURNAL (1997) 1, SPIDER-MAN: 101 WAYS TO END THE CLONE SAGA (1997) 1, SPIDER-MAN: DEAD MAN'S HAND (1997) 1
Enjoyed this article? Share it!