Marvel's New Team Line-Up For The Avengers For 2023
The new Avengers team will be Captain Marvel, Iron Man, Thor, The Vision, Scarlet Witch, Black Panther and Sam Wilson: Captain America.
---
Marvel Comics is relaunching The Avengers comic book after Jason Aaron's five-year run comes to an end. And, as well as a return to an Avengers logo without the arrow from the eighties, Jed MacKay and C.F. Villa, will be creating a new line-up with classic Avengers, and reflecting some changes to those ranks over those years. So no Steve Rogers, it will be Sam Wilson taking the Captain America rolFmet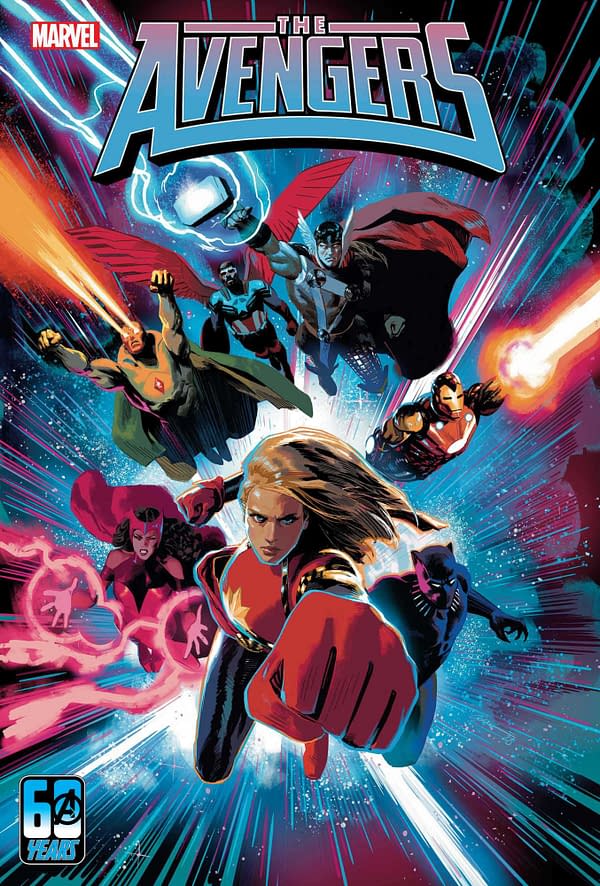 "AVENGERS #1 will arrive this May, ushering an age ripe with grand-scale adventure and cosmic mystery just in time for the team's milestone 60th anniversary! The new run will come complete with a fresh lineup consisting of some the biggest icons from throughout the Avengers' storied history including Captain Marvel, Iron Man, Thor, and Scarlet Witch. Fans can see this powerful new team rocketing into action in a variant cover by superstar artist Daniel Acuña. Acuña's piece is the first of many variant covers by top industry talents that will grace the debut issue, and fans can look forward to seeing more stunning AVENGERS #1 covers revealed all week long!"

"MacKay and Villa's AVENGERS will kick off with a saga that sees the team embrace a new divine purpose after they're gifted with knowledge of THE TRIBULATION EVENTS, a series of grand-scale disasters that will spark upheaval throughout the known universe. Fans got their first glimpse at MacKay's overarching AVENGERS plan in last month's year-ending one-shot, TIMELESS, where readers followed Kang in his hunt for the unobtainable "MISSING MOMENT." Now, a dangerous game is afoot and the prize is greater than anything imaginable… Will the Avengers be able to triumph in the face of the Tribulation Events and learn the connection behind these earth-shattering threats and Kang's quest? Or will they be reduced to mere pawns in an extraordinary scheme beyond their comprehension?"
AVENGERS #1
Written by JED MACKAY
Art by C.F. VILLA
Cover by STUART IMMONEN
Variant Cover by DANIEL ACUÑA
On Sale 5/1