Medieval Spawn and Witchblade #1 Review: Conventional Fantasy Salvaged by Gorgeously Macabre Art
[rwp-review-recap id="0"]
An ancient land is assailed by dark and malevolent beasts. They have sent the last of their able-bodied people to fight them, but it doesn't appear to be enough. Thankfully, a knight bearing the visage of Spawn—and the former king of this realm—arrives and can slay the creatures with ease. The villagers hail him as their king, but a witch plans against both Spawn and the villagers from a fortress.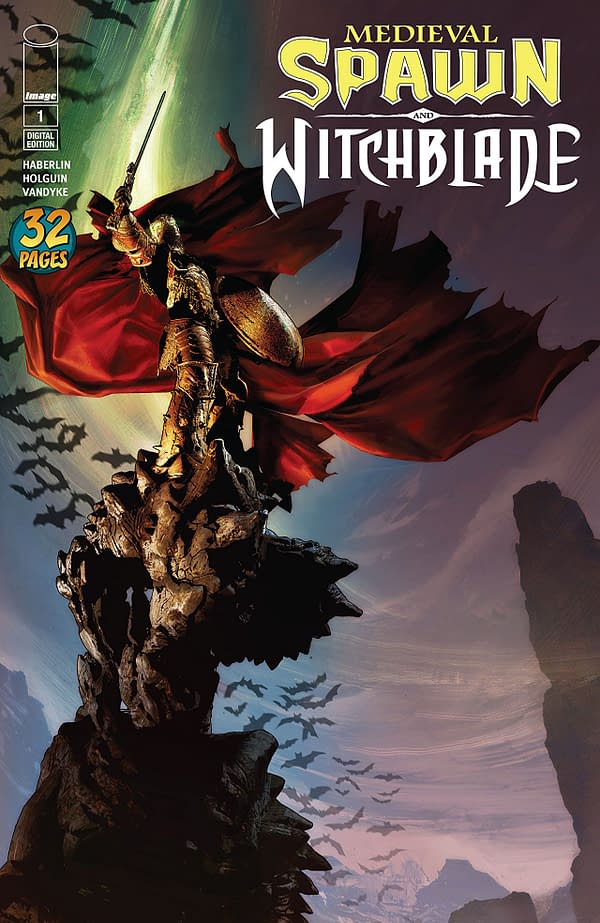 Medieval Spawn and Witchblade #1 is a surprisingly conventional fantasy tale. Despite presence of Spawn and promise of Witchblade, the tale isn't especially fresh. Villagers good, monsters bad, and the mysterious warrior will save the day.
What doesn't help is that the comic spends a long time establishing this fairly simple premise and the backstory behind this iteration of Spawn. However, even that backstory is uninteresting and nothing one hasn't heard before.
The action is brief, compounding the issues of the slow pacing. The only redeeming part of the narrative is the fact that Spawn's character has some potential, as does the scheming witch character.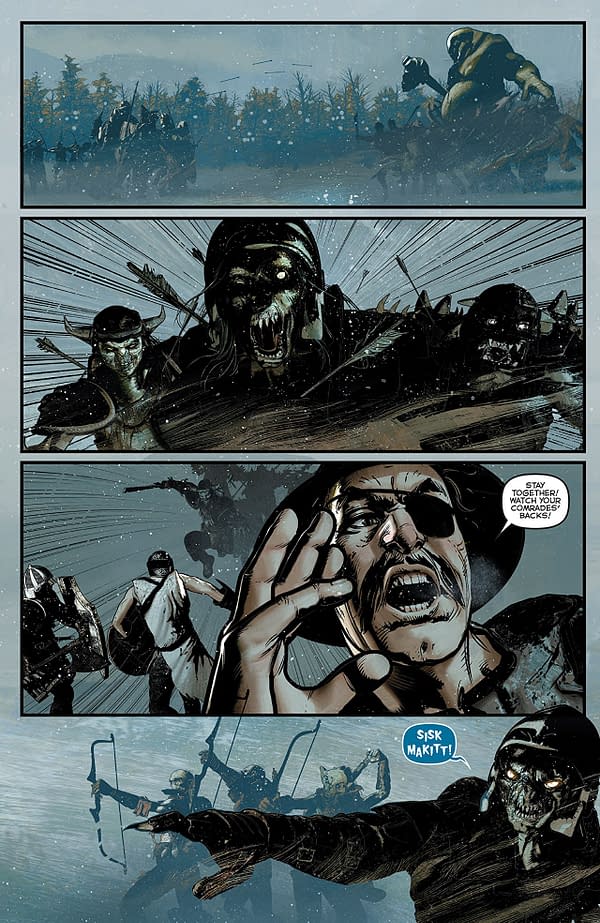 Brian Haberlin's artwork is the primary redeeming quality. The style is both unique and gorgeous. It's heavily detailed, shadowed, and appealingly creepy. The world is cold and threatening, and it seems like the exact kind of place Spawn would wander. The texturing is vivid too, and it seems like the page itself could give you a disease or ten. Geirrod Van Dyke's color work contributes with a brown and red palette which creates an oppressive atmosphere to the scorched landscapes in this book.
Medieval Spawn and Witchblade #1 is a slow and fairly standard fantasy story saved by the gorgeous artwork of Haberlin and Van Dyke. I can't recommend it to anyone not especially attached to Spawn, Witchblade, the fantasy genre, or especially good comic book art. However, those who do partake in the book will be dazzled by the artwork within.
[rwp-review-ratings id="0"]
[rwp-review-form id="0"]