Mel Valentine Vargas Adapts Yaqui Delgado Wants To Kick Your Ass
Mel Valentine Vargas is creating the graphic novel adaptation of the YA novel Yaqui Delgado Wants to Kick Your Ass by Meg Medina, a story about a Latina teen who is targeted by a bully at her new school and must discover resources she never knew she had. Kate Fletcher of Candlewick Press signed the deal for the Yaqui Delgado Wants to Kick Your Ass graphic novel, to be published with the original novel's 10th anniversary in 2024.
One morning before school, some girl tells Piddy Sanchez that Yaqui Delgado hates her and wants to kick her ass. Piddy doesn't even know who Yaqui is, never mind what she's done to piss her off. Word is that Yaqui thinks Piddy is stuck-up, shakes her stuff when she walks, and isn't Latin enough with her white skin, good grades, and no accent. And Yaqui isn't kidding around, so Piddy better watch her back. At first Piddy is more concerned with trying to find out more about the father she's never met and how to balance honors courses with her weekend job at the neighborhood hair salon. But as the harassment escalates, avoiding Yaqui and her gang starts to take over Piddy's life. Is there any way for Piddy to survive without closing herself off or running away? In an all-too-realistic novel, Meg Medina portrays a sympathetic heroine who is forced to decide who she really is.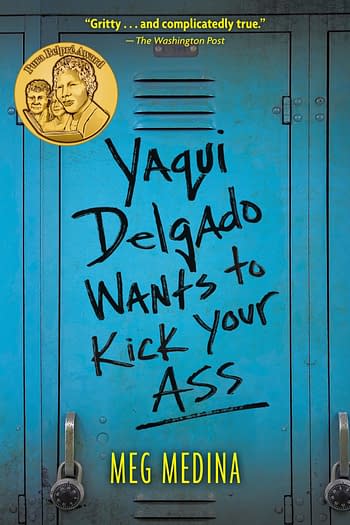 Mel Valentine Vargas is a Miami-born, Chicago-based, Latinx comic creator and illustrator. They work largely with digital media and have a BA in illustration from Columbia College Chicago. Mel has illustrated for Chicago newsletters, blogs, anthologies, and their own self-published works, including zines and short one-off comics. Mel Valentine Vargas' agent Elizabeth Bennett at Transatlantic Agency brokered the deal for world rights, and Jen Rofé at Andrea Brown Literary represented Meg Medina.
Candlewick Press was founded in Massachusetts in 1991, and calls itself "the world's leading creatively led independent publisher of books and content for children today." Their imprintWalker Books US launched in 2018 with a focus on fiction, graphic novels, and illustrated books with instant reader appeal.