Here is the other half of yesterdays writer to writer interview. Brian Clevinger, writer on KING: Phantom #1, talks with writers Ben Acker and Ben Blacker about KING: Flash Gordon #1, both on sale now! And with the way this interview went, I'm surprised one of the questions wasn't asking if it's supposed to be pronouned Gor-Don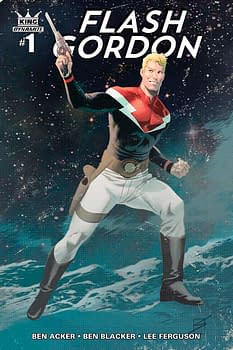 BRIAN CLEVINGER: Acker and Blacker? C'mon, admit it. You guys did that on purpose to sound catchy, right?
BEN ACKER: The rhyming names thing? Of course we did.
BEN BLACKER: Our real names are really boring – especially together as a pair.
Acker: Our real names are Ted Fireworks and Ted Hurricane.
Blacker: Those don't rhyme. Like at all.
Acker: And "Ted?" We'd never get work as Teds.
Blacker: Your name is crazy too "Brian Clevinger!" Why'd you choose it?
Acker: With what or whom does it rhyme?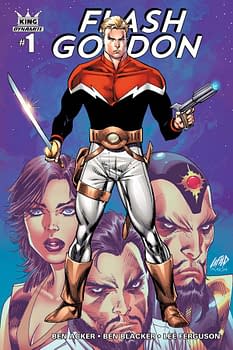 Clevinger: King: Flash Gordon #1 was a really fun, dare I say rollicking, space adventure. And Zarkov with no pants?! Where the heck can you go from there?
Acker: This is not a spoiler so much as fulfilling the dreams of everyone everywhere, but we are going to leave him with no pants for a while.
Blacker: And we are going to go to different parts of space with it. With no-pants Zarkov.
Acker: Yeah, they are heading space east with no-pants Zarkov.
Blacker: Magnetic space east.
Acker: Can we get no pants Zarkov trending on Twitter? Off Twitter? In space?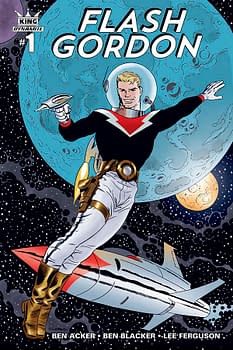 Clevinger: Flash Gordon! No, guys, I am NOT jealous!
Acker: Great question. Would you like to handle this, Mr. Blacker?
Blacker: I'm Acker.
Acker: Are you sure?
Blacker: Oh wait, no.
Acker: It doesn't matter.
Blacker: Never mind. I'm Blacker. It's cool. And I'll handle #3 which is obviously Jeopardy style. And the question is: "What are you jealous of? Probably NOT because you're writing The Phantom!"
For more on King: Flash Gordon #1, click here.
Enjoyed this article? Share it!