Mera Queen of Atlantis #1 Review: A Great Start, but with Room for Some Character Improvements
Orm Marius, Ocean Master and half-brother of Aquaman, has started a new life in Louisiana with a woman and her son.
Back in Amnesty Bay, Mera is attacked by an assassin known as Eel. Her powers are still faded, and she must rely on her skill and wit to win the day. She also must keep the peace between Atlantis and the surface world. The U.S. is privy to the civil war in Atlantis, and they are worried that their internal conflicts will spill over onto American soil like they have in the past.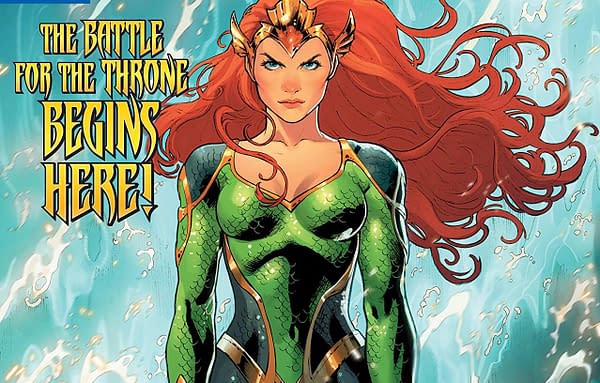 Despite this being a Mera comic, writer Dan Abnett seems more comfortable with writing Ocean Master than Mera herself.
Mera is as badass and indomitable as ever, but much of the narration surrounding her is focused on the pining for Aquaman. This isn't unforgivable, as their relationship has been well-constructed and, therefore, compelling. Plus, Abnett and Lan Medina do an excellent job of showing how demoralized the "crippling" removal of her powers have been. As such, while it does teeter around the cliché of women being more interested in romance than responsibility, it is understandable that Mera would be wishing for better times.
Orm's story picks up where is Villains Month one-shot left off years ago. The woman and child with whom Orm is living are the same ones he saved during the Ocean Master one-shot. Kudos to Abnett for remembering that comic existed; it's nice to not be the only one.
Ocean Master is trying to conform to the comforts of domesticity, but the turmoil that Atlantis is experiencing is calling him home. He doesn't want to go back, but he feels the tug responsibility.
Tula, Mera's companion and Orm's sister, behaves like she's been aged down a few years. That was a little odd. Superman and Wonder Woman make a brief appearance to play dumb while Mera explains why Corum Rath sent the Eel to kill Mera instead of his own soldiers; that was a little clunky and could have been handled better.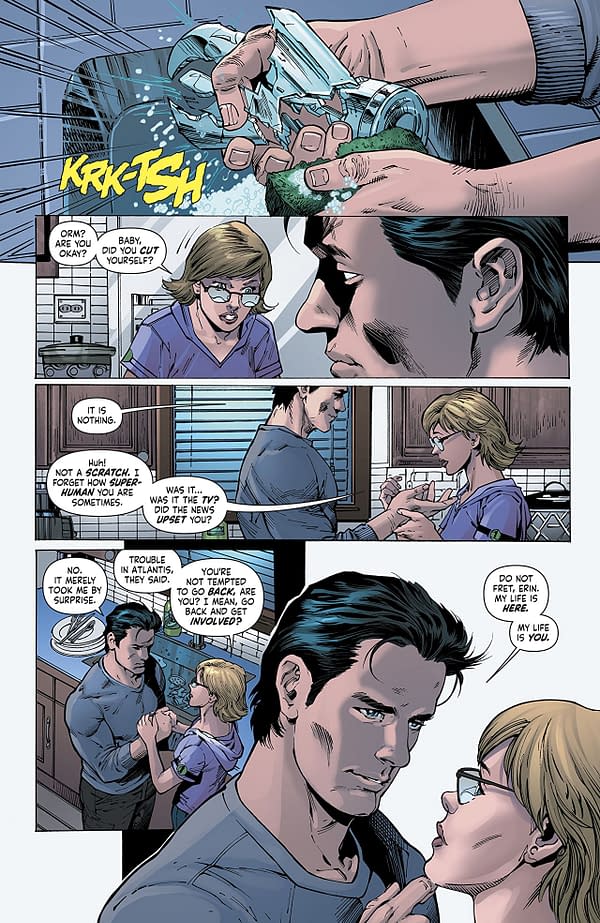 Lan Medina makes up for some of these shortcomings with good artwork, though. It leans into photorealism, but it lacks some of the depth and extreme detailing required to accomplish that. This ends up being to the comic's benefit, as the style that results is unique and enjoyable. Richard Friend's inking is mostly quite good but could have been tightened in some spots. Veronica Gandini's color work is very strong; many scenes are improved quite a bit by the lively palette choices.
Mera: Queen of Atlantis #1 is a flawed comic, but what it does right ends up far outshining its pitfalls. Mera is still a compelling character, even if she is presented as a little lovesick. Ocean Master is at an interesting crossroads. The art is good, and the narrative promises to be interesting. This one gets a recommendation. Check it out.
---
---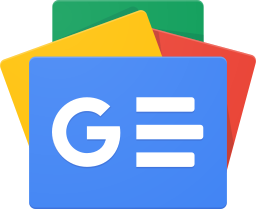 Stay up-to-date and support the site by following Bleeding Cool on Google News today!