Mera Takes On the Justice Fish in Justice League #11 Preview
A new team of superheroes-turned-villains, one of the most fearsome ever assembled, can be seen in a preview of Justice League #11, released this week by DC Comics. Of course, we're talking about the Justice Fish, members of the Justice League turned into murderous fish monsters by the Ocean Gods and the events of the Drowned Earth crossover.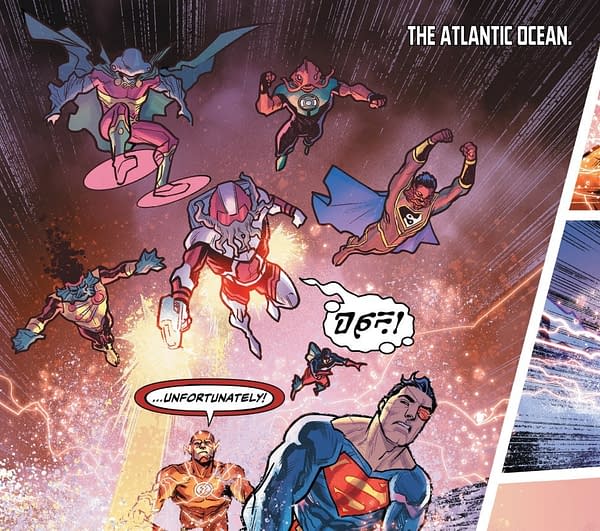 We hear what you're saying, and we agree. Yes, the Justice Fish are clearly the greatest thing to happen to comics in decades. But how did it happen? Well, you'd know if you'd read Justice League/Aquaman Drowned Earth Special #1, but if you've been neglecting your comicly duties (heh… "doodies"), Batman is happy to catch you up.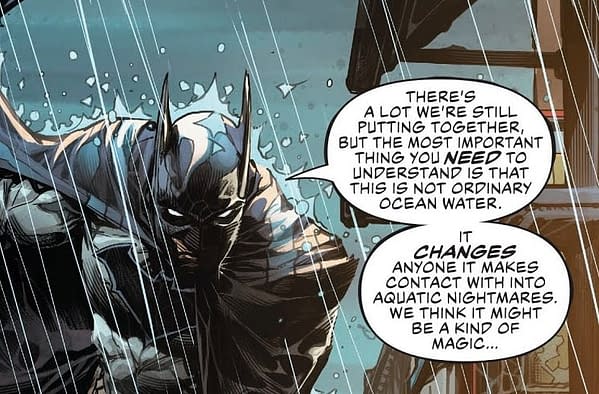 See? Makes perfect sense.
Now, with half the Justice League turned into Justice Fish, Aquaman captured, and most of the world's cities including Gotham and Metropolis flooded with evil magic ocean water, the remaining heroes will be forced to rally behind Mera to save Atlantis and the world. But we swear to god, if we don't get a Justice Fish ongoing spinning out of this crossover, we're gonna be pissed off.
Justice League #11 hits stores tomorrow.
Justice League #11
(W) Scott Snyder (A/CA) Francis Manapul
"DROWNED EARTH" part two! The Justice League is scattered across the Seven Seas, pursued by the Ocean Lords and their army of alien mercenaries and constantly at risk of turning into fish monsters. You know, just a day at the beach. Their only hope lies in the crippled Aquaman, who believes the road to victory lies in unleashing equally vengeful gods on Earth's oceans. Meanwhile, Batman guards the Totality in the sunken Hall of Justice, where no one can attack him…or can they?
In Shops: Nov 07, 2018
SRP: $3.99