Moon Knight #198 Review: Marc vs. a Rabid Dolphin
[rwp-review-recap id="0"]
Moon Knight has been kidnapped by Ernst, a Nazi sadist who runs a cult. Ernst's cult is putting Marc Spector through a series of trials to induct Marc into the cult. These include fighting a rabid dolphin, torturing a torturer, and a combat trial. This takes place over a series of weeks, leaving Moon Knight with no means of escape. Marc wants to do this alone, leaving his other personalities in the backseat.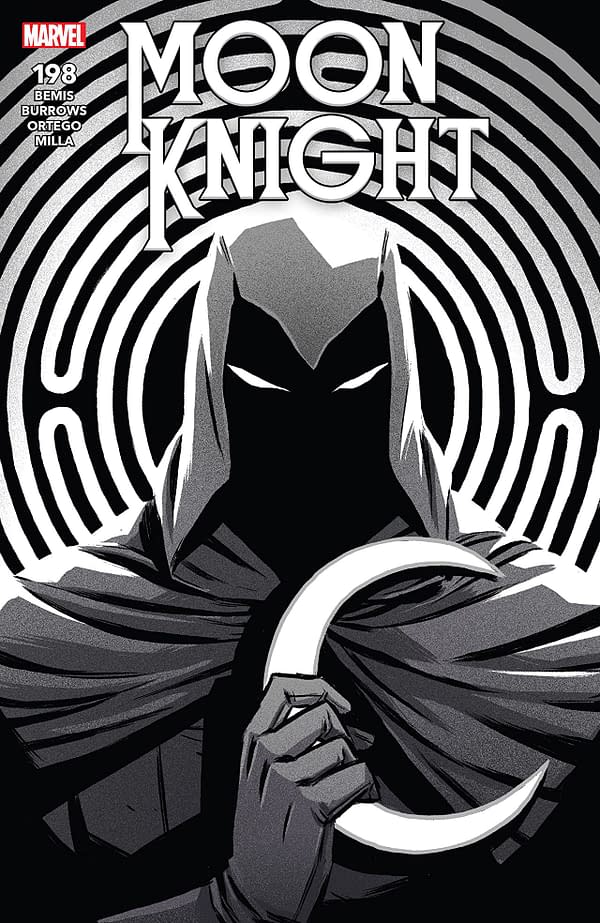 I decided to check in on Moon Knight again, as it's been a while since I checked in on Marc Spector. I can't say I was expecting the opening scene to be Marc fighting and eating a rabid dolphin over a span of days.
Max Bemis has mastered a balance of uncomfortable and awkward humor cast against pitch-black themes, which is among the most suiting ways to write Moon Knight I've ever seen, on part with excellent but short-lived Warren Ellis run from years back.
It's difficult to specify why this works more me better than say, Deadpool, beyond the fact that Marc Spector is a far more grounded character and the tone of the comic being far less anarchic — which is saying a lot all things considered.
Speaking of Deadpool, Foolkiller actually makes a cameo in this issue.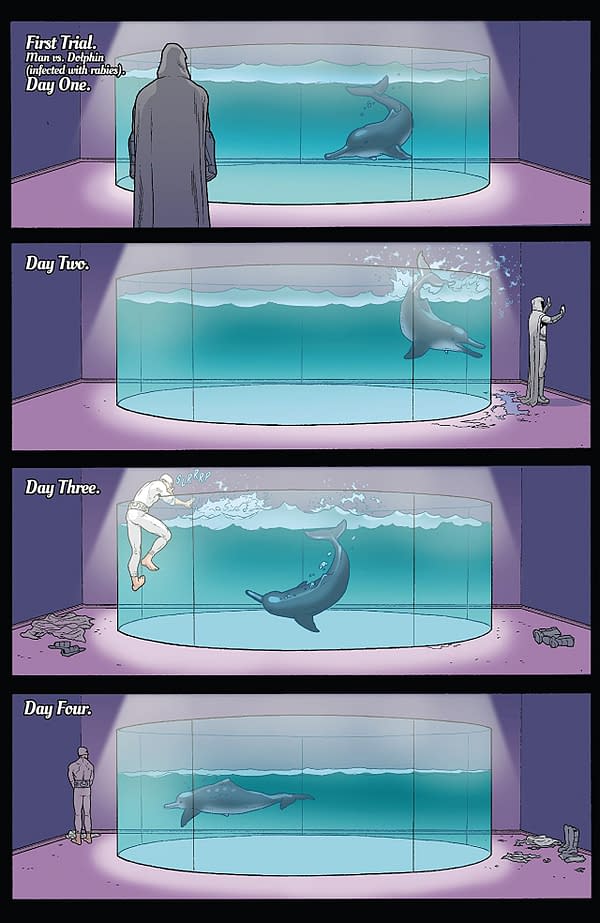 I'm glad to see Jacen Burrows still around, as he is a master of the understated comic art style common with artists like Javier Rodriguez and Chris Samnee. Burrows' visually simplified style exacerbates the horror of some of the brutal tactics for which Moon Knight is known. Guillermo Ortega provides some good inking, and Matt Milla gives the book a starkly contrasting color palette to add a little bit of extra eeriness to the book.
Moon Knight #198 is a highly enjoyable entry to the series, and I'm glad I checked out the book again after so long. Bemis and Burrows are still a dream team, and this book is easily recommendable. Give it a read.
[rwp-review-ratings id="0"]
[rwp-review-form id="0"]