More Fun Comics #73 – First Aquaman and Green Arrow – Up For Auction It's not often that one comic has the first appearance of two main Justice Leaguers. In fact, it only happened once. And that was More Fun Comics #73. That's right, a comic called "More Fun" was popular enough to get up to at least 73 issues. It was even originally called New Fun, and that didn't stop it. The first comic published by Major Malcolm Wheeler-Nicholson in 1935 was the first comic of what would later become DC Comics and was also the first American comic book to have all-original material, no reprints of newspaper strips as filler. Other issues included the first appearance for Superboy, The Spectre, Doctor Occult, Dr. Fate, and the first comics work of Superman creators Jerry Siegel and Joe Shuster.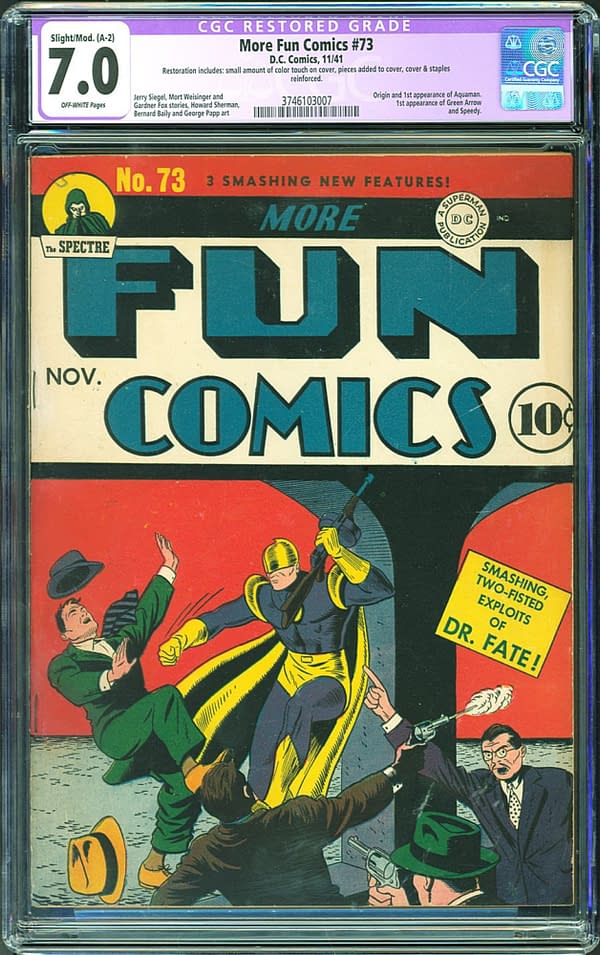 But this one has the first Oliver Quinn Green Arrow, Arthur Curry Aquaman, and – why not throw it in there – Roy Harper, Speedy, the Green Arrow sidekick who would become Arsenal and Red Arrow decades later. A guide value of $57.950, at the time of writing it's only at $7700 and will finish on Friday, the 16th of April. Here's the listing.
ow pgs, Slight/Mod (A-2) resto-small amount of c/t on cvr, pieces added to cvr, cvr and staples reinforced
Origin and 1st app. Aquaman! 1st app. Green Arrow and Speedy!
Kentucky Collection
This issue features the first appearance of not one, not two, but three major superheroes of the DC Universe. Both Green Arrow and his sidekick Speedy, as well as Aquaman, make their comic book debuts in More Fun #73. Inspired by Robin Hood and a movie serial hero called the Green Archer, Green Arrow was created by the team of Mort Weisinger and George Papp. The character later gained new life as a wisecracking political crusader in the 60s. Today, Arrow has his own hit television show, which has recently concluded its 8th and final season. The Aquaman franchise has also enjoyed a great deal of success due to DC's "Justice League" film and his own self-titled feature. As a result, there's no slowing in demand for this investment collectible. A genuine classic key that exists in just over fifty copies noted on the census, the combination of the introduction of three important characters in DC's history, plus The Spectre, and Dr. Fate gives this issue a ton of firepower, which always makes for a heavyweight bout at auction. This book has undergone a moderate amount of professional restoration to replenish its appearance and stability, and it has definitely paid off, as the book is in impressive condition, once shunned, restored books have become accepted by collectors, as original condition copies are very hard to come by, disappearing into collections for years.