A New Justice League, For DC Comics' Dark Crisis
Comic book artist Mahmud Asrar posted to Twitter his variant cover to Dark Crisis #1, launching from DC Comics in June, stating "Dark Crisis #1 Variant Cover. Drawn by me, coloured by @nathanfairbairn. Tremendous fun drawing the new Justice League! Be sure to check out the event by @Williamson_Josh and @Sampere_art"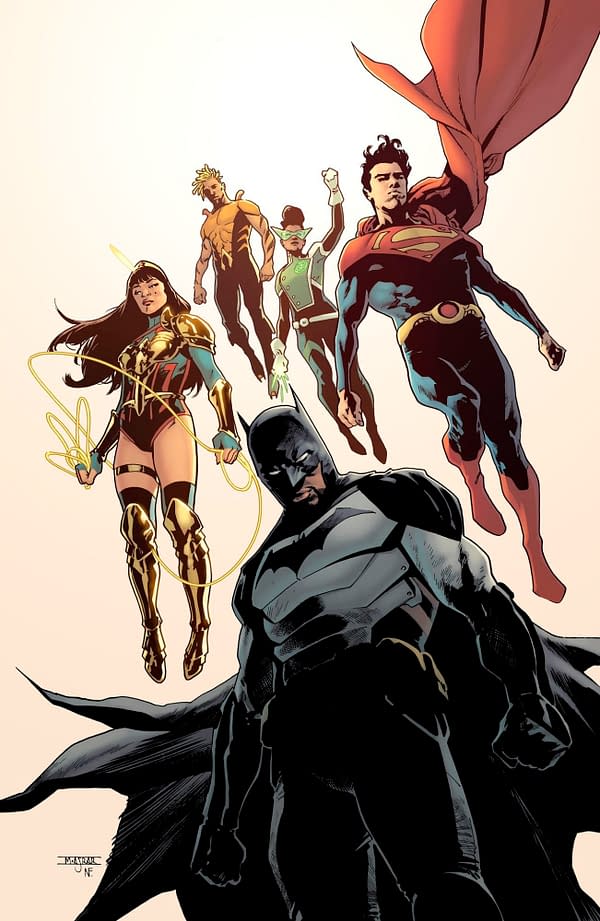 This is the new Justice League, with Jace Fox, Jon Kent, Yana Flor, Jo Mullein and Jackson Hyde. As previously (mostly) seen in the Justice League Future State series.
Notably, this was former DC publisher Dan DiDio's plan for the Justice League as part of 5G before he was fired. And although 5G was done away as a thing that would have aged out the previous Justice Leaguers, with the DC Timeline stretched back to the Second World War, this aspect still seems to be alive. Justice League #75 featuring the death of the Justice League is meant to be set in the near future of the DC Universe, as, it seems, is Dark Crisis. Which is also Dan DiDio's preferred name for the Metal event from a few years back.
Dark Crisis is a monthly event, written by Joshua Williamson, featuring art by Daniel Sampere, colors by Alejandro Sánchez and lettering by Tom Napolitano, that will kick off with Dark Crisis #0 FCBD Special Edition, available on Free Comic Book Day. A special one-shot, Justice League: Road to Dark Crisis #1, will be available at local comics shops on May 31.
"Dark Crisis is an epic DCU event about legacy," said writer Joshua Williamson. "It will have all the giant, fun cosmic battles and Multiversal set pieces, but it's not about reboots, retcons, or rewriting time and space. At its core it's about the characters and the relationships that we've seen built over DC's great history. Dark Crisis spins out of Justice League 75 'DEATH OF THE JUSTICE LEAGUE' and connects all the story threads across the DCU since Infinite Frontier #0 in a major way. Unifying the new legacy of the DCU as we honor the classic. You can't miss it!"
Dark Crisis #0 FCBD Special Edition is a prelude to DC's biggest story of 2022 and will be available to everyone for free on Free Comic Book Day.
"To me, Dark Crisis is a big celebration for all DC fans," said artist Daniel Sampere. "It's a huge event full of epic heart, an event that embraces the past while looking to the future. Joshua and I are the biggest DC fans, and this is our love letter to these characters and this universe."
The one-shot Justice League: Road to Dark Crisis #1 will be available on May 31 and features some of the biggest artists and writers in comics—including Joshua Williamson, Dan Jurgens, Phillip Kennedy Johnson, Clayton Henry, Emanuela Lupacchino, Stephanie Phillips, and more—showcasing what a world without the Justice League looks like to set the stage for the Dark Crisis event
DARK CRISIS #0 FCBD SPECIAL EDITION
Written by JOSHUA WILLIAMSON and more!
Art by JIM CHEUNG, DANIEL SAMPERE, and more!
Cover by DANIEL SAMPERE
32 pages | Standard periodical 6 5/8" x 10 3/16"
ON SALE 5/7/22

Witness the rise and fall of the Justice League! The event years in the making is here with Dark Crisis. The Justice League is comics' greatest super-team—made up of DC Comics' legendary Super Heroes, they have saved the world countless times. No crisis was too much for them to handle…until now! The Justice League has been defeated by the Great Darkness and its army of DC's most dangerous villains—now a new generation of heroes must rise to protect not only the Multiverse…but also the legacy of the DC Universe! A prelude to DC's biggest story of 2022! Includes a preview and art from Dark Crisis #1, coming in June! Don't miss out on this Free Comic Book Day special featuring the blockbuster talents of Joshua Williamson, Jim Cheung, and Daniel Sampere! For free!

JUSTICE LEAGUE: ROAD TO DARK CRISIS #1
Written by JOSHUA WILLIAMSON, JEREMY ADAMS, BRANDON THOMAS, CHUCK BROWN, STEPHANIE PHILLIPS, and PHILLIP KENNEDY JOHNSON
Art by CLAYTON HENRY, DAN JURGENS, FICO OSSIO, EMANUELA LUPACCHINO, LEILA DEL DUCA, and more!
Cover by DANIEL SAMPERE
Variant cover by CHRIS BURNHAM
1:25 variant cover by RAF SARMENTO
$5.99 US | 48 pages | One-shot | Variant $6.99 US (card stock)
ON SALE 5/31/22

The Justice League has tragically fallen in battle, and now we see the aftermath. How does the world react to the Justice League being gone? Which heroes rise up…and which villains try to take advantage? And what dark forces are lying in wait to attack? An all-star roster of DC talent showcases a world without a Justice League and sets the stage for next month's Dark Crisis event! Fans can pick up Dark Crisis #0 FCBD Special Edition on May 7, 2022, for free at their local comic book shop. Justice League: Road to Dark Crisis #1 will be available on May 31, 2022. Dark Crisis #1 (of 7) will kick off in June 2022 with a new issue each month.