'Newbury & Hobbes: the Undying' – Victorian Sense and Steampunk Sensibility
[rwp_box_recap id="0"]
Steampunk is one of those genres that could be amazing. There have certainly been some fun attempts at bringing steampunk to life, but a lot fall short. There has to be something more than steam driven devices and clockwork to make steampunk tick.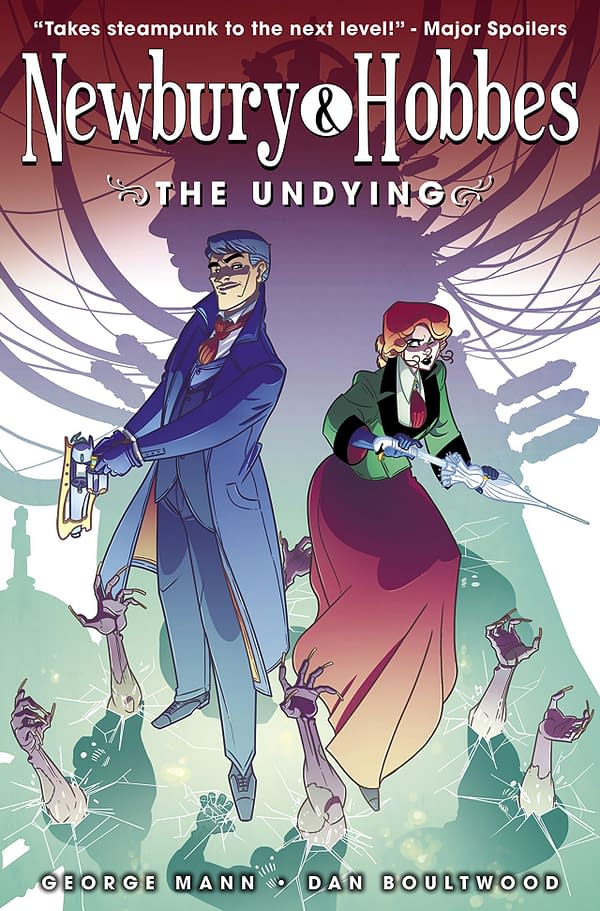 Newbury & Hobbes certainly has that tick. George Mann brings the characters from his novels to life in the "Undying" graphic novel collection, which brings together the first for issues of the Newbury & Hobbes comics.
Here's why it works: The characters are simply fantastic. Sir Maurice Newbury and Miss Veronica Hobbes have a great back-and-forth chemistry that reminds me of Myrna Loy and William Powell in the Thin Man movies. I'm sure that's by design.
The big difference with Newbury & Hobbes, though, is that these two investigators live in a London besieged by skull-faced cultists, working to advance the nefarious schemes of a menace from the duo's past.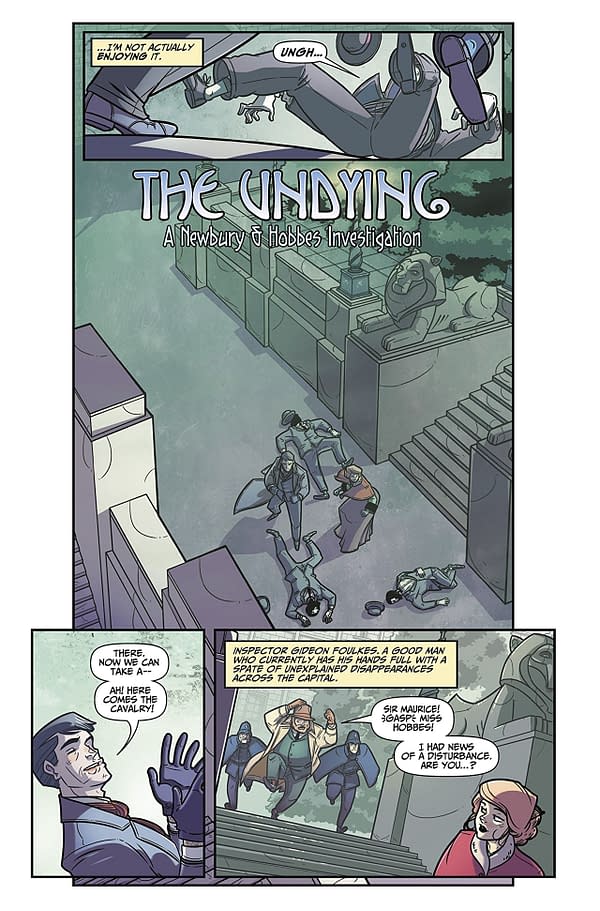 Newbury is a high society gentleman, with connections to other society types, and often summoned by the Queen to serve the realm. Hobbes is smart, but capable of kicking goons to the curb without hesitation.
Queen Victoria is a steampunk nightmare brought to life. London is belching smoke, but still stately. The monsters living beneath the city are gruesome and exciting.
It's everything I've been searching for in a steampunk property. Mann has a series of novels chronicling the adventures of Newbury & Hobbes, which I'll be picking up shortly- there's a section of prose in 'The Undying" that pretty much sold me on the book series.
The art of "The Undying" is crisp and evocative, and feels like a late '90s animated movie throughout. Dan Boultwood's London is stunning to look at, and his characters carry such an amazing array of expressions. I absolutely love looking through this book. Hobbes, in particular, has some fantastic expressions- she might be willing to throw the smack down on a bunch of cultists, but she's no fan of autopsies.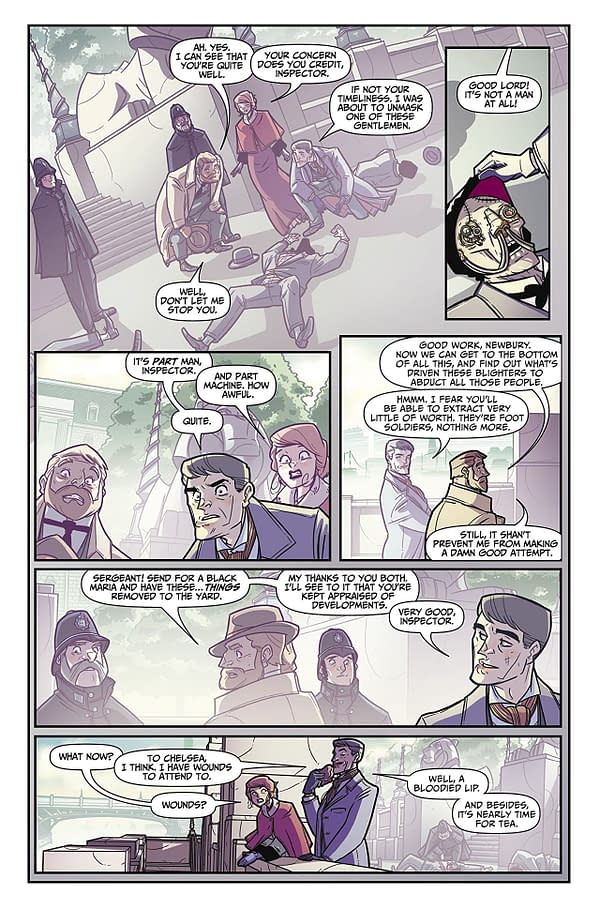 Boultwood also handles the color work in the book, which is vibrantly fun. This is such a gorgeous read.
Newbury & Hobbes: The Undying is one of those titles that I am absolutely thrilled to recommend. If you're a fan of Victorian mystery, Sherlock Holmes, or old detective stories, this is your graphic novel. Enjoy!
Welcome to the bizarre and dangerous world of Victorian London, a city teetering on the edge of revolution! Airships soar in the skies over the city, ground trains rumble through the streets and clockwork automatons serve the bustling public. But beneath this shiny veneer of progress lurks a sinister side. Queen Victoria is kept alive by a primitive life-support system while her agents Sir Maurice Newbury and his delectable assistant, Miss Veronica Hobbes, do battle with enemies of the crown, both physical and supernatural.
SUMMARY: Script: George Mann; Art: Dan Boultwood; Letters: Rob Steen; Editor: Tom Williams; Release Date: May 1, 2019; Publisher: Titan Comics; Cover Price: $16.99; 115 pages.
[rwp-review-ratings id="0"]
[rwp-review-form id="0"]