UCS Comic Distributors and Lunar Distribution are two new comic book distributors set up by DCBS and Midtown Comics respectively. Their raison d'etre is to distribute DC Comics titles in the wake of Diamond Comic Distributors still being shutdown to new comic books for the next month. The first week of shipping books is meant to be this week/weekend, planned to be on sale on Tuesday, April 28th. It's a limited selection intended to stress test the system. It comes in the middle of the Nu-Distributor Wars with DC Comics saying that all orders for new DC Comics through Diamond are cancelled. Even though Diamond says they are not and they will be distributing them in Mid-May. Which means that retailers may be getting the same comic books from different sources, from different interest and everyone debating over which is the first printing and which is the second printing. Or in the case of Nightwing #70, which is the second and which is the third.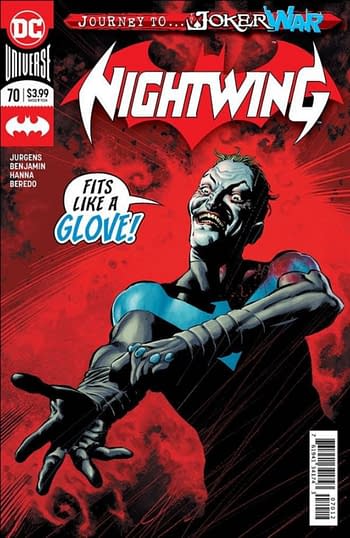 UCS Customers have been told that the second printing of Nightwing #70 has been heavily allocated for next week with the remaining copies arriving for sale on Tuesday. As it stands this is what is expected.
BATMAN #89 3RD PTG
BATMAN GIANT #4
DAPHNE BYRNE #4 (OF 6) (MR)
DAPHNE BYRNE #4 (OF 6) VAR ED (MR)
DREAMING #20 (MR)
NIGHTWING #70 2ND PTG
UCS has also told retailers that as of today they are introducing three new features on their UCS website, so that invoices will be available to view on retailer online accounts, reorders of select product will now be made available and tracking numbers for shipments will be posted
We are sending this communication to notify you of a clarification and change of order deadline relating to DC product releasing over the next 3 weeks based on recent information provided by DC. Please see the below titles as they are broken out by release week. These are currently available for order on the site. We will update you as we receive new information. We are currently working on programing upgrades including an enhanced ordering process.
Luna also gave their full line-up of subsequent shipments, including collections as well as individual issues.
5/5 release Order deadline 04/27
Batman and the Outsiders #12
DC Super Stars Facsimile Edition #17
Flash #753
Green Lantern Season #23
Hawkman #23
House of Whispers #20
Joker/ Harley: Criminal Sanity #4 (of 9)
Lost Carnival: A Dick Grayson Graphic Novel
Batman – Detective Comics Vol. 3: Greetings from Gotham
Green Arrow: Year One – The Deluxe Edition
Shazam!: The World's Mightiest Mortal Vol. 2
Weird Western Tales: Jonah Hex
Young Justice Vol. 1: Gemworld
5/12 release Order deadline 04/27
Harley Quinn #72
Justice League #44
Justice League Odyssey #20
Lois Lane (of 12) #10
Metal Men #6 (of 12)
Justice League Dark Vol. 3: The Witching War
Superman – Action Comics Vol. 2: Leviathan Rising
Superman – Action Comics Vol 3: Leviathan Hunt
Superman Smashes the Klan
Wonder Woman & the Justice League Dark: The Witching Hour
Adventures of Superman by George Perez
5/19 release Order deadline 04/27
Dceased: Unkillables #3 (of 3)
Dollhouse Family #6 (of 6)
Flash Giant #4
Plunge #3(of 6)
Superman's Pal Jimmy Olsen #1 (of 12)
Wonder Woman #755
Year of the Villain: Hell Arisen #3 (3rd Print) (of 4)
Red Hood: Outlaw #45
5/19 collected editions Order deadline 05/05
Harley Quinn and Poison Ivy HC
Nightwing: The Gray Son Legacy SC
Stargirl by Geoff Johns SC
The Flash by Mark Waid Book Seven SC
Enjoyed this article? Share it!