Nightwing #36 Review: A Vast Improvement on Last Issue
After being shot by Detective Svoboda, Nightwing is wounded and recovering. However, his trail on the Judge is hot, and he is not going to let time go to waste. He begins hitting up the criminal underworld for people who may be able to give him a lead on the Judge.
Meanwhile, the Judge himself has made his way into the mayor's office, and the two men have a chat.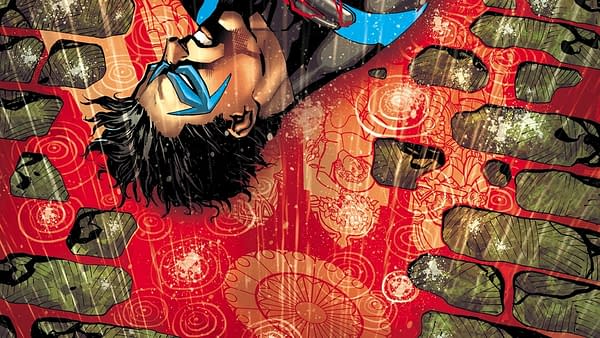 I wasn't a fan of the last issue of Nightwing. It was a disappointing showing for a writer whose work I've come to adore.
Also, sorry it took me a while to get around to this. My local store wasn't getting copies of this book.
While I can't say all of my concerns were answered with #36, it was certainly a vast improvement on the last issue. Nightwing doesn't seem to kill anyone, for one thing. Guppy is shown in a deliberately sympathetic light and not just abused by Dick while clearly trying not to freeze to death at a trash fire under a wharf.
Nightwing himself is far more intense than usual, though this explained by his fear of the Judge.
The Judge also has the issue's highlight thanks to his conversation with Bludhaven's mayor. This villain works in an interesting manner, essentially working as a person's psychiatrist while subtly talking them into terrible acts. He's not just a discount Purple Man as I feared. He is a man who can dig into your soul and bring the worst parts of yourself to the surface. That's a fascinating premise for a baddie. I'm actually pretty excited for this foe now, and Nightwing is an interesting hero to pit him against.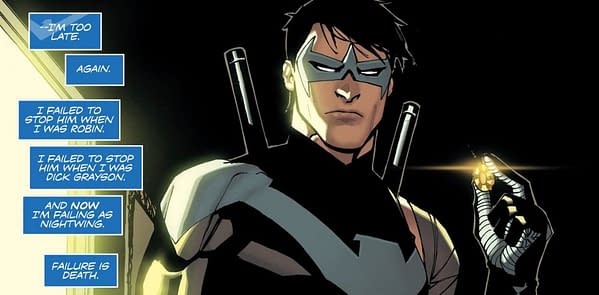 Bernard Chang's artwork continues to be great, with many awesome spreads of Nightwing sprinkled throughout the book. He's quite skilled at displaying the subtle facial cues to express emotion. His style gets quite minimalist when a character is in direct light, but he plays with it well. Marcelo Maiolo plays off Chang's style very well with his color art, and the two make for a great-looking book.
Nightwing #36 has returned my confidence in Sam Humphries' future with the Dick Grayson. The comic was paced well, the Judge is turning out to be a great villain, and the seeming heartlessness of last issue has been buried. Plus, Chang and Maiolo make for a great artistic team. This one gets a recommendation. Check it out.