No, Marvel Chairman Ike Perlmutter Didn't Just Step Down Or Change His Title
Contrary to what you may have read elsewhere today, Ike Perlmutter didn't step down as CEO of Marvel. His title changed from CEO to Chairman sometime before January 25, 2017, and he remains in charge of Marvel (excluding Marvel Studios, of course). So why are you reading headlines about it now?
Tuesday afternoon, Cosmic Book News ran a report headlined "Ike Perlmutter No Longer Marvel CEO! Hallelujah!" The article speculated that we could soon see changes at Marvel due to Perlmutter's ousting. But that's not going to happen, because Perlmutter is still in charge. He just has a different title, Chairman, which has been the case and public knowledge for six months now.
Cosmic Book News based their report on a thread on Reddit which asked, "So… who's in charge of Marvel now?" And that thread was based on a THR article from May which mentions, "His aversion to the limelight runs so deep that he's no longer CEO of Marvel, and yet, news outlets continue to confer that title upon him because there has never been any press release announcing he had relinquished that role."
But the quote is taken somewhat out of context.
Back in January, court proceedings resulting from Perlmutter's bizarre legal feud with fellow billionaire Harold Peerenboom forced him to reveal his new title at Marvel, Chairman, as reported at that time by Bleeding Cool. The change happened sometime before then, possibly a long time before then, and the media had continued to call Perlmutter CEO for lack of a better title, because he still filled, and fills, essentially the same position. But once we learned that the correct title was Chairman — again, back in January — we started calling him that instead.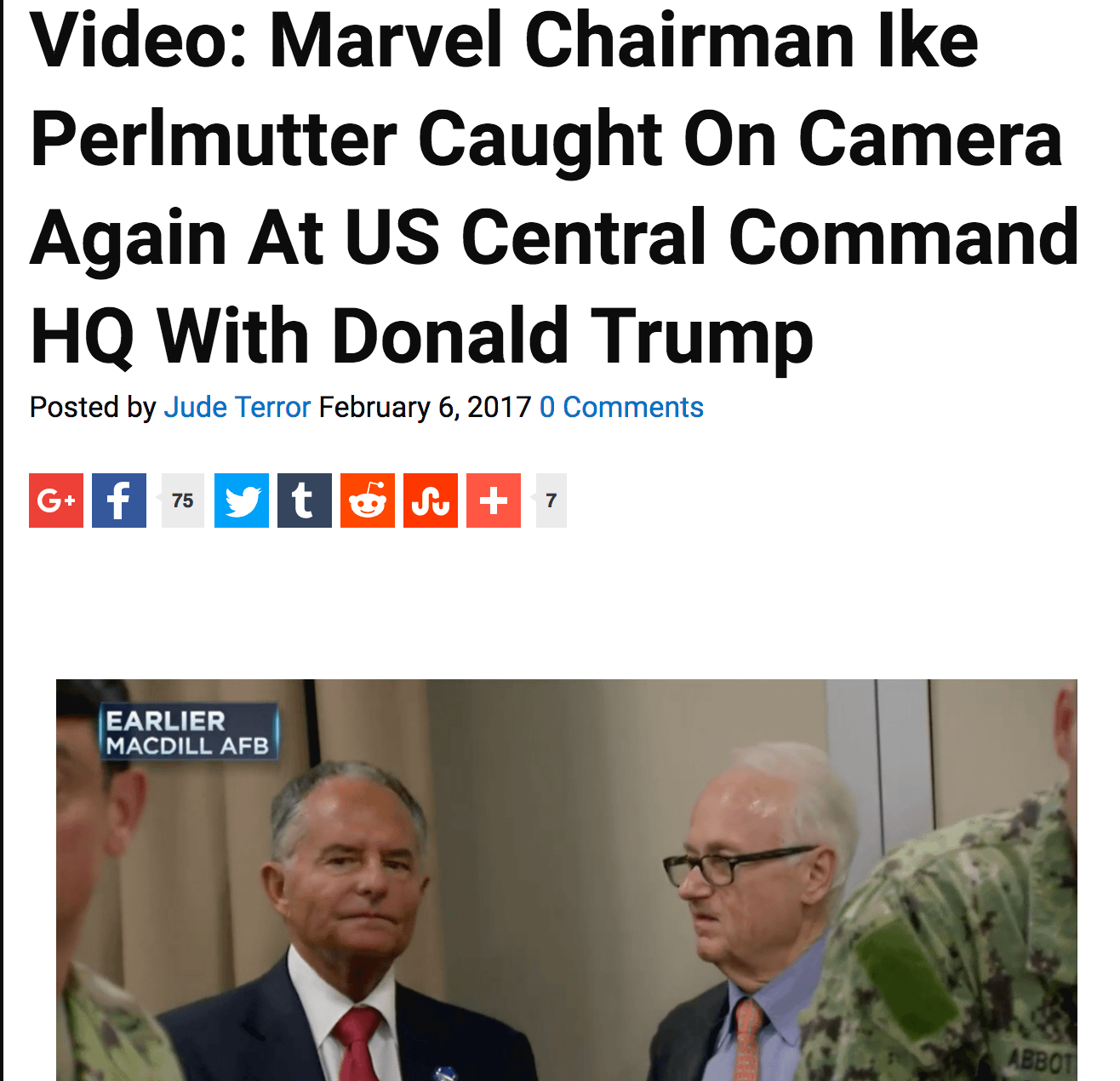 Newsarama has now gotten in on the action as well, writing, "Marvel Entertainment CEO Ike Perlmutter Gets New Title." Newsarama at least reports the facts correctly, and adds some additional info from an unnamed source about the reason for the title change:
The title change occurred earlier this year, though there's no seeming change to Perlmutter's duties. According to a source familiar with the change, it comes as a delayed result of Disney's acquisition of Marvel in 2009. Because Disney's Bob Iger is the only executive within the company to carry the title CEO, the top executives of other Disney subsidiaries carry different titles like CCO (PIXAR's John Lassetter), and now Chairman (Perlmutter).
But it's still a six month old story.
What we're trying to say is, it's not time for singing in Munchkinland yet. Ike Perlmutter is still in charge of Marvel, and the Fantastic Four aren't coming back any time soon. And if it bothers you that the money you spend on Marvel Comics in some indirect way funds Ike's donations to President Donald Trump… well, that will continue to be the case as well.