North Carolina Store Announces Memorial On 10th Anniversary Date I'm not exactly sure how to write this up…. In what is either one of the most clever marketing campaigns, steeped in the history of comic events OR in a marketing campaigned steeped in comic over-hype and in really bad taste… Ultimate Comics is using the supposed death of store Founder Al Gill to bring people in for a memorial on the stores 10th Anniversary on August 31st.
Ultimate Comics, located in Chapel Hill North Carolina, has been doing events all month to celebrate their first decade including a signing with writer Jeff Parker (Batman 66, Dark Avengers). Then they suddenly posted on their facebook page yesterday about the memorial for Ultimate Al, a tribute video and pics of black t-shirts with the bloody red Ultimate Comics logo on them. At the same time they posted a photo of a new Incredible Hulk back issue collection they just got… nice to see the shop must go on. Al would be proud.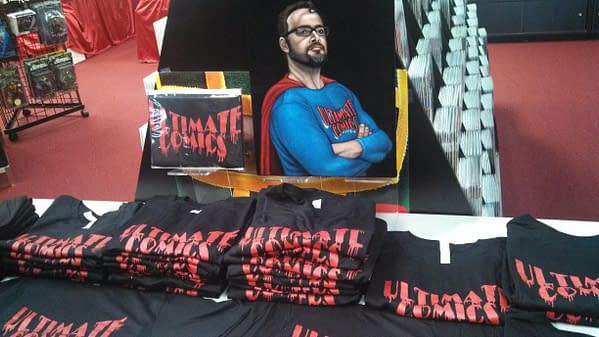 I personally like the response from Al's son Patrick claiming the store by way of his father's will and announcing immediate salary cuts.
So here is my conundrum. I applaud any store that gets creative to bring in readers and tying their anniversary to the huge Death of Superman event is clever… I just don't know about building an event around the fictional death of a real person.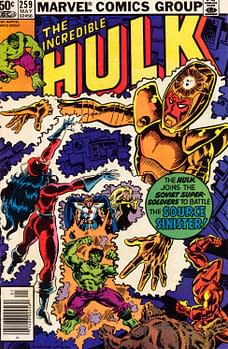 Either way, these guys are working hard to bring in customers… so if you are in North Carolina this weekend… more specifically 6120 Farrington Road in Chapel Hill… go buy, say hi, congratulate them on 10 years in existence and buy some of those Incredible Hulk back issues.. I always like the ones with the Soviet Super Soldiers as the guest stars #258 and 259.
I was going to post the memorial youtube video they made here… but they put a bad copy of "My Heart Will Go On" as the music and I just can't torture the Bleeding Cool readers with that for even ten seconds.