Not Enough Of You Are Reading Trees. Come On, Now.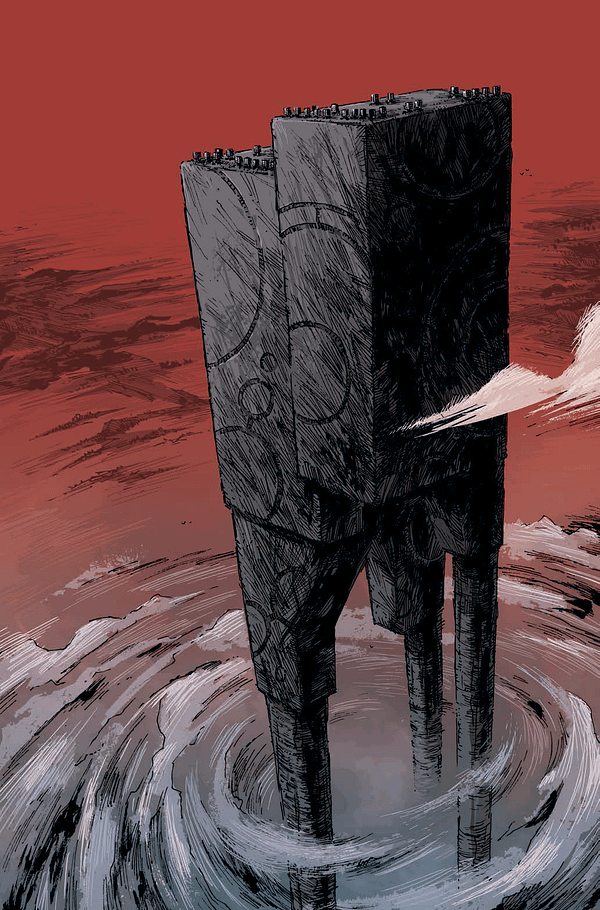 Warren Ellis writes in his newsletter,
TREES issue 8 is finally complete. As soon as I've gotten PROJECT STEPNEY out of the way (and I'm fifteen pages off the end of the first draft), I am commencing the second run of TREES, issues 9-13 approx, which I'm referring to as TREES: TWO FORESTS. This will have two plotlines. One, I started in issue 1, and the other will feature a survivor of TREES 8. What, did the eight of you reading TREES think there were going to be lots of happy endings?
It's not the first time Warren has made reference that the sales on his Image series Trees with Jason Howard are a little on the low side. But for the life of me, I can't understand why. So, on Warren Ellis' behalf, 'cos he'll never blow his own horn (not unless he loses a couple of vertebrae) here's a pitch.
Trees is a story about the world, in which alien poles have landed around the Earth a decade a go. Occasionally they do things but mostly they don't interact or respond to anything. And that's basically it, for a decade.
Trees is a great high concept comic that refuses to paint bold brush strokes as much do. Ellis introduces and incredible situation and then delves into the minutia, looking at the lives of a number of affected people a decade after the big change, after the extraordinary has become the ordinary.
It's something I first remember when reading Douglas Adams' So Long And Thanks For All The Fish, Arthur Dent's astonishment that a) all the dolphins disappeared and b) no one really cares any more because it happened a long time ago.
"Listen, no one will touch it. You can't sustain a story, you know, when the only news is the continuing absence of whatever it is the story's about. Not our territory anyway, try the Sundays. Maybe they'll run a little 'Whatever Happened to "Whatever Happened to the Dolphins", story in a couple of years, around August. But what's anybody going to do now? 'Dolphins Still Gone'? 'Continuing Dolphin Absence'? 'Dolphins — Further Days Without Them'? The story dies, Arthur. It lies down and kicks its little feet in the air and presently goes to the great golden spike in the sky, my old fruitbat."
Except some people do care and this book looks at their stories. The politics of having a tree in your constituency, the art and artists it inspires and how people gather in a place where they can be who they are, and the science of it all and how it is affecting nature.
There are illusions to John Wyndham's Day Of The Triffids and Midwich Cuckoos, a common touchstone for Ellis, but also the TV series Edge Of Darkness, the bohemian lifestyle and a touch of The West Wing. Oh yes, and sex, lots of it. Hell, those phallic symbols outside the window aren't there for nothing.
When I read it, I pictured sticks being placed into anthills and all the ants scurrying around dealing with this new threat and eventually working around the sticks and making them part of their life.
Which is why, to me, Trees is fascinating when the same thing is done to humans, There is a richness of human experience in this comic, exposed by this artificial device. Rejecting many of his usual tropes, this is an affecting, clever, experimental work of fiction that you owe it to yourself to at least try. There doesn't seem to be a trade paperback lined up yet, but issues shouldn't be to hard to find on the ground and it's $1.99 DRM free digitally from Image Comics.
Trees isn't a flashy comic. It is gnarly, it meanders, it has a short attention span, and drags you from one place to another to another. It just also happens to be one of the best comic books on the stands right now.
Go on, read it, then tell me I'm wrong.
I'm not wrong,