NYCC: How to Build Your Brand on Social Media
"Social Media Optimization for Comic Book Creators" was probably the most educational and insightful panel I've covered at New York Comic Con this year.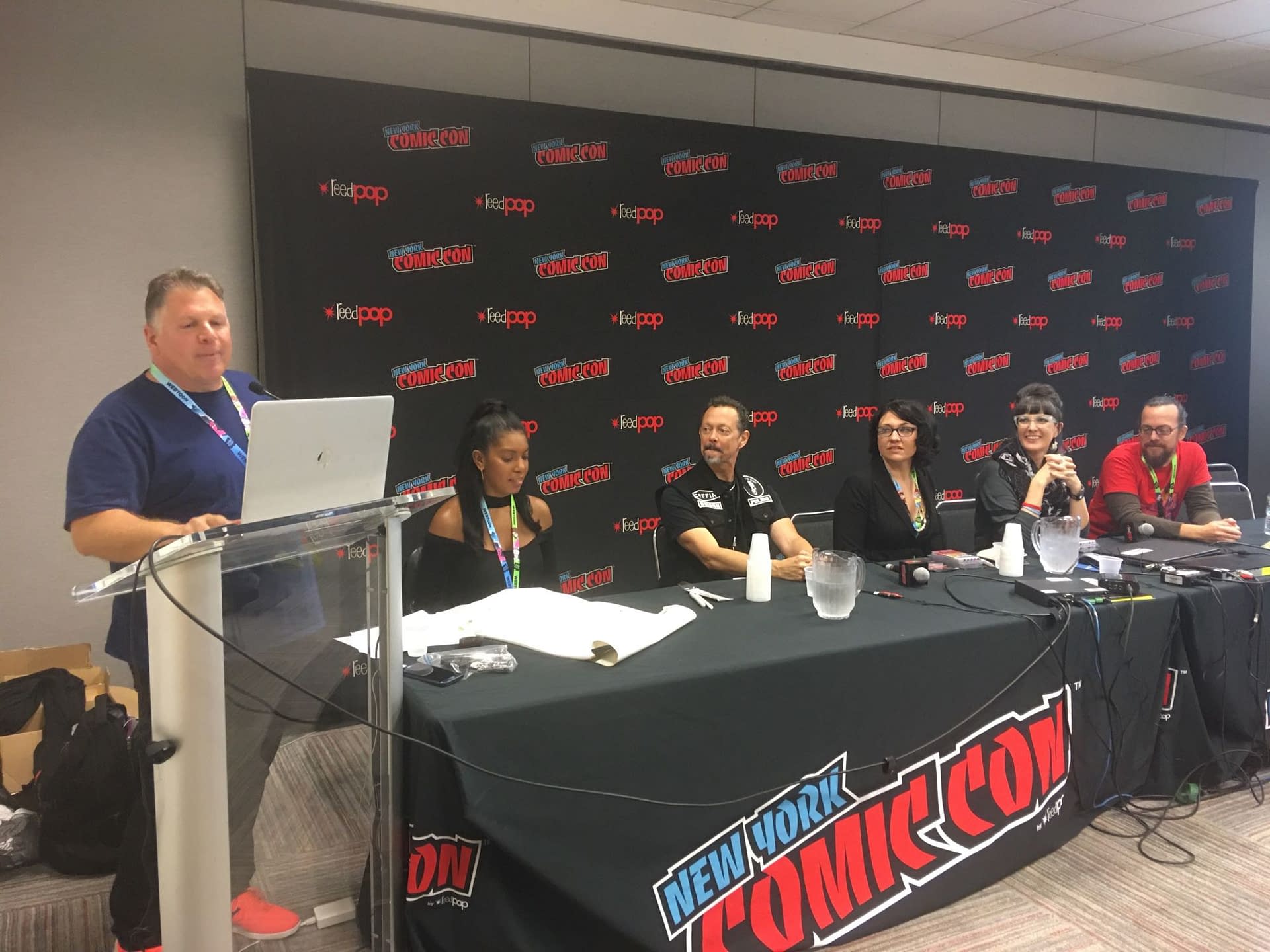 Buddy Scalera, comics writer and teacher, brought his instructional panels to NYCC to teach comics creators about surviving in the business. He works as a content strategist and marketer on top of writing comics and heading the Comic Book School. He is passionate about helping creators thrive and make the best professional decisions.
These panels are the real life-blood of a con, aside from Artists Alley, comic sellers and cosplayers. They offer fans and aspiring pros access to creators who share their insights from years of professional experience.
Four Creators Who Thrived on Social Media
Buddy brought together creators Jason Liebig, Ruthann Thompson, Kasey Pierce and Brian Pulido to talk about how they used social media to connect with their fans and sell their books.
Jason Liebig used to edit the X-Men books at Marvel and uses social media to promote his love of candy. He now hosts The Cookie Show on TV and consulted on candy props on shows like Mad Men and Stranger Things.
Ruthann Thompson co-runs Geek Chic Promotions and also Senior Retail Relations Manager at AfterShock Comics.
Kasey Pierce write the Science Fiction comic series Norah, which has been optioned for a movie. She credits social media for giving her a core fan audience that bought her comic. She posted Bleeding Cool's article about her comic on Facebook and that got her a lot of attention.
Brian Pulido is the creator of Lady Death and the former publisher of Chaos! Comics. He returned to publishing in 2007 with Coffin Comics, publishing Lady Death and Hellwitch. He interviewed retailers to understand the current state of the retail market and opted the crowdfunding model to sell directly to fans.
Build Your Brand Through Social Media
"Media used to be the domain of the wealthy," Buddy said. "Now we are the media."
And with that, the lessons and quotes came thick and fast for the next hour.
Indie books are hard to find. Savvy creators can use social media to build an audience, which is what the panelists have done successfully.
"Social media is not a talking-at platform but a talking-to platform," they said.
Kasey Pierce emphasized that you create your brand through social media. "You sell the brand, you sell the book."
"You create your career," Ruthann said. "Your career doesn't define you."
To have good press, you have to keep posting.
Jason encourages every pro to share their promotions. Share your press, share what you're excited about to your community so they might be excited. You are defining what your interests are and attracting a community with the same interests.
Buddy emphasized that you have got be your best promoter. Take Todd MacFarlane. He bragged about all the awards, sales, success that Spawn and his comics career earned, but often in a funny way. He made it work.
Kasey agreed – you have to be your own hype man but have a sense of humor about it. Take a screen grab and show the quotes for all to see.
On Facebook, you should put the text in the comments since Facebook doesn't want people to click away. This ensures the most important information is in the post and the reader doesn't have to go elsewhere to find it.
Bottom line: go where people are!