NYCC X of Swords Panel – A Waste of Time With Nothing Revealed
Marvel Comics contributed an X-Men live stream panel to New York Comic Con exploring the X of Swords crossover event. Despite being burned by the complete uselessness of past pandemic-era comic con panels, where companies pre-record these things weeks or months in advance and hold back any interesting news we haven't already heard about because they know only a fraction of people are watching them compared to a non-COVID comic con, I decided to check this out just in case there was any exciting X-Men news. It turns out; I shouldn't have bothered.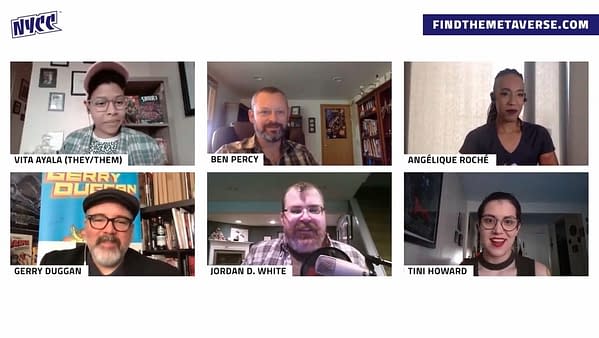 The panel kicked off around 1:15 Eastern time. Jordan White talked about the basic premise of X of Swords. White talks about what we've seen in X of Swords: Creation with the army of Apocalypse and X-Factor #4: Apocalypse's original Horsemen (Ric, Arn, Tully, and Ole) are invading through Otherworld, and the X-Men try to stop them, but they can't. Saturnyne changes things up and makes a tournament instead. The X-Men can really die (sort of) on Otherworld. Blah blah blah, we already know all this. The panel talks about the happenings in this week's Wolverine and Marauders as well.
Tini Howard, the writer of Excalibur and one of the masterminds behind X of Swords, tries to give us a tease: "One of the greatest feelings in the world is when you think you've conquered something, but then it turns out that was only the first step." She says that feeling for the readers is what she's most excited about in X of Swords: Stasis. That's literally the most we're getting out of this entire panel.
Benjamin Percy talks about the new villain, Solem, who he calls the Loki to Wolverine's Thor. He talks about the duality between the two of them. A lot of people give me crap about my obsession with proving the Wolverine two-dicks theory true, but come on. It's so obvious!
Vita Ayala talks about Storm stealing a sword from Wakanda and the emotional stakes there due to Storm's past. They say the team wanted to drag this out because they need to sell a lot of crossover issues. Gerry Duggan, talking about Ayala writing an issue of Marauders, compares X of Swords to going to a concert and seeing musicians playing different instruments.
I am starting to get the feeling this is gonna be another one of those pandemic comic con panels where we don't actually learn anything new, and it ends up just being a waste of time. Vita Ayala talks about Children of the Atom. "I'm not sure what I can say that wasn't said in the form press, so I'll just kinda reiterate that stuff." How exciting for a comic con panel: rehashing press releases from six months ago!
The moderator is unaware that Cable is a kid now (way to do your research), so Gerry Duggan has to explain it. Duggan says Kid Cable is getting the chance to be a Summers in the way his older version never was. Duggan almost drops spoilers from Cable #5, having gotten his dates mixed up and believing it was released before this panel, but White stops him. Damn you, White, you handlebar mustachioed spoiler Nazi! Go put on your fedora and play the ukulele and let the grown-ups talk here!
So Duggan just talks about how much fun it is to write the crossover instead. Ben Percy and the other writers agree. Howard says the X-Men creative room is very collaborative, and the creators are supportive of each other.
Asked for hints about who will be impacted by the story, Jordan White says: The X-Men proper as a team is going to be hugely impacted by this. That's definitely the biggest thing that comes out of this. If you think really hard about the X-Men team in the Dawn of X era, that might raise some questions for you, but this might answer them.
Duggan says all stories are about change, and you want to see your character change and grow. He says this may be regarded as bigger than House of X and Powers of X. White says there will be an important takeaway in ever book. Rich Johnston, desperate for clicks from this black hole of a panel, actually broke that out into a clickbait article. So the next time you talk about what a shameless click slut I am, remember the restraint I've shown here today in comparison. [Editor's Note: I need to send these two to separate corners of the slack channel.]
If you're reading the collected editions of any one title, you have to read X of Swords, White says. Remember when Hickman went on Twitter and claimed you didn't have to read every single X-book, you could just read the ones you like? Yeah, that was a lie. Forcing you to buy every single X-book is a feature, not a bug. White says X of Swords started big, but it gets a lot bigger and crazier in scope.
And that's a wrap for NYCC's X of Swords panel. What a waste of time. Absolutely nothing revealed in terms of either news or even insight on the creative process, because they've talked about this stuff before. If you were thinking of spending time watching New York Comic Con live streams this weekend, here's my advice: find something better to do (such as literally anything), and hope coronavirus is solved by con season next year.