"Platinum" Legion Rings "Free" With Every 100 Copies of Legion Of Super-Heroes #1
Legion of Super-Heroes returns in November from DC Comics with a new ongoing series by Brian Michael Bendis and Ryan Sook. Bleeding Cool was the first to tell you that DC Comics would be giving away free promotional Legion flight rings to stores who ordered heavy on the new series, And now they have added a new promotional twist that has suddenly sobered me up. A bit.
Comic stores will receive one bag of 50 gold-coloured Legion flight rings free for every 200 copies. If they want more, they can order bags for rings at a not inconsiderable price.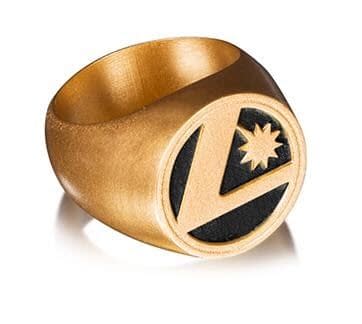 Retailers will also receive one platinum-coloured Legion flight ring for every 100 copies ordered.
Previous promotions such as this might have put a heavy financial burden on stores to commit to, in order to get a few fancy plastic doodads. But DC Comics will also make Legion of Super-Heroes #1 fully returnable for those who order at least 125% of your numbers on the main cover of Batman #65. So, probably around 250% of their total orders on Batman #65. Which is a lot. but a) that means a lot of promotional rings (which won't have to be returned) and b) a lot of copies of Legion of Super-Heroes #1 on the shelves for anyone who wants to buy a copy.
And probably give it the top spot in the chart for November, even with the statistical deduction that Diamond makes for comics that are labelled returnable.
Legion of Super-Heroes #1, will be on sale on November 6th for $3.99. The issue will also have card stock variant covers by Jim Cheung and Sook for $4.99, along with a blank variant cover.
LEGION OF SUPER HEROES #1
(W) Brian Michael Bendis (A/CA) Ryan Sook
Welcome to the 31st century! Inspired by the acts of and lessons learned from the greatest heroes of all time, the Legion of Super-Heroes have gathered together to stop a galaxy from repeating its past mistakes. The greatest lineup of heroes in comic book history returns with new, fresh, and reader-friendly stories!
Eisner Award-winning writer Brian Michael Bendis reteams with master artist Ryan Sook (Action Comics) for one of the most ambitious mainstream comic books ever created! Why have the Legion of Super-Heroes broken the cardinal rule of the United Planets and inducted Jon Kent, a.k.a. Superboy, into the Legion? What are they hiding? And what does it have to do with Aquaman's long-lost trident?In Shops: Nov 06, 2019
Final Orders Due: Oct 14, 2019
SRP: $3.99