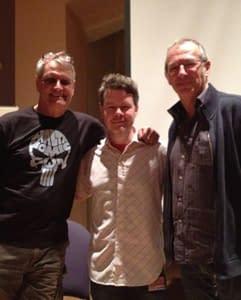 Chris Thompson writes;
[audio:http://popculturehound.net/podcast/PCHPodcastEpisode20.mp3]
This week I take a look back at the absolutely amazing Malta Comic-Con I've recently returned from – then Taylor & I discuss some of the gems found there, including Sean Azzopardi's latest release Same Day Return.
We also present a very special panel I conducted with comics industry legends Dave Gibbons (Watchmen, Secret Service) and Herb Trimpe (The Incredible Hulk, G.I. Joe) where we find out what these two gents share in common and how they feel about being elder statesmen.
Plus we continue to enjoy our BrewDog Craft Beers with the delicious Christmas Porter and Dead Pony Club. To get in touch, discuss sponsorship opportunities or submit projects for consideration, please email reviews@popculturehound.com. You can also follow me on Twitter: @popculturehound.
Taylor Lilley Twitter: @capelessT
Dave Gibbons Twitter: @davegibbons90
Sean Azzopardi Twitter: @Seanazz
Sean Azzopardi website: sean-azzopardi.com
Malta Comic Con Twitter: @MaltaComicCon
Malta Comic-Con website: www.maltacomic-con.com
Bernard Micallef: arcanacrusade.weebly.com
Jeanelle Zammit: natsume-1990.deviantart.com
ASTRO Comics: www.maltacomic-con.com/artist/44/astro
PILOT Anthology: www.maltacomic-con.com/artist/49/pilot-comic-anthology
Dean Fenech: www.deanfenech.com
Maria Isabella Grech: www.facebook.com/MariaIsabellaGrechart
Nel Pace: calcination.deviantart.com
Enjoyed this article? Share it!