Prez Lays Out A Remarkable Future For Twitter, Drones, Anonymous And DC
In the back of today's Convergence Batgirl #2, we got a glimpse of hot new series for June, Prez. And we learned plenty about the DC Universe in the year 2036, with the teenage president-elect Beth Ross, elected as America continues its involvement in world affairs…

And more remarkable than a President being elected by Twitter is that in 2036, Twitter is still around and hasn't been superceded by something else. Looks like they saw off the Hooq challenge. I'm reminded that George Orwell's 1984 was originally titled 1948. Should Prez have been set in 2016, say, rather than trying to push it forward and make it more distant?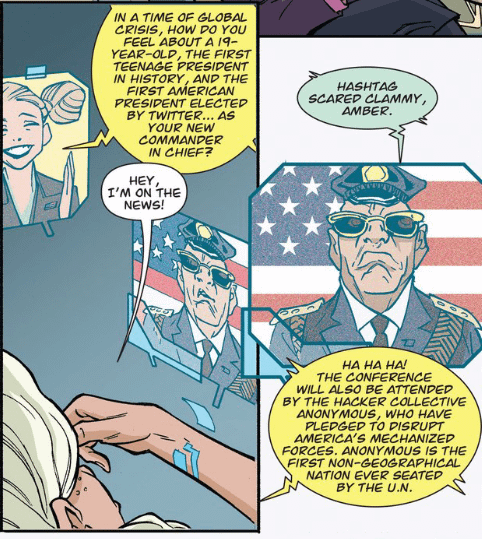 Oh yes, Anonymous is a non-geographical nation. And, because this comic is published by DC, they have no problem in using their distinctive V For Vendetta likenesses…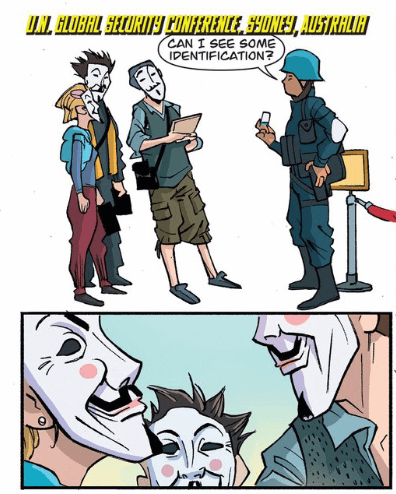 So Midnighter gives us the DCU's first condoms, Prez gives it their first members of Anonymous. Normally the company looks for similarly named equivalents, in Prez, they just don't care. After all, they have bigger fish to fry. Or turkeys to shoot.
Drone robot killing machines – still controlled by people rather than independent AI? Yes, this is a lot closer to 2015 than 2036…
I mean, that's now, isn't it? Like all really good science-fiction…
You can read the previews for yourself free on ComiXology – register here and then click here. And see more of our DC Previews coverage through the day.