PrintWatch: Avengers, Wolverine, Carnage, Venom, House Of Slaughter
PrintWatch: Marvel Comics is sending a bunch of books back to second printings. And we even have a cover for one of them, with Black Panther in his mystical Red Panther suit, taking on the Sorceror Supreme Doctor Doom, now on the cover of Avengers Forever #4.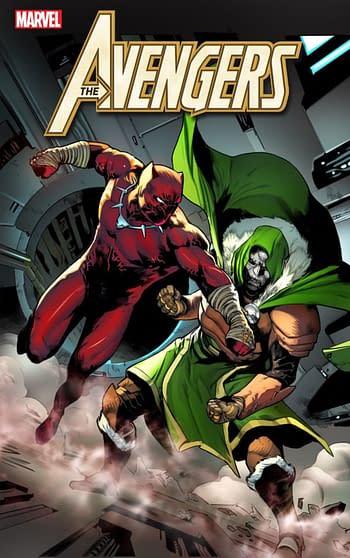 PrintWatch: AVENGERS FOREVER #4 CAMUNCOLI 2ND PRINTING VARIANT
FEB229262 (W) Jason Aaron (A) Jim Towe (CA) Giuseppe Camuncoli
THE RETURN OF THE GODDESSES OF THUNDER! Atli, Ellisiv and Frigg are the granddaughters of Old King Thor, last seen during the end of Jason Aaron's landmark THOR run. Now the Goddesses of Thunder are back, sailing the wild cosmic seas, chasing the thunder that echoes across universes… and hunting for fallen hammers. In Shops: May 04, 2022 SRP: $3.99
PrintWatch: WOLVERINE: PATCH #1 2ND PRINTING VARIANT
(W) Larry Hama (A) Andrea Di Vito (CA) Geoff Shaw
RETURN TO MADRIPOOR WITH THE MAN CALLED PATCH! ALL-NEW action, intrigue and espionage awaits you as legendary creator Larry Hama returns with a story set before his original run on WOLVERINE! The mutant known as LOGAN has made a name for himself on the mysterious island of MADRIPOOR, where the locals know him as PATCH. From their haunt at the PRINCESS BAR, what starts as a simple recon mission lands PATCH and ARCHIE knee-deep in a paramilitary struggle that will surface some SURPRISE REVELATIONS and characters! And is that NICK FURY, DIRECTOR OF S.H.I.E.L.D.? Yes, two patches for the price of one! A must-have for long-standing readers, and a welcome entry point for new readers of WOLVERINE! RATED T+ SRP: $3.99 On Sale: 4th May 2022
PrintWatch: CARNAGE #1 2ND PRINTING VARIANT
(W) Ram V. (A) Francesco Manna (CA) Kendrick Lim
THE BLOODCURDLING CARNAGE SERIES YOU'VE BEEN WAITING FOR! RAM V has carved a perfect home for himself in the symbiote corner of the Marvel U, and in this all-new ongoing series starring Venom's most notorious offspring, that corner is about to get a little bit bigger…and bloodier! After the revelations of CARNAGE FOREVER, and in a year that's set to be a celebration of all things CARNAGE, this is one symbiote story you cannot afford to miss! SRP: $4.99. On Sale: 4th May 2022
PrintWatch: VENOM: LETHAL PROTECTOR #1 2ND PRINTING VARIANT
(W) David Michelinie (A) Ivan Fiorelli (CA) Paolo Siqueira
AN EPIC RETURN! Before Carnage and space gods, clones and toxins, and the revelation that he was a father, Eddie Brock was a down-on-his-luck reporter who had tried to take his own life and been saved by an extraterrestrial alien. This all-new story set in the character's earliest days welcomes Venom co-creator DAVID MICHELINIE back into the symbiote hive with open arms, as he and rising star IVAN FIORELLI unite to tell a new, horrifying tale that not only revisits the wicked web-slinger's past, but hints at what's to come in his future! RATED T+ SRP: $4.99 On Sale: 4th May 2022
PrintWatch: House Of Slaughter #5 gets a second printing as well as a 1:10 tiered variant of the second printing.
HOUSE OF SLAUGHTER #5 2ND PTG CVR A DELL EDERA
HOUSE OF SLAUGHTER #5 2ND PTG CVR B 10 COPY INCV DELL EDERA
BOOM! STUDIOS
(W) James TynionIV, Tate Brombal (A) Chris Shehan, Werther Dell'Edera (CA) Werther Dell'Edera
The first arc of House of Slaughter comes to a close as Jace finally enacts his secret plan.
As chaos fills the halls and the Order members fight off legions of monsters, will Aaron be able to intervene in the battle between his love and the House? And in those final moments, what will he choose? 4/20/2022
PrintWatch: Covers for previous reported second printings from Marvel.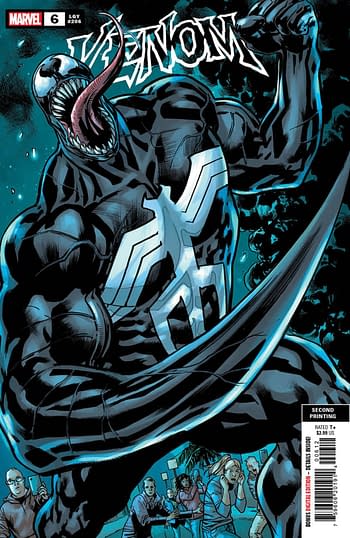 PrintWatch: VENOM #6 2ND PTG
(W) Ram V. (A/CA) Bryan Hitch
"DESTRUCTION" BEGINS HERE! Dylan Brock is in the fight of his life – and he may be in it alone! As he and the VENOM symbiote continue to learn to live together without Eddie Brock, the LIFE FOUNDATION has activated a deadly new operative named the SPEARHEAD! Dylan and Venom aren't the only ones dead in his sights – every single symbiote they (and YOU!) have ever known and cared about is as well! RATED T+ SRP: $3.99 On Sale: 04/27/2022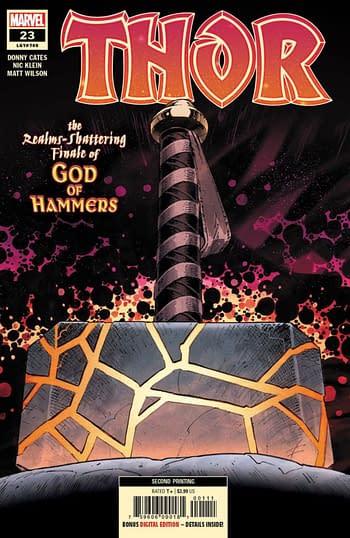 PrintWatch: THOR #23 2ND PTG
(W) Donny Cates (A/CA) Nic Klein
"GOD OF HAMMERS" PART 5 of 5! It's the final chapter in Thor's brutal war against the God of Hammers, and after a horrific and tragic loss, Thor is more determined than ever to finish the fight, once and for all. But can he triumph without Mjolnir at his side? Either way, by issue's end, Thor's life will be irrevocably changed! RATED T+ SRP: $3.99 On Sale: 04/27/2022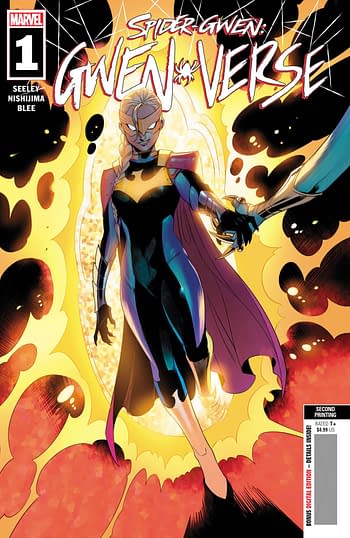 PrintWatch: SPIDER-GWEN GWENVERSE #1 2ND PTG
(W) Tim Seeley (A/CA) Jodi Nishijima
NOT ENOUGH GWENS! When Gwen Stacy was bitten by a radioactive spider, she gained arachnid-like super-powers and started a crimefighting career as Spider-Woman (or as she's affectionately known to her peers, Ghost-Spider)! But what would have happened if instead she had picked up the enchanted hammer, Mjolnir? Or if she received the Super-Soldier Serum? Or built a high-tech suit of armor? Or…you get the idea! Find out in this new five-issue miniseries by Tim Seeley (HEROES REBORN: MARVEL DOUBLE ACTION) and Jodi Nishijima (UNITED STATES OF CAPTAIN AMERICA) as Ghost-Spider tumbles through time and comes face-to-face with herselves! Rated T+ SRP: $4.99 On Sale: 04/27/2022