Ram V of London's White Noise comics writer studio has sole writing credit on Justice League Dark #21 solicits in March 2020 – which may back up James Tynion IV's work plans for 2020.
Now Ram V talked least year about working in comics, saying 'when you start out in comics, you're wanting to write like Neil Gaiman, or like Alan Moore, or Grant Morrison. But eventually, you arrive at a point where you think, 'I need to do my own thing.'
Yeah yeah, Ram, say what you like, in one of your first solo Justice League Dark issues, you're bringing in Animal Man. You love Grant Morrison, you just love him. With Zatanna, Constantine and Parliaments, you're not fooling anyone… you're basically calling yourself a cross between Alan Moore and Grant Morrison. And we are left picturing such a beast in our frontal lobes. Just add Black Orchid and make it as obvious as all hell.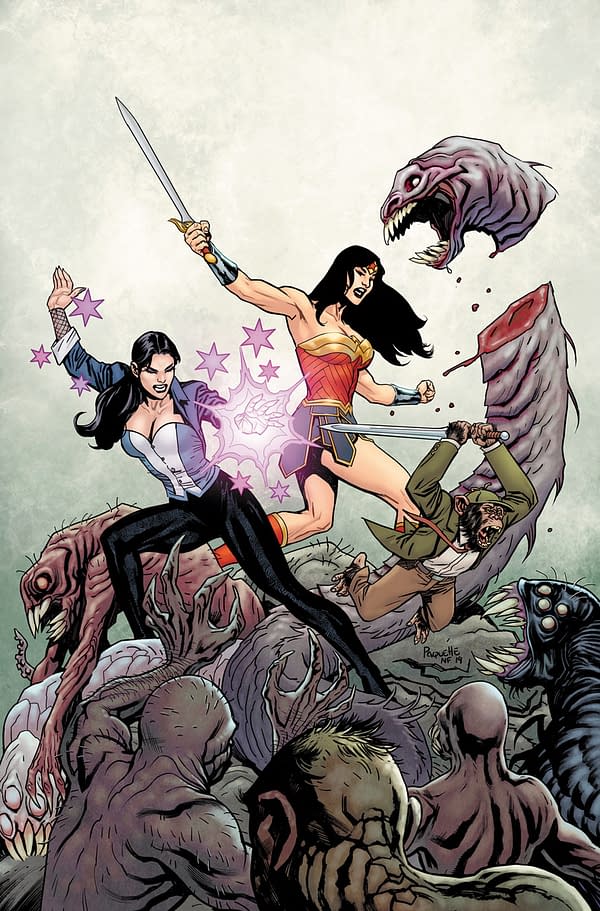 We'll get to see what it actually looks like in March.
JUSTICE LEAGUE DARK #21
written by RAM V
art by ALVARO MARTíNEZ BUENO
cover by YANICK PAQUETTE
variant cover by CLAYTON CRAIN
Rot 'n' roll! Wonder Woman, Detective Chimp, and special guest star Animal Man fend off a horde of monstrous Rot-infected creatures—but risk contamination with every soul they save! Meanwhile, Zatanna and Constantine discover the secret of the Parliaments in an estranged ally's dreams, but there they find no lullabies—only nightmares! ON SALE 03.25.20 $3.99 US | 32 PAGES FC | DC
Enjoyed this article? Share it!