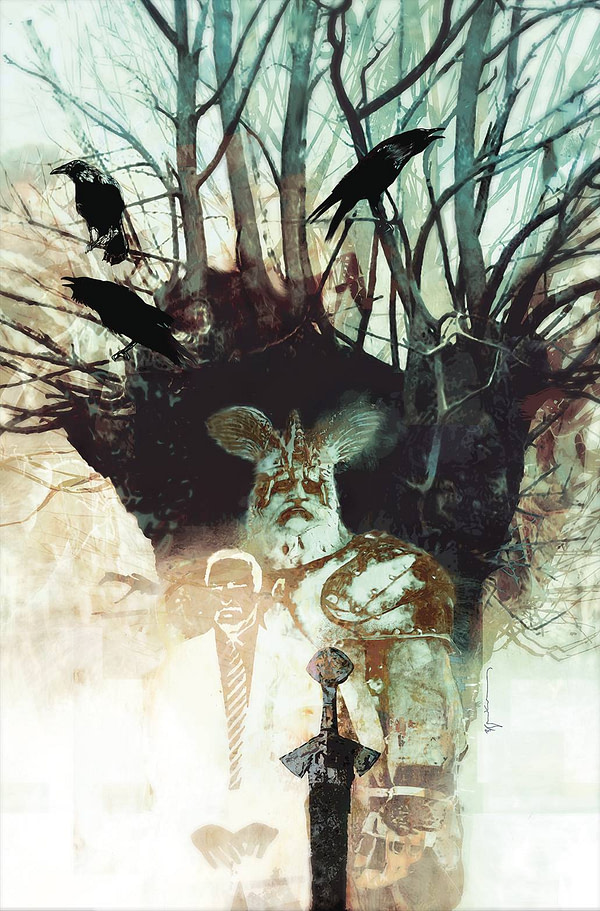 Greetings from the coal face of the direct comics market. Where retailers try to increase their orders of certain comics ahead of sale. Where supply and demand and most accurately reflected, where you can see which books are hot, where new orders are coming in and how retailers are reacting to new, unanticipated desire! And courtesy of stats from Diamond Comic Distributors.Some titles like the
Some titles like the Batman and Flash "Button" issues can only be ordered through Advance Reorders as they take longer to produce. But it seems the preview of Secret Empire #0 (minor spoilers here) distributed to retailers has helped boost orders for that issue, with X-Men ResurrXion titles close behind. Marvel look like they will be advancing as a result.
There's also a massive jump for American Gods based on the fast sale of the first issue of the adaptation, and Rat Queens and Grass Kings have received similar second issue bumps.
TOP 25 ADVANCE REORDER COMICS/GRAPHIC NOVELS/TPs
| | | |
| --- | --- | --- |
| Publication | Price | Publisher |
| BATMAN #21 (THE BUTTON) | $2.99 | DC |
| BATMAN #21 INTERNATIONAL EDITION (THE BUTTON) | $2.99 | DC |
| BATMAN #21 VAR ED (THE BUTTON) | $2.99 | DC |
| SECRET EMPIRE #0 (OF 9) | $4.99 | MAR |
| X-MEN BLUE #1 | $4.99 | MAR |
| NEIL GAIMAN AMERICAN GODS SHADOWS #2 FOC VAR (MR) (C: 1-0-0) | $3.99 | DAR |
| WEAPON X #1 | $3.99 | MAR |
| X-MEN GOLD #1 | $4.99 | MAR |
| RAT QUEENS #2 CVR B (MR) | $3.99 | IMA |
| GRASS KINGS #2 FOC INCV JENKINS VAR | $3.99 | BOO |
| DEADPOOL VS PUNISHER #1 (OF 5) | $3.99 | MAR |
| OLD MAN LOGAN #21 | $3.99 | MAR |
| WEAPON X #1 RUPPS TURNER ASPEN VAR (NET) | $2.50 | MAR |
| SPAWN #272 CVR C APRIL FOOLS VAR | $2.99 | IMA |
| IMAGE COMICS 25TH ANNIVERSARY BLIND BOX (NET) | $125.00 | IMA |
| STAR WARS SCREAMING CITADEL #1 | $4.99 | MAR |
| GRASS KINGS #2 | $3.99 | BOO |
| GODSHAPER #1 FOC INCV AJA VAR | $3.99 | BOO |
| STAR WARS DARTH MAUL #4 (OF 5) | $3.99 | MAR |
| X-MEN BLUE #1 KIRBY 100TH VAR | $4.99 | MAR |
| AMERICA #1 2ND PTG VEREGGE HIP HOP VAR | $3.99 | MAR |
| SECRET EMPIRE #0 (OF 9) TORQUE VAR | $4.99 | MAR |
| AMERICA #1 2ND PTG MCKELVIE VAR | $3.99 | MAR |
| STAR WARS #31 | $3.99 | MAR |
| STAR WARS DOCTOR APHRA #7 | $3.99 | MAR |
TOP 25 REORDER COMICS/GRAPHIC NOVELS/TPs
| | | |
| --- | --- | --- |
| Publication | Price | Publisher |
| WOLVERINE OLD MAN LOGAN TP | $29.99 | MAR |
| HULK SEASON ONE PREM HC | $24.99 | MAR |
| WOLVERINE OLD MAN LOGAN TP VOL 01 BERZERKER | $16.99 | MAR |
| X-23 COMPLETE COLLECTION TP VOL 01 | $34.99 | MAR |
| BATMAN THE KILLING JOKE SPECIAL ED HC | $17.99 | DC |
| AMAZING SPIDER-MAN #25 | $9.99 | MAR |
| WALKING DEAD TP VOL 27 WHISPERER WAR | $14.99 | IMA |
| WOLVERINE OLD MAN LOGAN HC NEW PTG | $34.99 | MAR |
| BATMAN TP VOL 01 I AM GOTHAM (REBIRTH) | $16.99 | DC |
| WALKING DEAD COMPENDIUM TP VOL 01 (MR) | $59.99 | IMA |
| SAGA TP VOL 06 (MR) | $14.99 | IMA |
| INFINITY GAUNTLET TP | $24.99 | MAR |
| SAGA TP VOL 01 (MR) | $9.99 | IMA |
| WALKING DEAD COMPENDIUM TP VOL 03 (MR) | $59.99 | IMA |
| FLASH TP VOL 01 LIGHTNING STRIKES TWICE (REBIRTH) | $17.99 | DC |
| SNOTGIRL TP VOL 01 GREEN HAIR DONT CARE | $9.99 | IMA |
| PAPER GIRLS TP VOL 02 | $12.99 | IMA |
| WOLVERINE OLD MAN LOGAN TP VOL 00 WARZONES | $17.99 | MAR |
| SAGA TP VOL 04 (MR) | $14.99 | IMA |
| ACTION COMICS #975 | $3.99 | DC |
| RICK & MORTY TP VOL 01 | $19.99 | ONI |
| BATMAN DETECTIVE TP VOL 01 RISE OT BATMEN (REBIRTH) | $16.99 | DC |
| STAR WARS DARTH VADER TP VOL 01 VADER | $19.99 | MAR |
| WONDER WOMAN TP VOL 01 THE LIES (REBIRTH) | $16.99 | DC |
| WOLVERINE OLD MAN LOGAN TP VOL 03 LAST RONIN | $15.99 | MAR |
xx