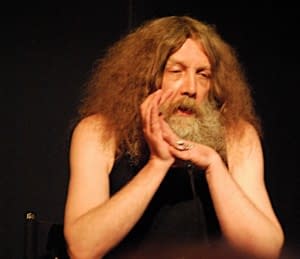 At the ComICA League Of Extraordinary Gentlemen event last night, Alan Moore announced that he was writing new episodes of The BoJeffries Saga for Steve Parkhouse, to be published by Top Shelf comix.
The BoJeffries Saga is the long lost forgotten child of Warrior magazine.
While V For Vendetta and Marvelman would go on to great acclaim, Alan Moore's third series for the British anthology, with collaborator Steve Parkhouse would not receive the same attention.
Which is a shame, because if it had, Alan Moore's reputation as a writer may have been very different. As a high concept, it's very much a British version of The Addams Family or The Munsters, but with even more mundanity. This horror-based family are definitely working class, living in terraced houses much as Alan Moore's own. There's even a musical episode, an aspect that Moore recently revisited with the new League volume.
And it's funny. Very very funny. The kind of dark comedy that British sitcoms would only get round to with the likes of Garth Merenghi, Snuff Box and Nathan Barley.
The series has been collected in part by the likes of Tundra, Fantagraphics and Atomeka. But a serious appraisal of the work is long overdue.
ComICA continues at the Institute of Contempory Arts in London this month.
BoJeffries Saga image copyright Alan Moore and Steve Parkhouse.
Photograph courtesy of Joel Meadows – see more at Walls And Bridges.

Enjoyed this article? Share it!