Books That Found Me at NYCC – Afterlife With Archie, Amala's Blade, Roller Grrrls, Madefire Sketchbooks, Magic Words, Dogs of War, Forces of Nature, The New Crusaders and The Fox, Disenchanted
New York Comic Con is an intense wave of crazy that crashes over everyone who attends, but even more so for those who scurry around covering panels and attempting to do interviews in loud surroundings with barely functioning audio recorders. I knew going into it that I would be unlikely to pick up many comics, and so, I was surprised when I dumped out my luggage and found that quite a few books had managed to sneak in when I wasn't noticing. These books I consider to have "found me" rather than the other way around, and so I suggest that there's a particular tenacity about them, and probably a tenacity that should recommend them to readers. If they can break through the unpredictable schedule and mayhem of a full-blown major comic con, they have that little something extra that's worth checking out.
These are the books that found me:
Afterlife With Archie, by Roberto Aguirre Sacasa and Francesco Francavilla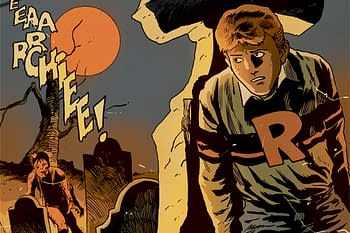 I really can't believe my own eyes when I page through this comic. As a pretty committed fan of Francesco Francavilla's, I should have known a little what to expect, but no. This is a simply dazzling book that recasts Archie characters in pulp tradition and presents them in a lurid glow of real tension as "the dead begin to rise" and pals team up to oppose zombie hordes. If you think about it, it's the perfect teen horror drama set-up, but I suggest that readers will be truly surprised by this book. It's not one to miss. The fans at NYCC agreed, since the comic sold out of its variant covers right away and was one of the hottest topics of conversation at the con. You'll never see Archie the same way again, that's for sure, but it's a revolution well worth seeking out.
Amala's Blade by Steve Horton and Michael Dialynas, from Dark Horse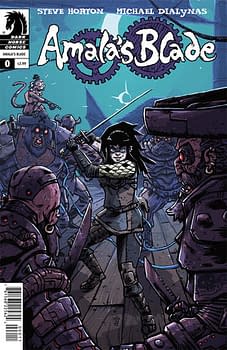 I always meant to read Amala's Blade, but it just kept slipping under my radar in the rush of other work to do and other comics to read. Walking through Artists Alley at NYCC, I saw it again, and got chatting with artist Michael Dialynas about the upcoming collection of the first arc as a trade. Dialynas, who was on his way back to Greece shortly thereafter, talked about the international nature of freelance comic work these days, and the marked tendency in comics culture to inspire hugging. Since he'd thrown down the gauntlet on hugging, he was forced to hug me, too, though I was more than a little distracted by his original art strewn across the table. It was riveting. His work has an unusually solid feel to it, with bold cartoony accents, and the texture is strangely palpable and emotive. The covers to Amala's Blade 0-4 feature Amala kicking ass in various ways, enough to recommend it as a work that spotlights a female lead as an adventurer. Dialynas, seeing my fixation, put a stack of the comics into my hands. It was one of those con moments where you hope you don't cry on someone when they bestow the comic-trademark hug.
The Madefire Sketchbook, Sharp Art 01, Mono: The Old Curiosity Shop 1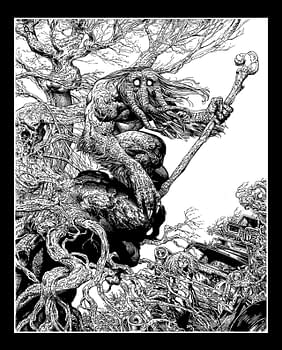 Madefire is a digital online tool and app platform for creators to devise and share their work, from traditional comics storytelling to all kinds of panoramic and motion viewing. It's attracted plenty of big names in the year and a half since it launched, and look out for my forthcoming interview with MadeFire. What I didn't realize is that they brought print books with them to NYCC, essentially art catalogues to show the kinds of work being done with the tool. And the range is astonishing.
From the painterly to the indie sketchy look, the impression the sketchbook gives is of a limitless digital gallery for approaching comic art. Liam Sharp, one of the founders of MadeFire, also had a selection of work in print at the show, and it left me speechless. He's a seasoned comic artist, and having grasped the potential of MadeFire leaps from intensely inked spreads to haunting painted panels, covers, and concept art. His range suggests MadeFire's own and leads the way for more exploration as the tool evolves.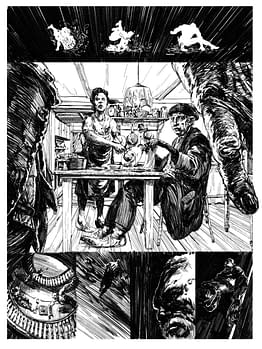 His founding partner Ben Wolstenholme, also produced a 2013 sketchbook at the con, Mono: The Old Curiosity Shop 1, complete with fully articulated cinematic spreads, thumbnails and breakdowns, and inking bringing historical settings to life as full-blown action sequences. This suggested to me that Sharp and Wolstenholme devised MadeFire as a way to set their own imaginations free. Their sketchbooks are a thing of beauty.
Roller Grrrls Sketchbook from Anna Malady and Gary Erskine
Roller Grrrls is a forthcoming comic project that has been drumming up interest online through concept art and already burgeoning fandom tapped into the roller derby community. The large format book that Erskine brought to Artists Alley at NYCC shows off character studies, images worthy of poster art, process art, and cosplay photos they've already received showing enthusiasm for the project. Needless to say, the artwork brings out the inner warrior in women, and some of the more humorous images place roller derby gals in domestic situations, cradling children, taking on cooking duties in their gear.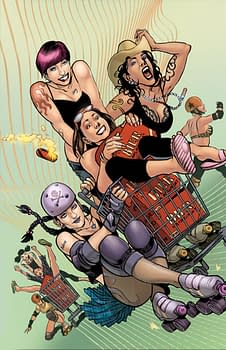 It's Rosie the Rivetter for the 21st century and preserves the flavor of real life experiences and real competitors. It's a comic project to keep your eye on, and Erskine's colors are particularly rich and appealing. When I spoke to Erskine in Artists Alley, he had so many projects on the go that he had to refer to a lanyard with double-sided columns to elucidate them all. But Roller Girls was closest to his heart, and flipping through the sketchbook, that commitment and vision is apparent, too.
Magic Words: The Extraordinary Life of Alan Moore by Lance Parkin from Aurum Press
If you haven't heard of this book yet, it won't be long before there's plenty of media around it. It's the first mainly prose biography of the great Alan Moore and represents a three year odyssey for Lance Parkin, who started off composing an unauthorized biography and ended up with the great man's blessing and promo for press. It contains a fully researched literary biographical take on Moore's entire life, including sections that have previously been largely overlooked because Moore wasn't publishing much during those periods. But the book itself is a remarkably lavish thing, with black-tipped pages, a purple spine, inset illustrations, cartoons, and photos, and a wide-ranging index. I can't wait to dig further into it, and look out for an interview soon that I did with Parkin about the book's journey to print. This is quite literally the book that fans have been starving for over the course of decades to take its place alongside the more art-based books and interview collections that have appeared in recent years. Here you have a book that places Moore alongside other great cultural movers and shakers well beyond the sphere of comics and it's an excellent resource for gaining a wider understanding of the man and his work. It'll be available from December 1st.
Force of Nature by Gregory Benton from Hang Dai Editions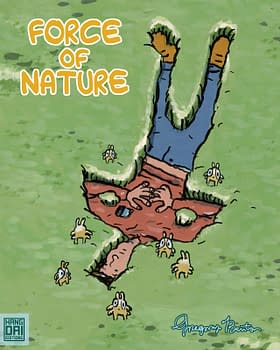 Gregory Benton won one of MoCCA Fest's coveted awards last spring for his monograph B+F which is appearing in formal published form very soon. Recently, he produced another self-published work, Force of Nature, in full color, under the imprint of the studio where he works in Brooklyn, Hang Dai. Though he didn't have a table in Artists Alley, Benton made a few brief appearances at the con, and Forces of Nature actually made its way into my hands at an offsite event after I had been looking out for it during the con. Benton unleashes some of the wilder elements which spiral through the narrative in B+F in a less mythological setting here. In Force of Nature, a nature-seeker encounters, well, talking bears. Who live in a house. If you're thinking Goldilocks, you're not far wrong, only the wicked sense of humor in the book will rock you back on your heels. This book is hard to get, but not for long. Here's hoping it finds its way into your hands, too.
Dogs of War, by Sheila Keenan and Nathan Fox from Scholastic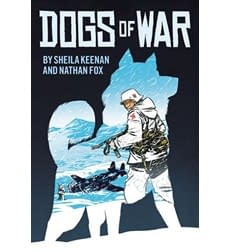 Like many of the books at NYCC, this one isn't even out yet, but is coming soon, in November 2013. It's being published by Scholastic, with artwork by the great Nathan Fox, whose name you might recognize from the School of Visual Arts in New York, but also from the striking covers to the series Federal Bureau of Physics (FBP, formerly Collider) from Vertigo. Dogs of War features historical elements dealing with service dogs who saved lives during World War I, II, and Vietnam. These adventure stories are fairly mind-boggling and steeped in historical context, but there's something about Fox's uncanny instincts for motion that conveys both humor and pathos to say as much about humanity in times of war as about canine feats. Rico Renzi and Guy Major are responsible for the radically influential colors on the book which give the work such a complete narrative feel. Fox's sterling work is hardly surprising here, if you've seen what he's been doing with FBP covers. Dogs of War is really one to take home as a solid reading experience from a master craftsman.
Fox's postcard book, Stay Tuned, was also available at the con, and is a consummate art object to own. From rockers to mash-up samurai images and poster art, neatly folded into its own accordion binding with wrap around envelope structure, it's a pocket-sized museum of Fox's imaginative work. When I cautiously walked up to Fox's booth on the main floor of NYCC, he was incredibly busy, as I expected him to be, but it was only when I started to walk away again that I realized he was busy ink-brushing a sketch inside a copy of Dogs of War for me. I was flabbergasted.
The New Crusaders and The Fox Preview from Red Circle Comics (a division of Archie Comics)
Red Circle Comics had a sizable presence at NYCC with a panel all their own, but The New Crusaders, which I had been hearing about for awhile, are pretty helpful to understanding the soon to be launched series by Dean Haspiel and Mark Waid, The Fox, and the upcoming work The Shield, by J.M. DeMatteis and Mike Cavallaro. All of these heroes stem from earlier 20th century counterparts, and The Shield is based on one of the earliest patriotic-themed heroes that in turn inspired Captain America from Marvel. Intense action, impressive super-powers, and team-themed plots drive The New Crusaders collections, and the preview of The Fox available at the con shows off the energy of Haspiel's clear-line style handling action and silver-age pulpy foes.
Let's face it, there's plenty of the hipster coming from Red Circle with The Fox, and The Shield looks like outrageous fun, too. The new books are going to be accessible to first-time readers, but their intricate relationship to the Red Circle universe is going to be doubly apparent if you get a chance to dig into The New Crusaders beforehand. The Archie Comics booth on the show floor was stacked up with so many of their in-demand comics that I wasn't sure I'd find New Crusaders anywhere, but I lucked out and now I may just get to prepare myself for the fairly epic new developments this autumn from Red Circle. I'm a sucker for humor and attitude when it comes to hero stories, and these books have definitely gotten my attention.

Disenchanted, by Simon Spurrier and German Erramouspe from Avatar Press
[Avatar Press happen to own Bleeding Cool. This book was free to fans at NYCC]
I heard about Disenchanted for the first time in an Avatar Press panel at NYCC. Thus far I'd been totally ignorant about it, though it's going to be running as a web comic alongside things like Crossed, and following in the footsteps of the cult classic web to print series Freakangels. A 16 page free print comic that preceeds the weekly 12 page web series launching in October was available at the con. It's a series that grabbed my attention because its tagline is "the place where magic went to die" and Spurrier's discussion of the comic in the panel suggested that the comic will handle fairies and modernity in an entirely off-beat way. After all, to be fair, you don't really expect to hear about a fairy-based book launching from Avatar Press.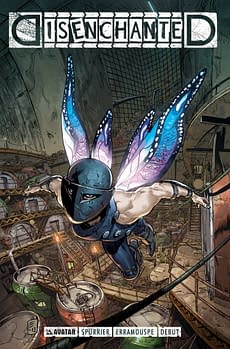 It felt a little bit like uttering a password to a Speakeasy to walk by the Avatar booth and ask if they, in fact, did have copies of this free comic, especially since I didn't see any around. One copy was quietly withdrawn from behind a display and put into my hands. Once I saw the artwork and storytelling on Disenchanted, I understood. Think Oliver Twist in terms of realism and grittiness as a civilization of tiny people struggles to survive in underground London. It's clear that the series will be no-holds-barred in terms of ripping apart sentimentality and engaging with very vulnerable characters. Even better than getting the preview book is the realization that it will be readily available on a weekly basis to all and sundry. If it seemed mysterious to me when I first heard about it, it seems even more so to me now, with that aura of being magically delivered via the internets in installments. I'll be waiting to see exactly where this unusual story is headed that promises bizarre things like dealing with the "slithering toilet bowl of belief and disbelief". Can't beat those teasers.
So, those are the rather substantial works that found their way to me despite my certainty that I'd arrive home empty-handed. Whatever you were looking for at New York Comic Con, I hope you have similar stories of being surprised and a few books to nurse you through recovery from the con. What did you bring back?
Hannah Means-Shannon is Senior New York Correspondent at Bleeding Cool, writes and blogs about comics for TRIP CITY and Sequart.org, and is currently working on books about Neil Gaiman and Alan Moore for Sequart. She is @hannahmenzies on Twitter and hannahmenziesblog on WordPress. Find her bio here.