So if you're somehow not aware of it, the Nintendo Switch came out yesterday.
When the Switch was announced, those of us involved with gaming journalism went insane and emailed in droves to get a copy of the hardware to do a review for you. Bleeding Cool was one of the outlets who didn't receive a copy. (Despite some of our colleagues at other outlets getting three, which made zero sense.) You may have also noticed that a LOT of those outlets gave the system mostly glowing reviews (with some cautioning you to wait) and practically gave the biggest launch title an overwhelming "10 out of 10."
…We're not going to do that. Since we had to buy one (yes, we are going to be snarky about that, feel free to leave your tiresome "woe as me" comments below), we're going to take a more critical look at what you get and give you an honest opinion of what we think of the system—from the unboxing to setup to playing the first major release from Nintendo for the new console, The Legend of Zelda: Breath of the Wild. First, let's look at the system and what's inside the box. We got the Red/Blue controller scheme. Immediately out of the gate, this is one of the best-packaged systems I've gotten to open in a while. Everything is nice and shiny and has that warm Nintendo feeling to it. It reminded me of when I first opened an NES. Immediately on top you get both switch controllers (both fully charged in the box) and the primary console (charged at 50%). The controllers are easy to slide in, and to take them out you press a small button on the back. The second half of the box are the bits and pieces. The first are the Switch controller wristbands, which you attach when you play party games like the 1-2 Switch so that they don't fly off. The bands also have connector pieces with better L/R buttons that are easier to press for games like this. Next is your primary controller, which you snap the pieces into when you play on your TV, and comes in standard gray regardless of color scheme. The next piece is the docking port. It serves two purposes: connecting to a TV and charging the console. Most important to note, there is no Ethernet port on the side, so if you don't have WiFi in your home, you're kinda screwed when it comes to internet access on a Switch. The three ports on the inside are the HDMI hookup, a USB port, and the power cord port. You are given an HDMI cable and a power cord, the latter of which can be plugged directly into the bottom of the Switch for the portability. Which you're going to want to take with you everywhere because the first major issue is the battery: it only lasts two hours. Playing the latest Zelda yesterday for most of my day, I kept taking it off the charge and playing it around my home and at other places. Two hours is the maximum time I got three times in a row, less if you use WiFi to connect to social media or the eShop. Third-party developers are about to have a field day creating eight-hour battery packs for gamers on the go.
Hooking it up to your TV is a cinch. Once you place it in the dock, the signal is sent straight to the TV. The minute you pull it out, the transfer to the console is instantaneous. The controllers slide into the primary controller with ease and acknowledge with a small green square that you are Player #1 of 4 that can link to the system. The console itself is pretty sleek with power and volume on top to the left, along with a headphone jack and the cooling unit in the center, with the cartridge slot on the right. On the bottom is the docking port/power supply, and on the back is a small stand to prop up the system.
The second hurdle you'll end up seeing is that you only have 25GB memory remaining after the system does its first update. However, something that hasn't been brought up much is that there's a slot for a microSD card hidden behind the stand. So in theory, if you go plunk down $100 on a 1TB microSD, you've got enough memory for every Switch game for at least the next year. And that's going to come in handy when you're dealing with titles like Mario Kart 8 Deluxe where having added memory is going to be a necessity. The software inside is pretty simplistic. You're given two rows of choices: the top row is for your games, the bottom is for your system which includes News, eShop, Album (photos), Controllers, Settings, and Power/Sleep Mode. You can select with the buttons and analog sticks, or touch screen everything. The eShop and profiles are pretty easy to set up, but finding people is still a problem as you have to search people by Friend Code (the number you're given with your username and system) or by searching for local users using a symbol system and local connections. Once you get into playing a game, the system runs fine with some slight controller issues. First, this thing is bigger that a PS Vita, so the natural length of which we hold our hands for systems like the Vita and 3DS, or even smartphones, is now wider and will throw some people off. Second, the button scheme is still in the classic SNES pattern they've been using for years, which is now considered reversed from modern gaming controllers. So those of you who instinctively hit A or X on other systems will now be hitting B, which will often do the opposite. The third is having the left joystick at the top and not slightly to the side for a better grip and control. Simply put: it's annoying as hell and hard to control sometimes because now your hands are in a lopsided state. I get what they were going for with the controllers when they're not attached, but this feature hampers some efforts.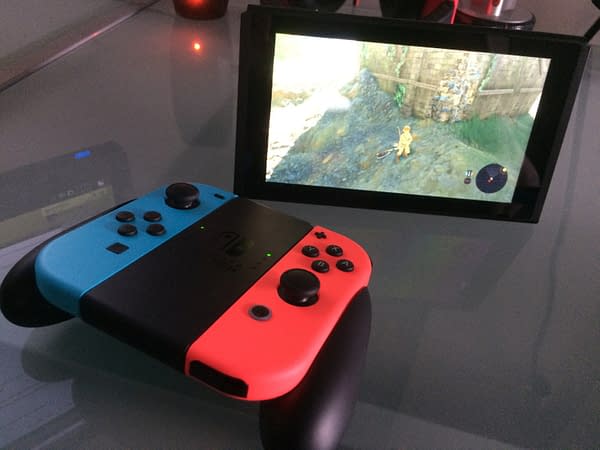 The picture quality is excellent and there's nothing I could complain about. Watching other people play it from different angles didn't hinder my enjoyment, the only factor was the size, which is easily remedied by throwing it in the dock. My favorite way to play this system so far is to have the console out of the dock and propped up, while using the primary controller. I feel like this is where I'll be playing the game a lot of the time—not waiting to go home hit it on a TV, but take it with me and show it off while playing with friends. The new Zelda game looks gorgeous on it, and while we're not going to give a full game review here, let's just say it's a far better experience than I had playing Skyward Sword or Twilight Princess. It is well worth your time to go seek it out, especially for the gameplay. I do believe there's some vital stuff missing that would have made the system feel more complete. There's no screen protection (at least, not yet), there's no carrying case or pouch to throw it in so it's protected while traveling, there's no screen cleaning cloth or liquid to keep it looking pristine. What I wouldn't give for a red Nintendo cloth to come with this. That's where Nintendo will end up making a good chunk of money on as we'll probably start reporting stories in the near future of people who broke their Switch as easily as they break their smartphones, or having controllers break from not being used properly. So maybe not having that stuff wasn't a mistake after all… Overall, the Nintendo Switch is indeed a great system, but it has flaws. Some that cannot be overlooked. But what system doesn't have that these days. Go back and see how many people were complaining about how flawed the PS4 and XB1 were at launch and you'll know that people will always find stuff to complain about. And yeah, there is stuff to complain about, but it doesn't derail the system as a whole or make it inferior. It would be nice to know if anything can be done for the battery, and time will tell as to how people work the microSD into their gameplay and overall use of the system, and I'm sure a third-party developer will make a PS4-like pro-controller for it. But for now, it's a pretty sweet console. It is NOT perfect, and if you don't want to buy it at launch you shouldn't feel pressured to do so. But it's pretty damn close.
Enjoyed this article? Share it!