Breaking The Language Barrier In Comics Through Digital Delcourt – The Bleeding Cool Interview, Plus 6 Comic Previews
San Diego Comic Con this past week opened up the unusual opportunity for me to be able to speak directly to the founder of the largest independent comics publishing company in France, Guy Delcourt. His presence at the con, though he confirmed to me that he has attended many times, was particularly predicated on the announcement only a few days before that Delcourt has launched an entire ongoing line of comics in English on ComiXology, the first English translations of these comics to appear on the digital platform. Initially launched titles included The Curse of the Wendigo, by Mathieu Missoffe and Charlie Adlard, Come Prima by Alfred, Spin Angels, Iron Squad, Josephine, and more. It is a major development in the introduction of French, and even in foreign language comics, to American readers since this experimental step may well encourage more publishers from various nations to follow suit. To celebrate the launch, many of the comics in this slate received special digital variant covers by American artists and some prominent American comics creators wrote forewords as well. If you are an industry professional or even a retailer, you know that the difficulty in obtaining French comics to read without great expense or logistical planning can be overwhelming, and you can grasp just how significant this development is. If you are a comics fan and reader, a whole new world of storytelling experiences just opened up for you, and one which you can even preview and sample before making your choices.
Talking to Guy Delcourt at the convention, courtesy of ComiXology, was very enlightening. Hearing his take on digital media, the nature of the experiment they are embarking upon, and also the potential developments for the venture if it is successful, was fascinating and reminded me again how much the comics medium can benefit from global culture.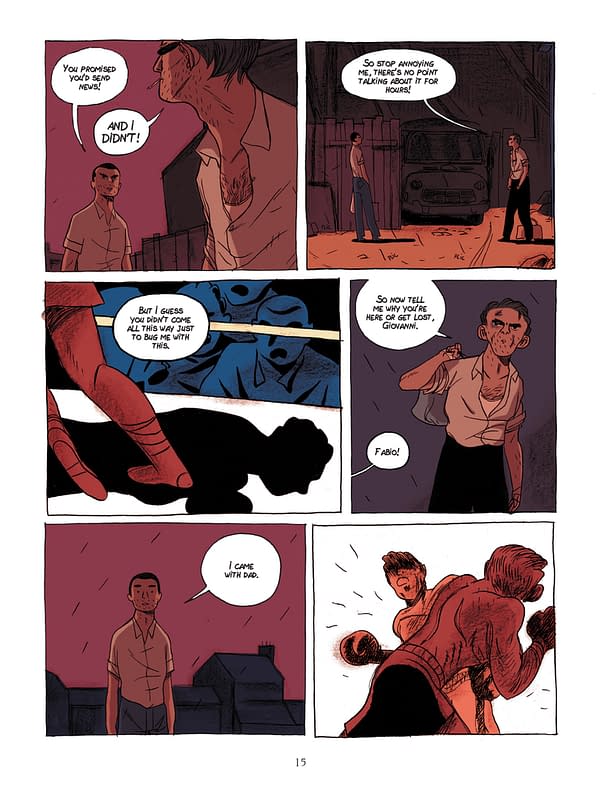 HMS: To speak very generally, I want to ask: What are some of your goals as an independent publisher, and how you make editorial choices?
Guy Delcourt: Regarding editorial choices, I have 20 editors. When I started, there were two things that were important to me: I was passionate about comics, and I had business knowledge. Combining the two seemed like it could make sense. But at first my choices as a publisher were about what I liked. But over time, we've grown, so that's not quite the case anymore. But I still decide whether we publish something or not. My trajectory has always been about opening up the field in comics in terms of genres or readership. I have, for instance, combined comics and music. We've done an album just based on Bob Dylan songs, for instance. We've done Proust in comics, which sounded a little crazy. We a book about about global warming, non-fiction, and we've also been working on opening up the field of comics regarding women. One of the books we're bringing to ComiXology is by Josephine, a great female artist. Being in the USA now, to me, is about moving beyond our borders, whether editorially or physically.
HMS: Well, your vision for expanding the medium of comics is shared by many US publishers, and ComiXology especially, but on the other hand, it's a progressive element, and not everyone necessarily pursues that expansion. Do you perceive any limitations in the way that some Americans tend to narrow the definition of comics to superhero stories?
GD: Fortunately, in France, I have been the publisher of many American comics, from Hellboy to Chris Ware, who I love, to Charles Burns. So we get to observe what's going on in the USA and it's more diverse than people may realize. Even among superhero comics, it's rarely just one thing.
HMS: Yes, the combination of genres is on the rise.
GD: Yes, and squeezing in the personal elements even there. Comics can be very serious, as I mentioned global warming as a theme above, but they can also be simply entertaining and fun, and there's nothing wrong with that. HMS: How would you characterize this first wave of comics you're bringing to ComiXology in tone and content?
GD: We have to characterize something that is based on diversity, so that's difficult! The way that they are created is the French way, which means that creators spend more time on them than they would in the USA. It's not about quality, just about a different approach. A French artist would spend a year on 50 pages, and the French comics page is larger. The pages are more detailed, and it's a different way of doing comics. It's also a method that's been a problem, so far, in French comics reaching American audiences because of the format. The size of the books has been very difficult to stock in comic shops.
HMS: This is the larger, album format?
GD: The album format is too large, so it's relegated into a dark corner of the shop.
HMS: They don't seem to know where to fit it on the shelf.
GD: American [publishing] is about certain standard ways of doing things and you have to fit the standard approach. I've learned that. But digitally, we fit very well.
[Laughter*]
HMS: Yes!
GD: There is no difference between one page the next. The guided view system allows you to go panel by panel and you can see that the artwork is, quite often, very rich. It's very powerful. Likewise with the stories. For me, it opens a huge door that make our books more accessible to the US audience.
HMS: That leads to one of my other questions, which is: do you feel that the digitization of comics has made it a more global medium?
GD: It is certainly heading in that direction. It's so much easier to do. It would be very difficult to publish our comics in print in this way. We'd have to establish a branch and so on. Here, it's much more flexible. I'm not saying it's easy, because that [assumption] can be a trap, since our editor really put a lot of energy and work into this, and had plenty to do like making sure the translations were good, with double proof reading for how things sound, using the same letterer to do the English lettering. But jumping on the digital wagon thanks to ComiXology really has been so helpful to us. We've signed an exclusive deal with them and they are helping us promote the comics. We have a great relationship with them.
HMS: They seem delighted to have you all onboard. They are very interested in international expansion.
GD: We have the same goals to expand in terms of territory and content.
I'm more of a print person because of my age, but also because digital sales in France are low. Because there are so many bookstores, and you don't have the distribution problems of the US, print is stronger. But in bringing our titles to the US, that's a big expansion digitally.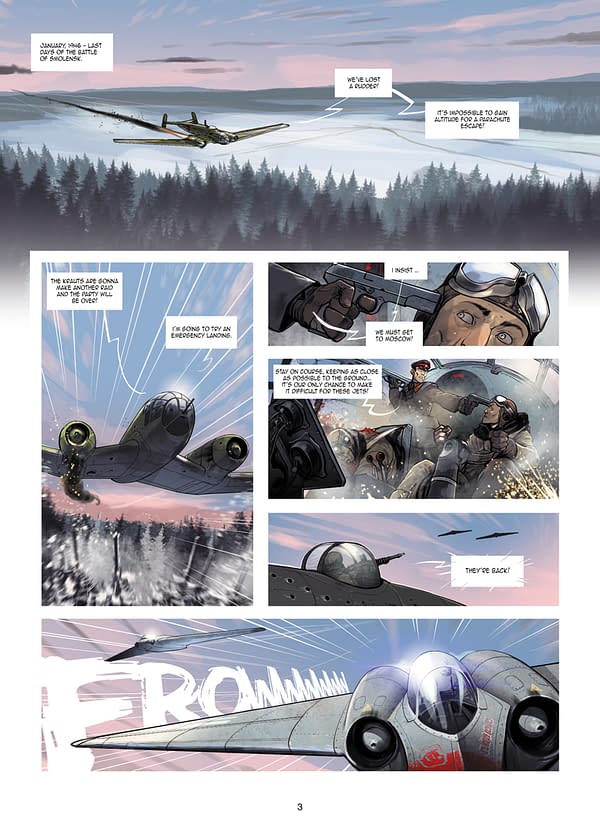 HMS: Back in the winter, there was a report that suggested that digital sales had plateaued in the UK and print sales had increased. And that seemed to indicate that people want both.
GD: Yes, it shows that digital and print may not be enemies after all, since digital can lead to print sales, also.
HMS: Particularly in trade editions, I think. People will buy them after reading the digital edition.
GD: For me, until now, it's been the opposite, with print first and then digital in France, but now we are working in the reverse, and it will be very interesting to see if here in the US, if the books meet with success digitally, print editions might come along later on.
HMS: I was wondering that, though I wondered if it was too far in the future to talk about.
GD: It is far in the future, and our business model is based on conservative figures, so we wouldn't do it unless it was financially viable.
HMS: Digital comics are also searchable in a helpful way, and you can find related titles recommended to you.
GD: It's interesting, because I didn't want these titles simply labelled as "French". It's fun to talk about a "French Invasion" of comics, but the point is to give a broader range of comics to read.
HMS: And to judge those books on the same footing as every other book rather than considering them part of a niche market.
GD: Exactly. And the same issue can arise with French movies, that appear in the US only in a limited number of showings, in New York or San Francisco. Very few people see them, and they have subtitles, so they look foreign. Some of our books, particularly our sci-fi books, are completely influenced by global culture. Our artists are open-minded and like influences. Our market it very creator-oriented and we don't give them particular guidelines so they often incorporate them.
For instance, we have series releases and graphic novel releases, and we don't cut up the graphic novel into sections because we are presenting them as the creators intended. HMS: Oh, right. Now I'm understanding the structure of the announcements made by ComiXology whereby it looks like there will be several long-running series, but with each group at least one full graphic novel released at that time. So that decision, whether to release something as a unit or in installments, is a creative decision?
GD: It depends on the kind of books they are. We could compare them to TV series (installments) or to independent films (the graphic novel).
HMS: You mentioned Josephine, and female-oriented comics as part of your expansion. Is that an expansion with many obstacles?
GD: No, not really. The readers are there, but when I started many years ago, comics were 90 percent male. But then over time, I was fortunate enough to meet many talented female creators, and now the readership, I believe is almost half female in France. In France, novels are read more by women than men, and I think graphic novels follow the same pattern.
HMS: Now, chronologically, you've worked with ComiXology before this point, but in French?
GD: Yes, we were the first publisher to sign up with ComiXology in France when they wanted to establish themselves there. I met David Steinberger. He convinced me right away that the guided view system works beautifully, and it's very reassuring that creators can choose whether it works for them.
I liked their philosophy. I realized that if we worked in the French language than we might as well work together in English. They hired French employees in Paris, and we have the sense of a joint-venture here. Our French versions are available all over the world, too.
One thing we haven't done yet is put children's comics in our catalog, since it's more difficult, but we have many of them, so if things go well, we may introduce them further down the road. It's a step by step process. HMS: The initial wave are out, and available now. What is the roll-out going to continue to be like?
GD: We will have 6 to 8 books every week, 150 in the first year, and we have a firm 2 year plan with ComiXology. We have a firm commitment for at least 2 years, and then we will assess the success level.
We hope that our readers will include both comics fans and industry professionals who might not otherwise be able to read our comics. That's an indirect goal, to bring more attention to our content, and hopefully be able to create more licenses. Because the French film industry is not as large and as compatible with the subjects we are talking about, like fantasy and sci-fi, this could help.
HMS: It's going to be so easy for people to share these books with each other too, if they are trying to draw attention to the comic that interests them. One professional can simply send another a link to check out.
GD: It makes everything easier and faster. I find myself becoming a digital fan, contrary to initial expectations.
HMS: I also like how ComiXology has several page previews as well to give a sense of the comic. That's good salesmanship for digital comics that goes beyond print capability. It's like having a resume for the comic online all the time.
GD: I have to admit it, yes. It certainly gives our market more energy, and more ways of communicating and sharing. HMS: What do other publishers in France think of these decisions that you're making?
GD: I hope they are jealous, but I don't know yet because we've been keeping this a secret, and we just announced it this week. Hopefully, since you're never alone in a market, they will do the same, and the companies will build each other up. You can never win a market alone, but it is good to be the first.
HMS: Well, it's good to be the first and be honored if you succeed, but you're also the guinea pig and other publishers are probably waiting to see what will happen.
GD: Absolutely. If we win, we will be happy. If we don't, I will still feel it was worth it, because we don't have that many opportunities to go beyond our natural borders. This is something I didn't want to miss out on.
HMS: Do you think this development might open up opportunities for comics creators, and particularly artists, to move between the two markets for comics, in France, and the USA? Like we might see more French artists working on American comics?
GD: I hope not! Just kidding. It happens. But it could be the other way around, also. We've had great variant covers by American artists produced for these comics. That came from ComiXology's advice that to have a good launch, we should ask American artists to do variant covers and we should ask American comic creators to write the introductions.
I was so happy that it worked out really quickly, and people did a great job. They seemed to share this idea that it's good to have a global market and that creators are just creators, not purely American or French. I was very flattered that creators like Mark Waid and Jeff Smith, who has been a friend of mine for a long, long time, wrote a few words.
HMS: Well, unfortunately, it's on you to make those first steps, but I think you'll find that many, many industry professionals will want to meet you half way. There are people who are absolutely starving for French comics material in English available so easily. The reaction to this announcement among many professionals is not "how interesting", but "Finally! Finally!"
GD: You mean fortunately! It's our job to do this. It's exhilarating.
Here are some of the introductory quotes for these comics provided by Jeff Smith and Mark Waid:
Jeff Smith on graphic novel Come Prima:
It's always a pleasure to fall into the work of a cartoonist who has the talent and skill to create a living, breathing story. The journey of Giovanni and Fabio, while physical in the sense they are driving across 1960's Europe in a Fiat 500, it is also the tale of two estranged brothers sifting through the ashes of their lives – – almost literally, as they are accompanied by the urn of their recently deceased father in the back seat. And the art is wonderful! Quick to experiment, yet seemingly loose and easy, with hints of the graphic surrealism of a Chester Gould, Alfred not only grasps the power of cartooning abstractions, but uses them to hypnotize us and make the thing move — to appear alive from panel to panel.

The beauty of the color you will see for yourself. The hues of the sunlight in Italy are different from the light in France. So jump in the Fiat and strap in; it's time for a pleasure cruise! –Jeff Smith
Mark Waid on Prométhée:
The word you're looking for is "tantalizing."

It's hard to pull off in comics, treading that fine line between suspense and confusion. It's altogether too easy to err on the side of bafflement by withholding too much information from your readers in an attempt to lure them into your story. Similarly, you can give your audience so much information that there's no mystery, no reason for them to be hungry for what's next. It really is a delicate balancing act, and its success hinges on making sure, regardless of the plot, that your comic has characters in it that the reader can care about immediately–players whose lives we can be invested in right from the start.

Prométhée gives us those characters. It gives us just enough to story to at once feel satisfying and yet make us want to come back for more. Prométhée is tantalizing, and I'm curious to see what happens within its pages. –Mark Waid
And here are further preview pages from Come Prima: From Curse of the Wendigo: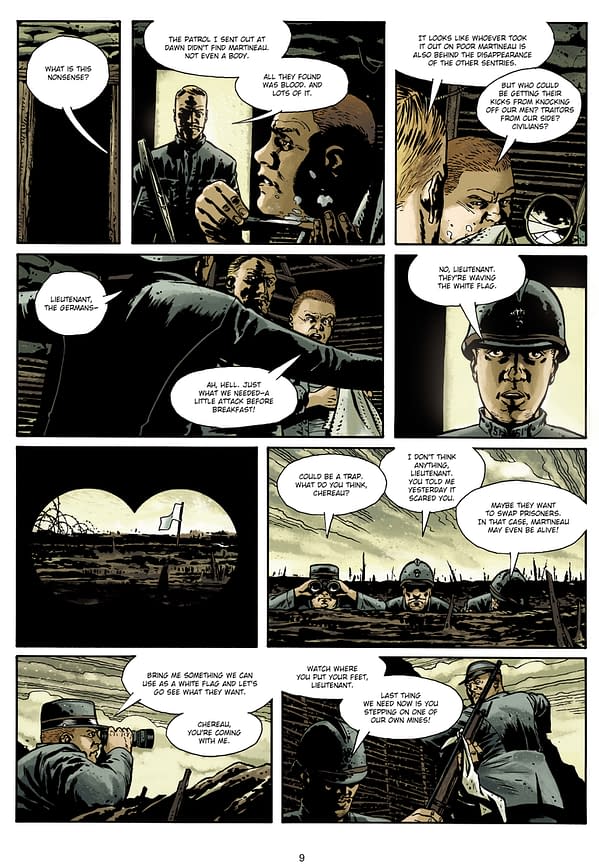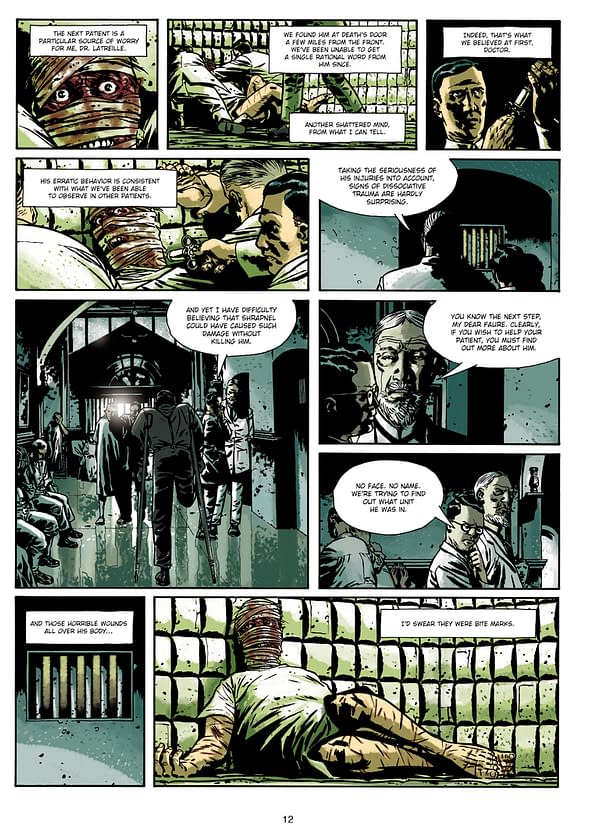 From Iron Squad: From Josephine: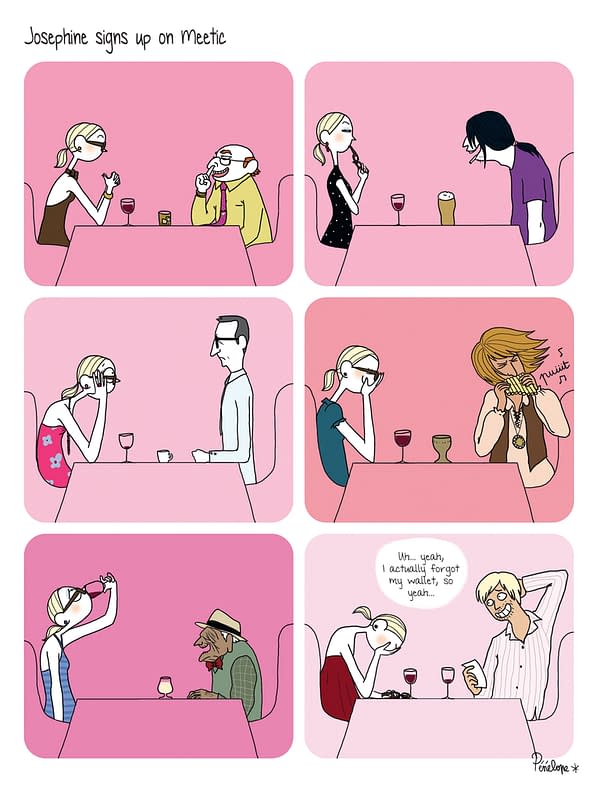 From Prométhée: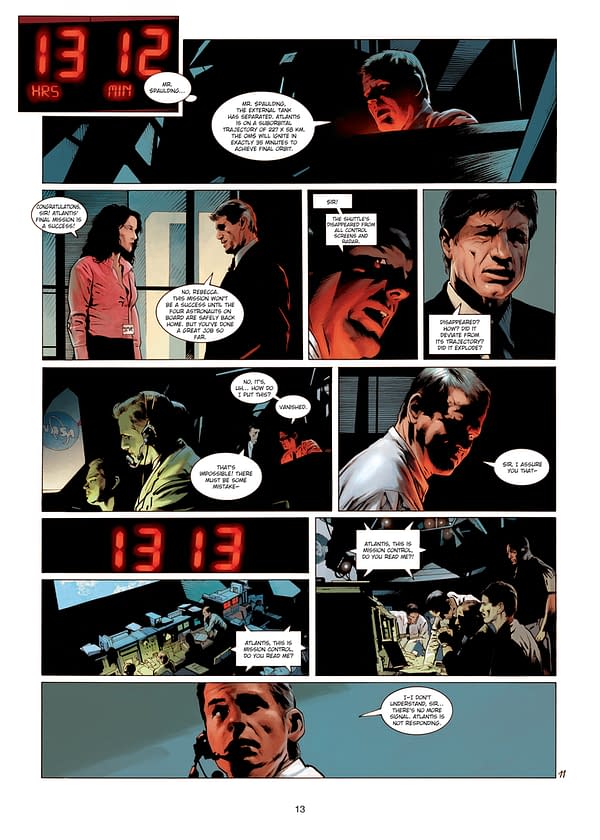 And from Spin Angels:
(*Editor's Note re: Laughter – I don't know that this joke needs explanation but the fact that the biggest problem in being European comics to the USA is totally irrelevant to digital media seems like a big victory so we couldn't help but laugh about it.)