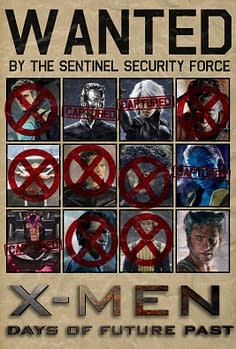 X-Men, X2, X-Men: Days Of Future Past and Superman Returns director Bryan Singer has being accused of serious crimes, and is being covered by major entertainment news and mainstream news websites. The Wrap first reported,
According to the lawsuit filed in federal court in Hawaii, plaintiff Michael Egan, who was named in a press release by his lawyers, was 17 when he was forcibly sodomized by Singer, among other accusations.

"Defendant, BRYAN JAY SINGER, manipulated his power, wealth, and position in the entertainment industry to sexually abuse and exploit the underage Plaintiff through the use of drugs, alcohol, threats, and inducements which resulted in Plaintiff suffering catastrophic psychological and emotional injuries. Defendant Singer did so as part of a group of adult males similarly positioned in the entertainment industry that maintained and exploited boys in a sordid sex ring. A Hollywood mogul must not use his position to sexually exploit underage actors."
Marc Collins-Rector, the former chairman of Digital Entertainment Network, an ambitious Internet startup that sputtered in the dotcom bust of 2000, is also cited in the Singer lawsuit, although he is not named as a defendant. He is accused of initiating the sexual abuse of Egan and arranging for Singer to assault Egan at a house in Encino, Calif.

Collins-Rector is a registered sex offender, having plead guilty in 2004 to luring minors across state lines for sexual acts.
The Sydney Morning Herald writes,
The documents allege that "in an attempt to manipulate his compliance with the sexual demands of those adults who frequented the M&C Estate", Egan was given a role in an online series called Royal Standard, paid a salary of $1500 a week plus another $600 a week "from different accounts without any designation of job duties, title, or position".

Egan was allegedly just one of many teenage males who were "lured to the M&C Estate to have sex with the adults who resided there or visited there for recreational and business purposes".

It is alleged that while Egan professed his heterosexuality and resisted the overtures of Collins-Rector, he was told that the men who attended the parties there included some who "controlled Hollywood and would destroy his hopes and dreams of an acting career if he did not keep them happy".
The full legal complaint can be read in its entirety here, courtesy of Hollywood Reporter. The Daily Mail says,
Egan and his lawyer are scheduled to hold a press conference about the new lawsuit Thursday in Los Angeles.

They've filed in Hawaii, however, since the statue of limitations to file a suit is longer there and would have expired next week.
The Wrap then updated with commentary from Singer's lawyer.
Allegations that "X-Men" director Bryan Singer sexually abused an underaged boy are "completely without merit," his attorney Martin Singer told TheWrap on Wednesday.

Singer said he learned of the lawsuit through a Wrap news alert, and had not otherwise been advised of the action against his client.

"We are very confident that Bryan will be vindicated in this absurd and defamatory lawsuit," he said. "It is obvious that this case was filed in an attempt to get publicity at the time when Bryan' s new movie is about to open in a few weeks."
Legal procedures hold that anyone is innocent until proven guilty, and it is worth remembering that this is a civil case rather than a criminal trial, where the burden of proof is less.
And whatever the motivations, it is hard to argue that this case won't have a greater impact due to the timing, before the release of X-Men: Days Of Future Past.
Enjoyed this article? Share it!