The homepage of Cerebus TV as featured in Cool passim, has seen a minor alteration. Starting with a brief fading-in-and-out stab…
We are all the single funny animal in the world of humans.
…the promise…
Watch this space for details on how to win Dave Sim's one and only store signing of 2010, to be broadcast live on Cerebus TV.
And a Paypal button for donations. What gives? Dave Sim told Bleeding Cool;
Cerebus TV is intended as an environment primarily for independent creators, retailers and fans in order to avoid the content being influenced of controlled by large corporations. In order to accomplish that, Cerebus TV is going to need financial support from each community: whatever you can comfortably afford to contribute by Paypal. There will be a minimum donation of $5 for non-retailers and $10 for retailers specified when the actual website is up and running. At first, however, there will be just a Paypal donation button on the home page with no minimum specified.
But what he really wants right now is advertising, selling 15 and 30 second TV spots to bricks-and-mortar stores and independent publishers to run with the Unedited Preview Footage before the station launches properly. He's looking for people to reserve rotational spots for their promotional films or for a placeholder logo until one is prepared,to upload as and when they like.
He's also planning a "pay what you can afford" system, taking each and every advertiser's personal circumstances into account.
Unless Cerebus TV is set up to allow everyone to participate
then the purpose of it will be defeated at the outset.
Call Dave up, leave him a message on +1 519 576 0610 and he'll get back to you. Or fax him on +1 519 576 0955. E-mail? Sorry, like Alan Moore he doesn't believe it exists. But you can email his associate John Scrudder on scrudder@hotmail.com, who will then print it out and fax it across.
I know, I know.
And then there's winning his only store signing of 2010. Win as in the eBay sense of course, to help fund the station. What will the highest bidder get?
1. Each customer gets his or her photo taken with Dave Sim (either with his or her own camera or with an on-site camera)

2. Everyone watching Cerebus TV gets to listen in via live feed to all of the completely unedited questions from fans and his answers live.

3. Your store staff each gets a Cerebus TV staff shirt with his or her name on it.

4. You get a "0ne & Only" Dave Sim 2010 signing plaque for your store.

5. Regular commercial breaks to plug your store, sale, website, subscription service, whatever.

6. Dave Sim available for local media interviews before, during and after with the support of the Cerebus TV on-line, Efax and phone sales team.

7. $1,000 (retail) worth of Cerebus trade paperbacks.
8. The signing starts at 9 pm and goes until everyone in line has gotten an autograph.

The bidding will close half an hour after Cerebus TV launches properly
You know, I'm tempted to bid myself and get Dave round to help tidy up…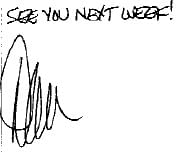 Enjoyed this article? Share it!