Connor Kent Meets Superman – and Superboy Prime (Spoilers)
Today's Action Comics #1020 drops a shoe from Brian Bendis' run on Young Justice, with Conner Kent – the Superboy/Lex Luthor clone who really shouldn't exist in this continuity, meeting Superman. But rather that having some emotional moment, or a tonne of exposition, it's hurried and rushed, because Superman – and the Justice League – are at war. And for Superman, it seems that's time to recruit child soldiers, some of who you've never met. Who's the bad guy again?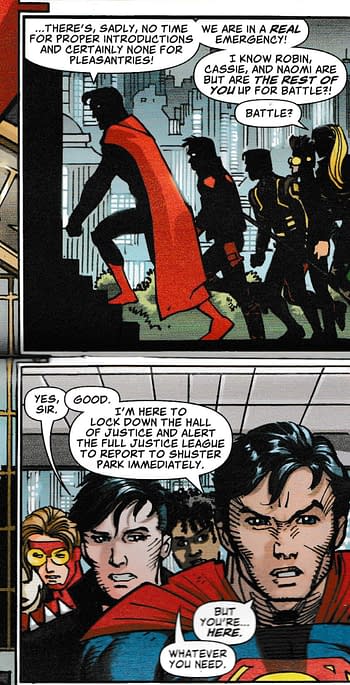 And this is basically all the introduction that Superman gets to his new son, even as his other son is a thousand years away…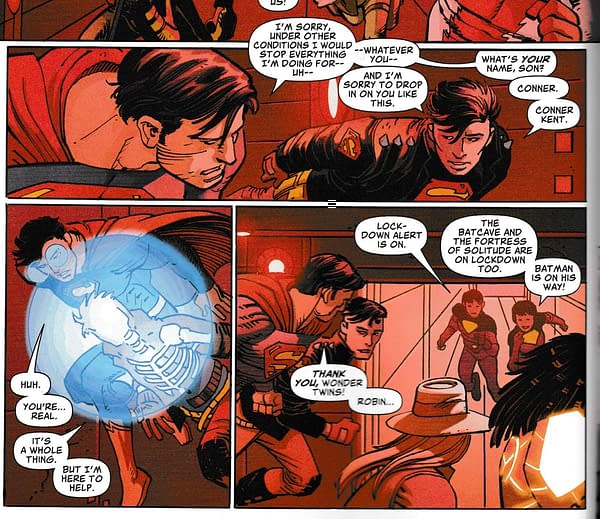 And, for Superman and the Justice League, it might be just enough to swing things. The Legion Of Doom has been doing the maths…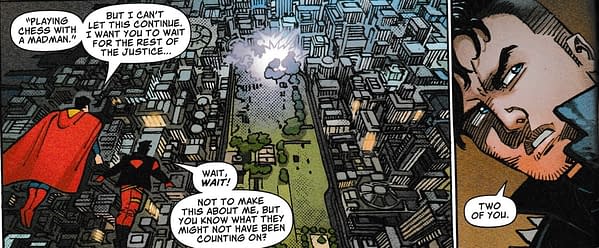 … but they forgot to carry the clone.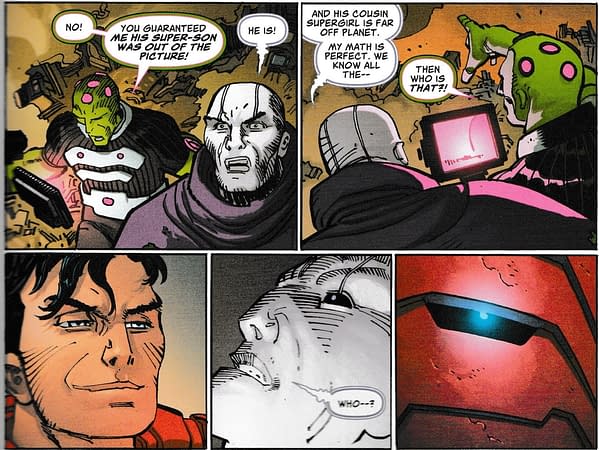 It's DC Continuity. You never know who's going to turn up – and with the new DC timeline and 5G that is never going to be more true. And although we were expecting him for Shazam #12, a certain someone pops up at the end of #11, finally published today…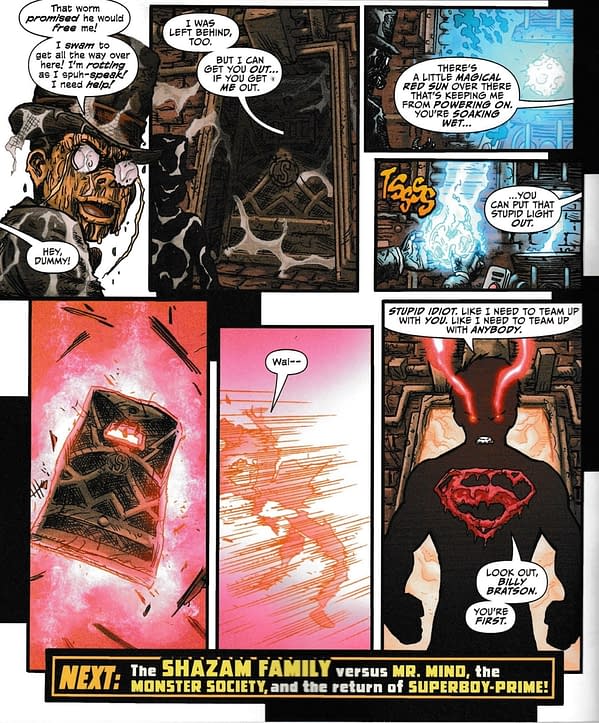 Superboy Prime. Looks like he won't be teaming up with Superman or Superboy – either of them. But man, there's a lot of Super around suddenly…
ACTION COMICS #1020
(W) Brian Michael Bendis (A/CA) John Romita, Klaus Janson
Apex Lex Luthor's first run-in with the Infected didn't go as planned, and the Batman Who Laughs' influence is continuing to spread. Now Lex must find out who in the world can think like the Batman Who Laughs-and there are only two folks who come to mind. The first is Batman, who probably has his own ideas for Lex; the other is The Joker, who also likely has his own ideas, but who just maybe wants to see this twisted doppelgänger sent back to the Dark Multiverse he came from. It's a gamble Lex has to take, because the Infected are gearing up for round two! In Shops: Feb 26, 2020 SRP: $3.99

SHAZAM #11
(W) Geoff Johns (A) Marco Santucci (A/CA) Dale Eaglesham
Billy and his family have seen so many marvelous things in their journey through the Magiclands, while facing tough opponents and even tougher questions about family, loyalty, and integrity. Now they're about to face an onslaught of all their greatest foes! Will they have the wherewithal to triumph? Find out in the penultimate chapter of "Shazam and the Seven Magic Lands"!In Shops: Feb 26, 2020 SRP: $3.99
Action Comics #1020 and Shazam #11 are out today from DC Comics… I bought mine from Piranha Comics in Kingston-Upon-Thames. Piranha Comics is a small south London comic store chain with a small south-east store in Kingston-Upon Thames's market centre, which runs Magic The Gathering nights on Fridays, and a larger south-west store in Bromley, which also runs Magic nights and has an extensive back issue collection and online store. If you are in the neighbourhood, check them out.