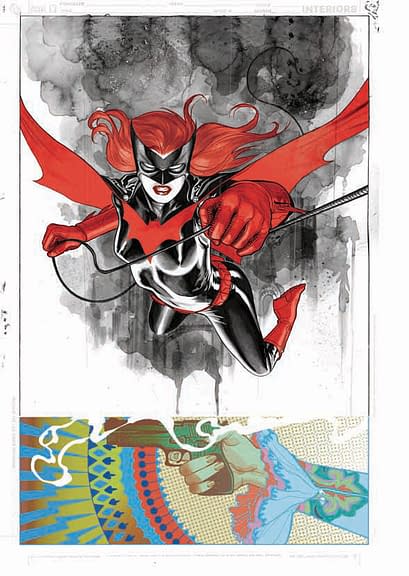 No seriously. It's been on again, off again, on again, off again for years now. Whether it was the original plans that got absorbed into 52 and Countdown, or the Devin Grayson's Batwoman series that got buried, or the ongoing series by Rucka and JH Williams III that got delayed and delayed and then shoved into Detective Comics, almost it seemed as an afterthought, the road to an ongoing series for DC's leading lipstick lesbian has been a long and tortous one.
And today DC announce possibly the best news poaaible, that JH Williams II is writing and drawing a new ongoing Batwoman series.
Which is brilliant, surprising and most welcome. Williams III, whose exceptional page design first flourished on Promethea saw it bloom into new stylings on Detective Comics that rivalled the likes of Chris Ware and Dave Sim. We can hope that when JH Williams III takes the writing reins for himself we'll get to see a lot more of the dazzling pirouettes of page design and storytelling that have made that book so exceptional.
But I'm grown very distrustful of Batwoman announcements. Odds are before publication, it'll suddenly be relegated to a back up strip, then online online, then postponement for a crossover series then it'll vanish hoping no one will notice.
Boy I'm cynical today. But if your heart has been broken so many times, it's hard to trust again, isn't it?
JH Williams will co-write the series with W. Haden Blackman and Amy Reeder will be drawing the second arc of the book.
Enjoyed this article? Share it!