Nicholas Hammond is a name many of us know. Weather you're a fan of The Sound of Music or the CBS Spider-Man series (or really anything else he's been in or worked on), Hammond has secured himself as an important figure in the landscape of Hollywood. I was lucky enough to have dinner with him Friday during the Great Lakes Comic Con. Hammond is in all sense of the word, a true gentleman. He is as dashing as ever, quick witted, and full of stories that could keep you entertained for days on end. The Arlington native's first role was in Peter Brooks 1963 Lord Of The Flies. Hammond has nothing but good memories of that time. All of the children slept on cots in an old abandoned factory, and there were no parents allowed! He said every child on set had a ball. They had parties, had a newspaper that was circulated, and overall just really enjoyed themselves. He still speaks to a few of his fellow cast mates today!
But since this was a comic con, I decided to ask about his time as Peter Parker. Hammond was discovered by CBS execs while he was in the show Travesties in L.A. His character must have struck a cord with CBS as they asked him to come try out for Peter Parker. Hammond admits he had never read Spider-Man so he was largely unfamiliar with the character. During the audition Hammond had tried to downplay himself to show that he wasn't a good fit for Peter Parker…but that wound working against him, as Peter Parker acts like that. Producers from the show told Hammond they "wanted him to be completely real". What he found in Peter was a desire to be normal, but was given enormous responsibility and had to cope with that. Hammond overall enjoyed working on the show. He also had a say in the scripts, helping him really make Peter Parker a believable person.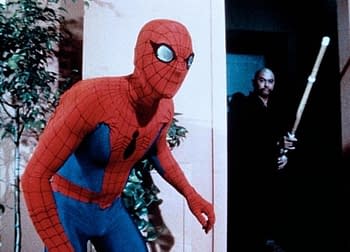 Hammond did wear the costume from time to time, but he never performed stunt work. He himself worked closely with the stuntmen to make the show as seamless as possible. It's admirable how hands on he was, and how he truly cared about making a quality finished project. He at one point had suggested a Hulk/Spider-Man crossover, but it sadly never came to be. Dinner with him was an honor, and I am glad to have been able to talk to him on a personal level. He did playfully scold someone at our table for not finishing his wine, and well, if Spider-Man tells you to finish your wine, you finish your wine! Enjoyed this article? Share it!