Disney Claims Record-Breaking Box Office Revenue, Credits Captain America: Civil War
The war between Marvel and DC has spread to the highest echelons of their parent conglomerates and is currently manifesting itself in a war of press releases touting financial earnings! Stealing the thunder from Warner Bros earlier report showing the studio exceeded Q3 earning expectations with help from the success of Suicide Squad and its $745 billion kazillion take, a new report from Variety reveals that Disney has already had its best year at the box office ever, even with two months still left to go. With worldwide box office revenue of $5.85 billion, Disney has surpassed their previous record of $5.84 billion, set in 2015. However, they still have a way to go if they want to surpass the all time record, held by Universal with $6.89 billion last year.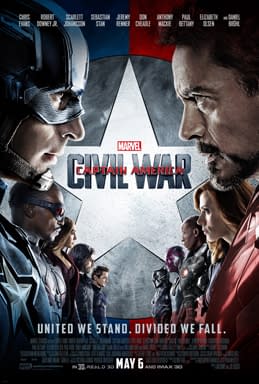 Pouring salt into Warner Bros' wounds, a large part of the credit must go to Captain America: Civil War, the highest grossing film of 2016 with $1.15 billion all by itself. Finding Dory and Zootopia also topped a billion, with The Jungle Book coming in just under that. Disney's prospects of breaking the all time record aren't totally out of the question, either. Doctor Strange opens in the U.S. this week, where it's expected to perform well, Moana drops in December, and Star Wars: Rogue One comes out in December. Disney is easily within striking distance of the all time record, barring an unexpected flop from any of those three films. While its rival may be close to having the best year ever at the box office, Warner Bros can at least console itself with the fact that it's winning the Tuesday Night Superhero Show Ratings Wars.
That's all well and good, you might ask, but why can't both Warner Bros and Disney have successful years without comparing their success to each other and trying to make it into some kind of high stakes competition? To that, I would ask you, do you really want to read a bunch of boring reports about the billions of dollars in revenue that various multimedia conglomerates are raking in without turning it into the corporate version of a pro wrestling blood feud? Yeah, I didn't think so.
Go team Marvel/DC!